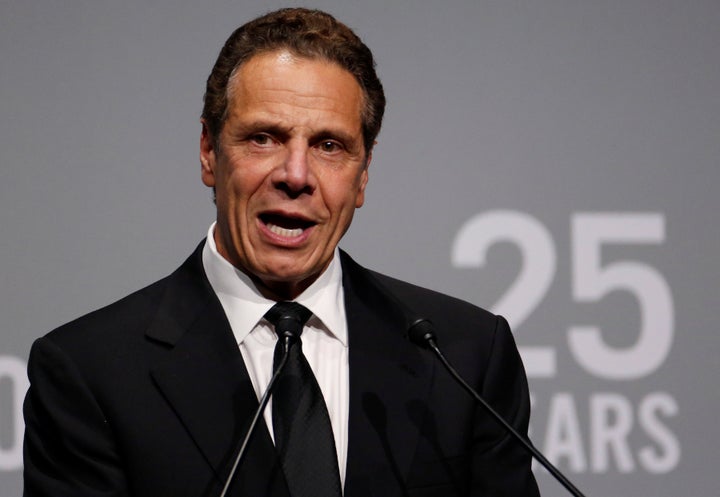 New York on Monday became the first state to establish a standing independent commission to investigate prosecutorial misconduct by the state's district attorneys. The bold initiative is designed to increase accountability for prosecutors, who are among the most powerful agents in the U.S. criminal justice system but rarely face punishment for misconduct.
The bipartisan legislation, signed into law by Gov. Andrew Cuomo, allows for a commission of 11 members, appointed by officials from all three branches of the state government, to investigate allegations of misconduct by the state's 62 county district attorney's offices.
"Our criminal justice system must fairly convict the guilty and exonerate the innocent," Cuomo said in a statement Monday. "When any prosecutor consciously disregards that fundamental duty, communities suffer and lose faith in the system, and they must have a forum to be heard and seek justice. This first-in-the-nation Commission will serve to give New Yorkers comfort that there is a system of checks and balances in the criminal justice system, and to root out any potential abuses of power to ensure that our justice system is just for all New Yorkers."
Public defenders and criminal justice advocates had for years urged the governor to take action against misconduct by prosecutors. Prosecutors in New York state have a long history of misconduct, which has often led to false convictions and subsequent exonerations. The state has one of the largest totals of exonerations in the nation (267 since 1987), according to the National Registry of Exonerations. And while many factors can contribute to a wrongful conviction, including mistakes or flawed evidence, more than 60 percent of those New York exonerations involved "official misconduct" by government agents, such as police officers or prosecutors.
Just last year, 11 of the 13 people in the state who were exonerated had cases tainted by official misconduct, the registry found, and about half of the dozen exonerations that have already occurred in 2018 also involve official misconduct. Additionally, a separate examination of cases in the state from 2009 found that "government practices," which includes misconduct by law enforcement and prosecutors, were a key driver of wrongful convictions, affecting about 30 percent of the identified cases, according to the New York State Bar Association's Task Force on Wrongful Convictions report.
"[The commission] will not be a cure for the problem, but it will go a long way towards holding those who abuse their powers accountable, and towards deterring those who may be tempted to break the rules," wrote John Raphling, a senior researcher at Human Rights Watch, in a letter to Cuomo in support of the commission.
Still, across the nation, prosecutors are rarely punished for misconduct, and the cases that have led to disbarment or even criminal charges are few and far between.
Part of the trouble lies in identifying the misconduct in the first place. Because so much of what prosecutors do is behind the scenes ― gathering evidence and working with police and investigators as they build their case ― malfeasance is often not discovered until years, sometimes decades, after a person has been convicted.
A 2013 report illustrated just how rare it is for prosecutors to face punishment of any kind. Using data from nine major studies that analyzed the prosecutorial misconduct at both the state and national levels, the Center for Prosecutor Integrity identified 3,625 cases from 1963 to 2013. Of those, only 63 prosecutors — less than 2 percent — were ever officially sanctioned for their wrongdoing. And in those rare instances when prosecutors were disciplined, they frequently received a slap on the wrist, the CPI report says. In New York, the same study identified 151 cases of prosecutorial misconduct from 2004 to 2008, with only three of those cases resulting in punishment.
Even one bad actor in a prosecutor's office can have a significant effect on countless defendants and cases. Prosecutors have complete and unrivaled access to the evidence that can determine a person's guilt or innocence, along with broad powers over how seriously to take a charge against an individual and how aggressively to pursue a case. They determine the charges a defendant will face and ultimately set the parameters for punishment. And they can pile on charges to produce sentences "so excessively severe they take your breath away" to coerce a defendant into taking a plea deal, a U.S. District Court judge in New York wrote in 2013.
The New York commission has full subpoena power and can request relevant documents, case files and evidence from prosecutors and witnesses. It can hold investigative hearings for prosecutors who are accused of misconduct and, if the commission finds wrongdoing has occurred, it can admonish, censure or even recommend that the prosecutor be removed from office.
Defense attorneys praised Cuomo's move.
"New York will be the first state to show it will no longer tolerate the unethical and immoral actions of District Attorneys who abuse their enormous power in the criminal justice system," said Lisa Schreibersdorf, executive director and founder of Brooklyn Defender Services, a nonprofit public defense organization.
"New Yorkers deserve a court system in which decision makers are rewarded for fair and just choices and at the same time held accountable for ignoring facts that show innocence or witness perjury, withholding evidence or displaying a callous disregard for the rights of people facing an accusation," she said.
This story has been updated with a statement from Lisa Schreibersdorf.
HuffPost is committed to covering the role of elected prosecutors in America's criminal justice system. To reach Matt Ferner with tips or story ideas, email matt.ferner@huffpost.com.
Popular in the Community