NEW YORK -- An estimated 10,000 opponents to the Iran nuclear deal rallied in front of Times Square on Wednesday evening with a clear message for Democratic Sen. Chuck Schumer: Either sabotage the agreement, or lose a significant chunk of voter support.
"We're not going to believe you, Chuck Schumer, if you give a good speech on the Senate floor and vote against the deal, but don't lobby the entire Senate with all the strength you have," warned Jeffrey Wiesenfeld, a financial advisor who helped organize the event. "Leaders of legislative bodies, their job is to round up votes. And Chuck Schumer, you better round up those votes to kill the deal!"
Those banking on Congress to unravel the July 14 nuclear agreement between Iran, the U.S., and five other world powers face an uphill battle. Because of legislation passed in May, lawmakers have two months to review the text of the agreement and decide whether to hold a vote of approval, a vote of disapproval, or to simply do nothing.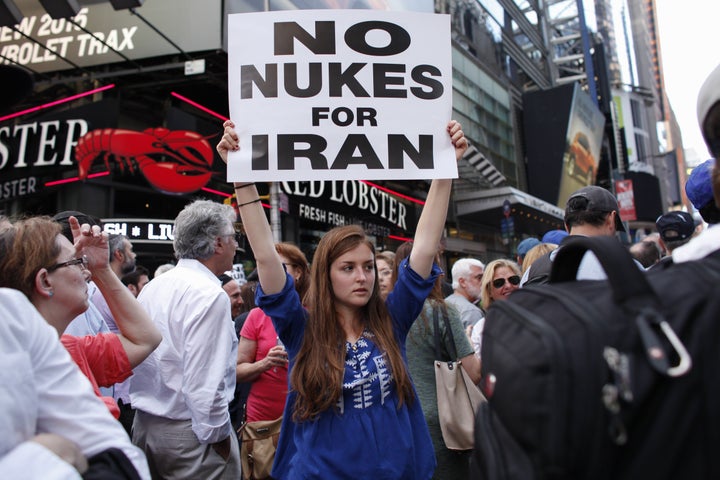 President Barack Obama has stated his intention to veto a resolution of disapproval, which would remove his authority to temporarily waive some sanctions relief granted to Iran as part of the agreement. To get the two-thirds majority vote needed to override a presidential veto, at least 13 Democrats in the Senate and 43 in the House would have to vote to kill the nuclear accord.
Schumer, set to succeed Senate Minority Leader Harry Reid (D-Nev.) next year, is currently trying to reconcile his loyalties to Obama, who spent much of his time in office working to complete the nuclear agreement, with loyalties to his Jewish, pro-Israel voters, who describe the deal as an existential threat that guarantees Iran gets nuclear weapons.
During his time in the Senate, Schumer has been a reliable supporter of legislation that increases aid to Israel and strengthens sanctions on Iran. He likes to remind voters that his last name comes from the Hebrew word "shomer," which means "guardian." "I am a shomer for Israel and I will continue to be that with every bone in my body," he said in 2010. 
Protesters at Wednesday's rally, which was organized by a group of Jewish organizations, accused Schumer of planning to vote against the deal while quietly counting on his Democratic colleagues to protect the nuclear accord. Protesters waved signs that said, "Schumer, you are no shomer," and frequently broke into chants of, "Where is Chuck? Kill this deal!"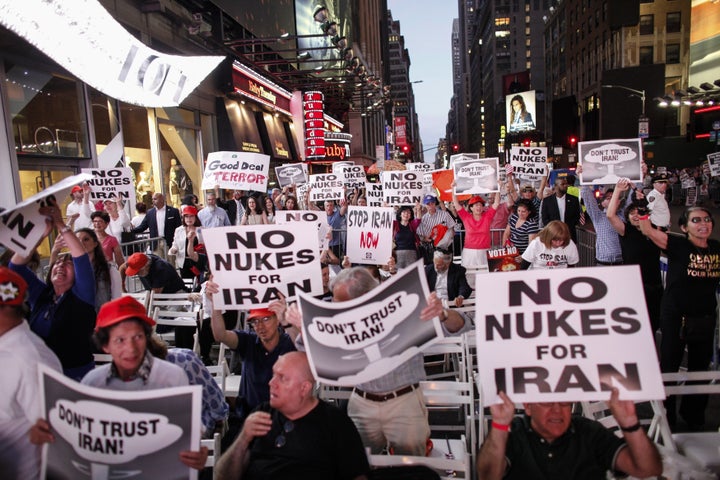 Schumer has been hesitant to weigh in on the nuclear agreement, which requires Iran to significantly downsize its nuclear program and submit to increased inspections in exchange for international sanctions relief. "Supporting or opposing this agreement is not a decision to be made lightly, and I plan to carefully study the agreement before making an informed decision," Schumer said in a statement shortly after the deal was announced.
Those gathered in front of Times Square on Wednesday said that's a weak excuse. "They're playing a game saying they're studying it," said Wiesenfeld. "Any simple person can read it, it's not technical," he continued, referring to the 159-page text, which details the constraints on Iran's nuclear program and the lifting of several networks of international sanctions. 
"Did anyone have to study the edicts of Hitler?" asked Wiesenfeld. "If [Schumer] wants to stop this deal, we know damn well he can do it."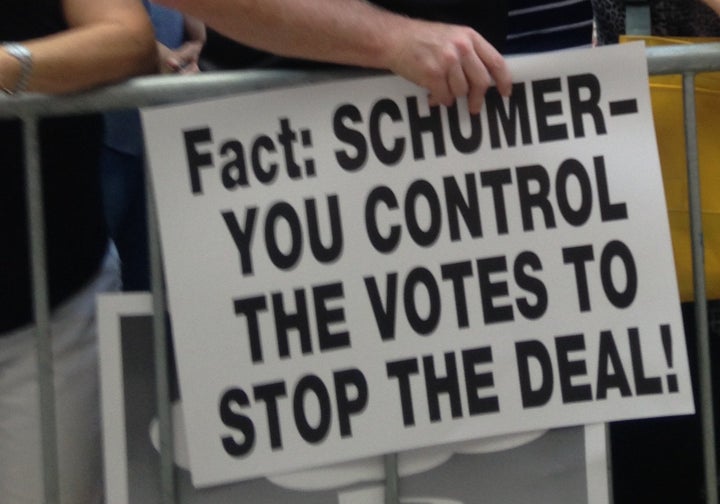 Several people at the rally indicated that if Congress fails to undo the nuclear agreement, they will shift their focus to electing one of the Republican presidential candidates in 2016. Several, including Wisconsin Gov. Scott Walker (R), have indicated that they would prefer to take military action against Iran rather than enforce this diplomatic accord.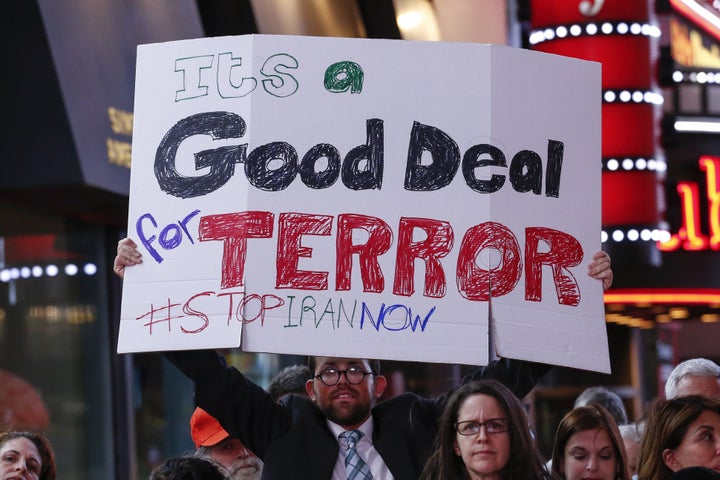 Michael Fandal, a former police officer-turned-clown, is throwing his support behind Donald Trump for president. "That's right, I'm a clown for Trump," he said. "I have to strike a balance between my hilariousness and my seriousness." Fandal came to the rally with several hand-decorated T-shirts that expressed his disappointment with Obama's management of the Iranian nuclear issue.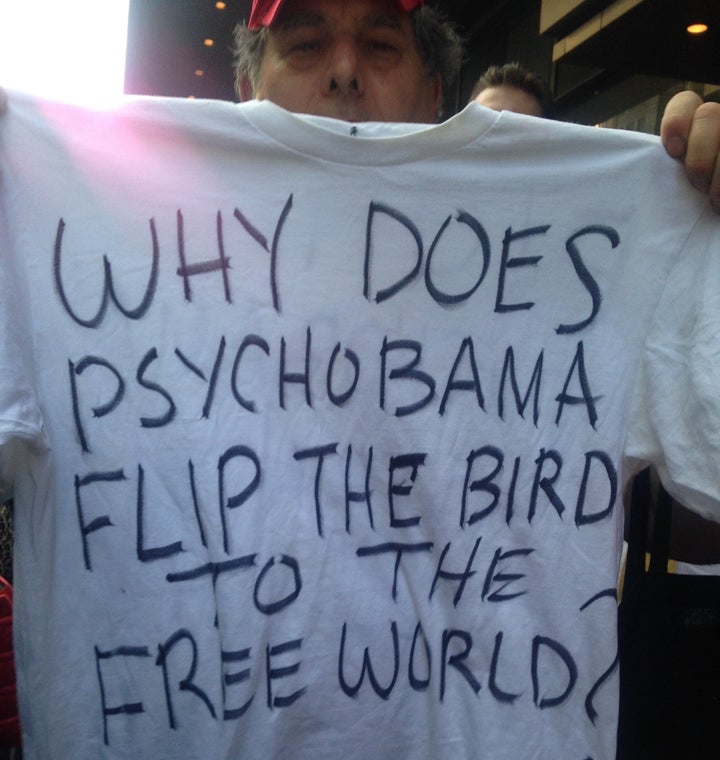 Former New York governor and Republican presidential hopeful George Pataki spoke at the rally and slammed Democratic candidate Hillary Clinton for supporting the nuclear agreement. "She saw the pain and anguish and suffering," he said, referring to Clinton's role as a New York senator during the 9/11 attacks. "She saw the lessons of not dealing with radical Islam before they attack us here. Hillary, let me tell you one thing: America does not need as our next president another appeaser-in-chief; we need a commander in chief!"
Pataki's words resonated with those at the rally. "I mean, there's so many good candidates, I don't even know what to say anymore!" said Bruce Weinfeld, when asked which of the 16 Republican presidential candidates he was rooting for. "I like Marco Rubio," he continued. "But I think most of the Republican candidates will get us out of the deal."
Calling all HuffPost superfans!
Sign up for membership to become a founding member and help shape HuffPost's next chapter