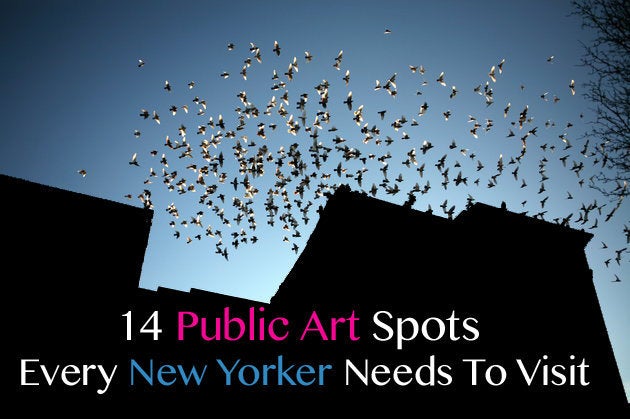 The challenge for every New Yorker come springtime: figure out how to spend as much time as possible outside, under the warmth of the sun, before the frosty chill of winter is, inevitably, upon us again. Bonus -- do so without spending loads of money on trains, planes and automobiles meant to take you upstate, down south or across the pond. 
To accomplish this, you can visit one of our urban mecca's few parks, dawdle outside some of the city's magnificent architectural gems, or just sidle down the sunny sides of the streets. OR, you can go see some public art. We vote for the public art.
In honor of the second best season in New York City (it's hard to argue with fall, guys), here is a New Yorker's guide to getting outside and seeing art this spring. Don't worry: we're focusing on the free, public art that won't cost you a penny. Sidle on, my friends:
1. Giant Bunnies in Manhattan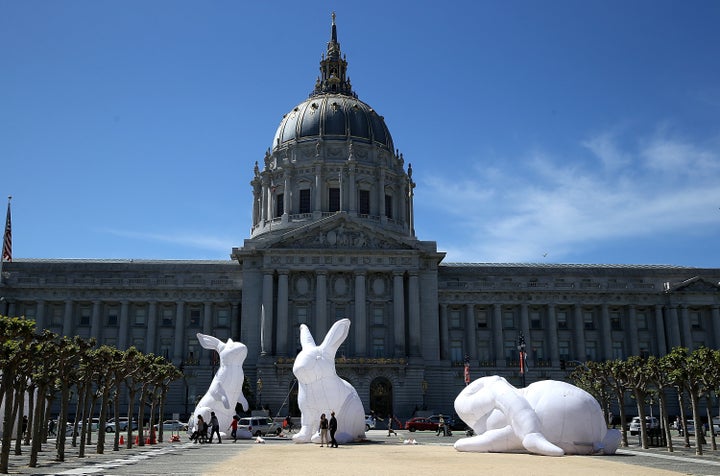 Do you like bunnies? Do you like humongous balloons? Great. Australian artist Amanda Parer is bringing her oversized art installation, "Intrude," to New York City this spring, featuring seven gigantic, inflatable rabbits -- ranging from two to four stories tall -- at Brookfield Place in Manhattan. The work opens to the selfie-happy public on on April 17, 2016.
And besides meeting the bunny-slash-balloons criteria, Arts Brookfield says there's a greater message: "The giant rabbits evoke a visual humor that lures audiences into the artwork to reveal a more serious environmental message, as rabbits are considered an invasive pest in the artist's native Australia. Through 'Intrude,' Parer hopes to move people to thoughtfully consider how humans can change and dominate the environment." (Brookfield Place, April 17-30, 2016)
2. Truth Talk in Brooklyn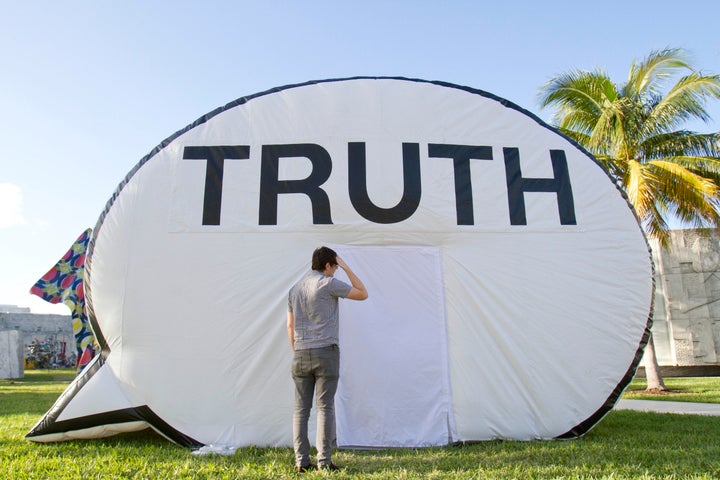 This series consists of comic book-inspired speech balloon signs that showcase "statements about truth" in 22 different languages spoken in Brooklyn. They are installed along the MetroTech Promenade, accompanied by English translations of the phrases (and pronunciation guides). 
Bonus: The "Truth Booth" -- a mobile interactive video recording booth that lets participants finish the phrase "the truth is..." in two minutes before a camera -- is set to return in May. (MetroTech Promenade, on view until June 3, 2016)
3. Feminist Art in Manhattan
In the mood for some of feminist artist Barbara Kruger's signature Future-Bold-font declarations? Get thee to the High Line in Manhattan, where her "Untitled (Blind Idealism Is…)" continues, as Art in the Park notes, "her unabashed criticism of culture and power."
The painted mural will feature the words "BLIND IDEALISM IS REACTIONARY SCARY DEADLY," which is an adaptation of a quote from Afro-Caribbean philosopher Frantz Fanon. According to Kruger, the work reflects "how we are to one another" within "the days and nights that construct us." (The High Line, March 21, 2016 to March 2017)
4. Pigeon Performances in Brooklyn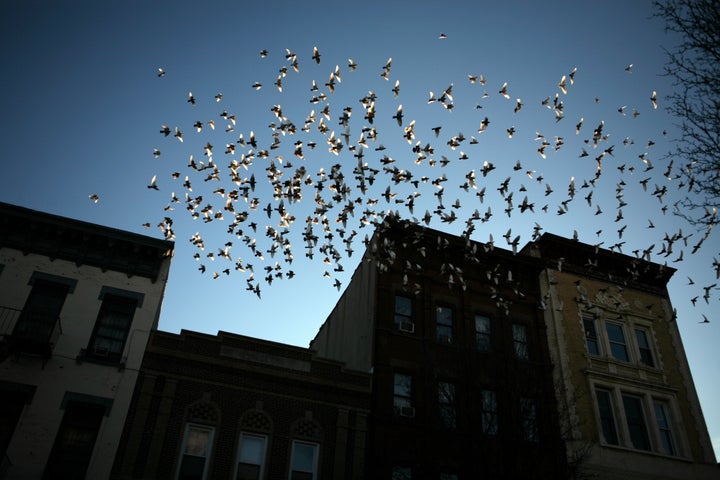 On Fridays, Saturdays and Sundays this late spring and early summer, American artist Duke Riley will be conducting a massive flock of carrier pigeons as they enact choreographed moves across the dusk sky. Their twirls and figure-eights will be gloriously punctuated by the tiny LED lights affixed to their legs, where messages might have been. 
The work pays homage to pigeon keepers (or fanciers, as they are commonly known). "While property development and population shifts have caused the practice to wane, 'Fly By Night' reflects back on and makes visible this largely forgotten culture," Creative Time describes online. "The iconic Brooklyn Navy Yard, once home to the country's largest naval fleet of pigeon carriers, is the ideal setting." (Brooklyn Navy Yard, weekends from May 7 through June 12) 
5. Orchids in Central Park
German artist Isa Genzken believes the mass-produced white orchid has become "the quintessential flower of our age: global, accessible, and open to interpretation." Her sculptures, 28 and 34-feet high respectively, now greet visitors entering Central Park in Manhattan. If you're venturing to the park one afternoon, find these beauties and grab a glimpse. (Central Park, on view until August 21, 2016)
6. An "Analog Meme" in Manhattan
Need to experience a taste of their work before you commit to the whole show? Head to Houston and Mott, for there is a building-size mural titled "How to Work Better," which includes a 10-point list of life advice sourced from a bulletin board in a ceramic factory the artists encountered 30 years ago during a visit to Thailand. (Houston and Mott Streets, on view until May 1, 2016)
7. A Hebrew-Spanish Mashup in Brooklyn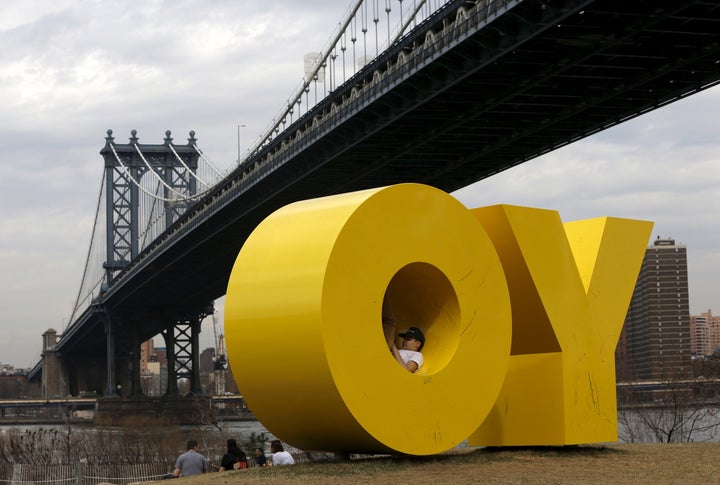 Deborah Kass' sculpture is simple -- it simultaneously reads as "I am" in Spanish and "Oy" in Yiddish -- and is meant to reference "Brooklyn's ethnic communities with whimsy and warmth." Really, besides being a chance to see Kass' work in person, the Brooklyn Bridge Park is a perfect spot to hang outside and see a handful of sculptures.
Also on view at Pier 6 beginning on May 4 is British artist Martin Creed's "Understanding," another East River fixture that is sure to attract Instagram-happy art lovers.  ("OY/YO" is on view at Brooklyn Bridge Park until August 2016)
8. A Boogie Down Booth in the Bronx
This piece loosely consists of music, solar–powered lights, seating, and art, fit into the area under the elevated tracks at Seabury park on Southern Boulevard and 174th Street in the Bronx.
According to Art in the Parks, this second "Boogie Down Booth," designed by Chat Travieso, streams music from Bronx artists using a playlist curated by the Bronx Music Heritage Center, covering a variety of genres born in or inspired by the Bronx, including salsa, jazz, Afro–Caribbean, hip–hop, Garifuna, and blues. There's also a community bulletin board to learn about local events, and a mural painted by kids from the East Bronx Academy for the Future and the Children's Aid Society. (Seabury Park, on view until June 24, 2016)
9.  A Giant Spotted Pumpkin in Manhattan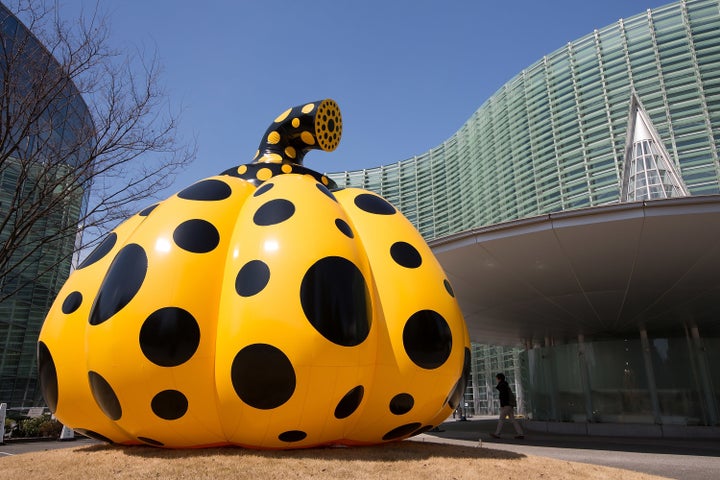 Let your love for the polka-dot queen known as Yayoi Kusama guide you to a 2,668-pound version of the pumpkin above, on view in front of a luxury building at 605 West 42nd Street beginning on May 3. This is probably less a destination artwork and more a happen-to-be-in-the-neighborhood artwork, but we can't really pass up a chance to worship at the altar of Kusama, and you shouldn't either. (605 West 42nd Street, on view beginning May 3)
10. A Lopsided Swimming Pool in Manhattan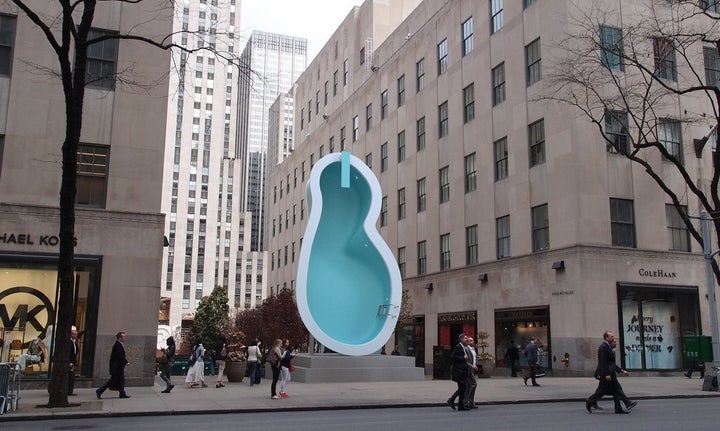 Elmgreen & Dragset are erecting a1950s style swimming pool in Rockefeller Center, courtesy of the Public Art Fund. Dubbed "Van Gogh's Ear," the pool is not for swimming; instead, it's a conceptually lopsided sculpture meant to mimic a Cali crash landing.
"The sculpture recalls the 1950s-style pools found in front of some Californian private homes, in contrast to this very public East coast urban setting," the artists explained in a statement. "It is as if an alien spaceship had landed in the midst of this prominent and busy environment." (The Fifth Avenue entrance to the Channel Gardens at Rockefeller Center, April 13 to June 3, 2016)
11. A Living Sculpture in Queens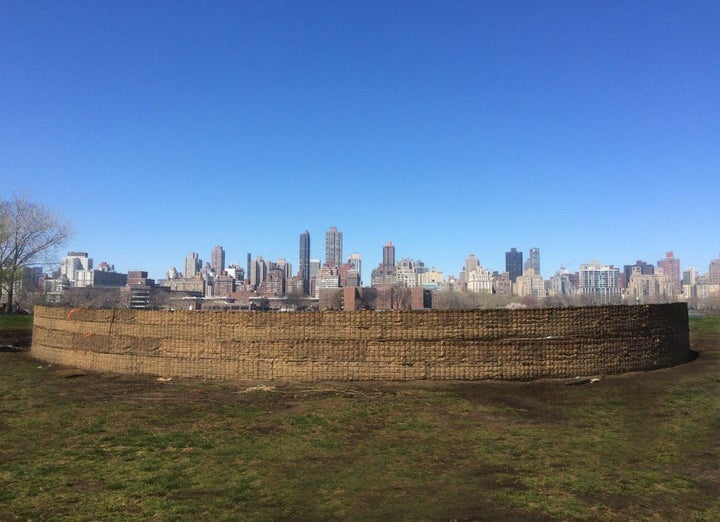 Socrates Sculpture Park was once an industrial landfill and illegal dumping ground but is now one of New York City's most accessible spaces for public art. This summer, the "Landmark" exhibition will showcase the work of eight different artists -- Meg Webster, Abigail DeVille, Brendan Fernandes, Cary Leibowitz, Jessica Segall, Casey Tang, the curatorial collective ARTPORT_making waves, and Hank Willis Thomas -- making it a prime spot for art gazing this spring and summer. 
Two things we're excited about: First, Webster's "Concave Room for Bees," a living sculptural installation comprised of more than 300 cubic yards of fertile soil reaching five-feet high that will be planted with flowers, herbs, and shrubs that attract "pollinating creatures." Visitors will be encouraged to enter the work and experience "a multisensory mix of botanical aromas, insect hums, dewy air, and vibrantly colored flora." After the exhibition, Webster's nutrient-rich soil will be relocated to spots across the park. Second, Hank Willis Thomas' "From Cain't See in the Mornin' Till Cain't See at Night (from Strange Fruit)," part of Socrates Sculpture Park's Broadway Billboard series. (Socrates Sculpture Park, May 8 to August 28, 2016)
12. A Giant Feather in Manhattan
Petros Chrisostomou's sculpture "Sky Feather" is located at the Riverside Park Bird Sanctuary at 116th Street. Reason to see this work? Well, it's a great chance to go to the bird sanctuary, duh. It consists of 10 acres and over 3,000 plants and has, in the last 30 years, seen over 177 species of birds. (Riverside Park, on view until June 10, 2016)
13. All the Art on Randall's Island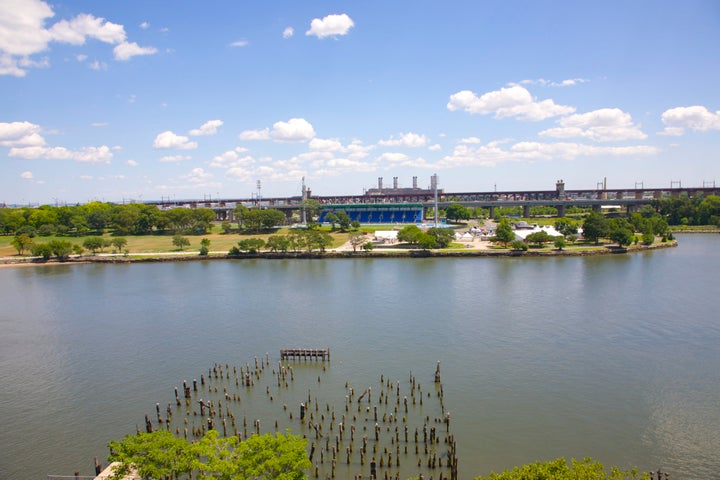 Every year, the Randall's Island Park Alliance and the Bronx Museum of the Arts present FLOW, a series of annual summer art exhibitions along the shoreline at Randall's Island Park in New York City. "FLOW is aimed at fostering appreciation of the shoreline through artistic expression, while calling visitors to interact with and care for the Park's island environment," the organization's website states. 
The 2016 featured artists include: Tracie Hervy, Samantha Holmes, Tim Clifford, Michael Shultis and Denise Treizman. For a teaser, Hervy's "Untitled" will be installed on a hill along the southeast waterfront of Randall's Island Park, consisting of three wooden frames meant to echo Randall's Island's major geographical axes – thruways connecting the Bronx, Manhattan and Queens. And Treizman's "Spartan Follies" will provide "an ironically un-'Spartan' invitation" for visitors to work out.
14. An Emotional Signpost in Manhattan
Stuart Ringholt's sign probably encapsulates the motions of New York City better than most. Go find it. (First Park, on view until June 1, 2016)
Calling all HuffPost superfans!
Sign up for membership to become a founding member and help shape HuffPost's next chapter
BEFORE YOU GO
PHOTO GALLERY
25 Street Artists' Works From Around The World