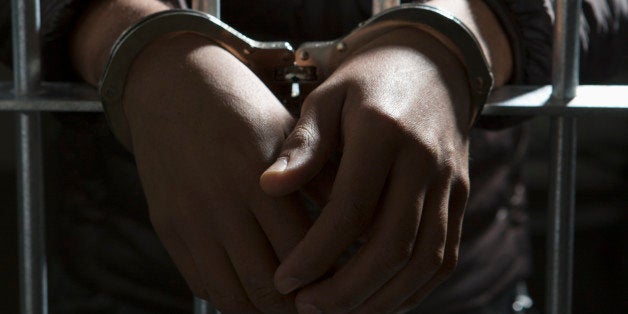 NEW YORK -- On Aug. 11, 2013, Donald Telfair says, he was brutally assaulted by three men who thought he had robbed them earlier that evening. The 46-year-old spent the night at a hospital in Suffolk County, New York, where doctors had to wire his broken jaw shut. Then, he says, the police showed up.
"They arrested me for a robbery, a crime I did not commit," Telfair told reporters during a conference call Wednesday. He spent 18 hours in custody before being arraigned. Telfair couldn't afford a lawyer so he was assigned a public defender. But the public defender didn't meet with him before the arraignment.
"Knowing nothing about me, she was unable to defend me," Telfair said. When the prosecutor allegedly mischaracterized his criminal history, his lawyer didn't object, and Telfair said he had to protest himself, speaking through the wires keeping his jaw shut.
But it wasn't enough. Unable to meet the bail set by the judge, he was sent to jail, where he would remain for months before accepting a plea-bargained sentence of one-and-a-half to three years.
"Everything in the court was rushed," said Telfair, who is now a plaintiff in an ongoing class action lawsuit against New York state that argues indigent defendants aren't provided with adequate legal counsel. "It's cattle call criminal justice. It is all a numbers game, no matter that a person is standing before you -- it is all about getting through the court calendar for the day."
"The system is broken and needs to be fixed," he added. "The amount of money someone makes should not determine how justice is served."
On Wednesday, the New York Civil Liberties Union released a report focused on five New York counties, showing the myriad ways in which the state is failing to provide legal counsel to the poor, as is required by the U.S. Constitution. The NYCLU filed the lawsuit, called Hurrell-Harring v. New York, and Telfair's story is featured in the report.
The conclusion: that in New York state, justice is "only available to those who can afford it."
In Onondaga, Suffolk and Schuyler counties, the report says, defendants are regularly arraigned with no lawyer present.
Some counties also set "drastically low minimum income thresholds" that make it impossible for most low-income people to get a government-funded counsel, the report contends. In Schuyler County, for example, the Public Defender's Office "based eligibility on state and federal poverty guidelines to keep costs down." This meant someone with an annual income of only $12,763 in 2007 would likely not receive a public defender. In Washington County, a woman who was supporting her son on just $10,320 a year was denied a public defender, according to the report.
In Onondaga County, which includes Syracuse, one-third of criminal defendants in the county's 10,000 public defense cases in 2012 never met with their lawyer outside of court. According to the report, that results in most defendants pleading guilty.
In Suffolk County, where Telfair went to jail, the report says public defenders consulted expert witnesses in approximately zero percent of cases.
With inadequate legal counsel, poor defendants often have to wait in jail for months before going to trial or reaching a plea bargain. During this time, they may lose their jobs and their homes. In some cases, they're behind bars when loved ones die.
The public defenders themselves, the report argues, aren't necessarily to blame. They are woefully underfunded in many counties. In Washington County, for example, prosecutors are given funds for investigation that are 35 times greater than the moneys that go to government-funded defense attorneys.
Low pay for public defenders, the report says, also depletes their ranks, as lawyers are attracted to higher paying jobs at private firms. The public defenders left behind are overburdened with cases.
The New York State Bar Association recommends that public defenders take on no more than 120 felony cases a year. According to the NYCLU's report, however, public defenders across the state have ended up handling as many as 420 felony cases a year.
Paltry county budgets often deprive these lawyers of even basic workplace amenities. In Washington County, for example, the county's seven public defenders had to share a single computer, the report says.
"Our criminal justice system only works at producing the truth if both the prosecution and the defense are on equal footing," NYCLU lawyer Corey Stoughton said in a statement. Stoughton is lead counsel in the class action. "In much of New York State, the system is broken. Until the state accepts responsibility for providing public defense, the deck will be stacked against poor New Yorkers who are too often denied justice and suffer the consequences."
New York is one of the few states in the U.S. that delegates public defense responsibilities to each county.
"Governor Cuomo and state leaders should replace the county-based arrangement with a true statewide system, with adequate funding," NYCLU Executive Director Donna Lieberman said.
Wednesday's report is linked to the lawsuit, which was originally filed in 2007, when Andrew Cuomo was the state attorney general. The suit was reinstated by the New York Court of Appeals in 2010 and is finally headed to trial on Oct. 7 in the Albany County Supreme Court.
Dani Lever, a spokesperson for Cuomo, told HuffPost that "the state is involved in ongoing litigation and accordingly we cannot comment [on the lawsuit]."
The NYCLU is seeking either a settlement or a ruling requiring sweeping policy changes to ensure that there is "a lawyer representing every poor criminal defendant in New York at the initial court appearance, and ensure that the lawyer has previously met with the defendant," the report says.
It also recommends that public defenders' caseloads be lightened and that the county-based arrangement of public defense be scrapped.
Calling all HuffPost superfans!
Sign up for membership to become a founding member and help shape HuffPost's next chapter