NEW YORK ― New Yorkers love grumbling about the Metropolitan Transportation Authority, the public benefit corporation responsible for public transit in the city, for notorious problems like overcrowding, fare hikes and long delays.
But that's just the tip of the iceberg. People with disabilities not only deal with those issues, but with other overlooked and often-ignored flaws that hinder their independence and daily well-being.
"You really don't realize how inaccessible the city is until you need it to be accessible for you," Eman Rimawi, 32, a disability advocate who became a double amputee five years ago, told HuffPost.
"Unfortunately, people see me as damaged goods and as broken … like I'm just sort of the garbage of society," she said. "It's like, 'Nah. I'm not anybody's garbage. I'm actually a queen.'"
The MTA's accommodations for the disability community, however, are certainly not fit for royalty. Or even the average Joe.
"Unfortunately, people see me as damaged goods and as broken … like I'm just sort of the garbage of society. It's like, 'Nah. I'm not anybody's garbage. I'm actually a queen.'"
Most subway stations lack elevators, ramps and visual and audible indicators that allow everyone to garner basic information, including schedule changes. Public buses, for instance, rarely announce the name of a stop, making it difficult for someone who is blind or has low vision to know where they are.
"In terms of my role, the ADA only goes so far," Elegudin told HuffPost. "The ADA kind of sets out a goal and sets out a recommendation, but the truth is, seeing more technologies today, we can do much more to help people with disabilities than, per se, what is required by the ADA."
Elegudin says only 118 out of the 472 subway stations in the city are compliant with the ADA. And most of these stations serve residents in or close to Manhattan, rather than in more affordable locations deep in the outer boroughs of Brooklyn, Queens, the Bronx and Staten Island.
It doesn't make much sense.
Employment rates for people with disabilities are much lower than for people who do not have a disability, according to the Bureau of Labor Statistics. Based on a 2017 report by National Disability Institute, a nonprofit corporation that advocates for the disabled, 1 in 9 adults ages 18-64 has a disability. Of those, only 1 in 3 is employed.
"People with disabilities face many barriers to economic success — low expectations, discrimination and a complex public support system that often limit employment opportunities and upward mobility," wrote Michael Morris, executive director of NDI, in 2017.
The lack of accessibility disadvantages an already disadvantaged group of people.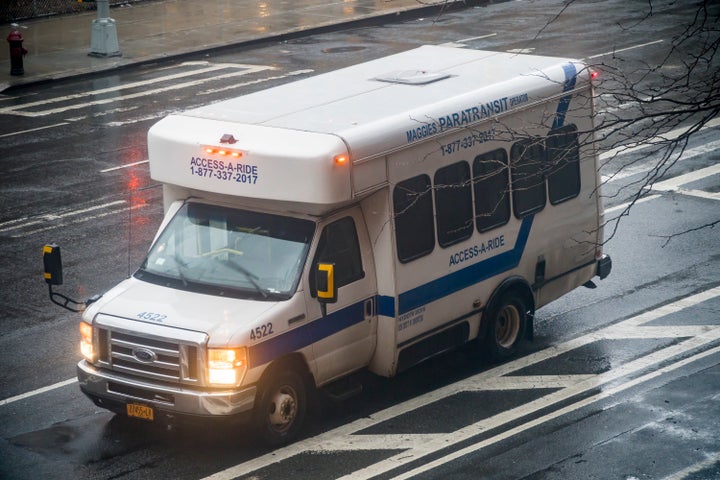 In New York City, a paratranist service called Access-A-Ride is supposed to make up for the lack of accessible stations.
Access-A-Ride's vans are meant to shuttle people who can't use New York's transit system to their destinations. Customers contact the service, explain where they need to go and what time they need to be there, and Access-A-Ride provides them with a pickup time.
It sounds great, but according to Rimawi, who is a regular customer and works as the Access-A-Ride campaign coordinator and organizer for the nonprofit New York Lawyers for the Public Interest, the service has some serious problems.
There are no reduced fees for people who depend on the service. Travel times are extraordinarily long, ramps on the vehicles don't always work, employees lack sensitivity training, and Rimawi says that vehicles occasionally show up at her apartment with smoke coming from their engines.
Access-A-Ride employees aren't even aware of some of these issues until they encounter them personally, Rimawi said.
"There are tons of staff at Access-A-Ride who started to have to use Access-A-Ride because of an injury or something, and then they're like, 'Oh my goodness. This needs to change. This needs to get better," Rimawi said. "And I'm like, 'Well, you should've recognized that beforehand, staff person at Access-A-Ride.' But they didn't know about it until they experienced it themselves. Personal experience always makes a difference."
At some point, anyone could have that sort of personal experience, Rimawi pointed out.
"Not that I wanna put the fear of God in anybody, but anybody can be disabled at any time," said Rimawi, who lost both her legs due to an aggressive form of lupus that carried with it a clotting disorder. "I didn't think almost five years ago that I was gonna be an amputee."
She added: "Folks need to recognize that we're all human beings, and you never know what's gonna happen."
To see the obstacles that people with various disabilities face while trying to get around New York City, check out the HuffPost video above.
Popular in the Community