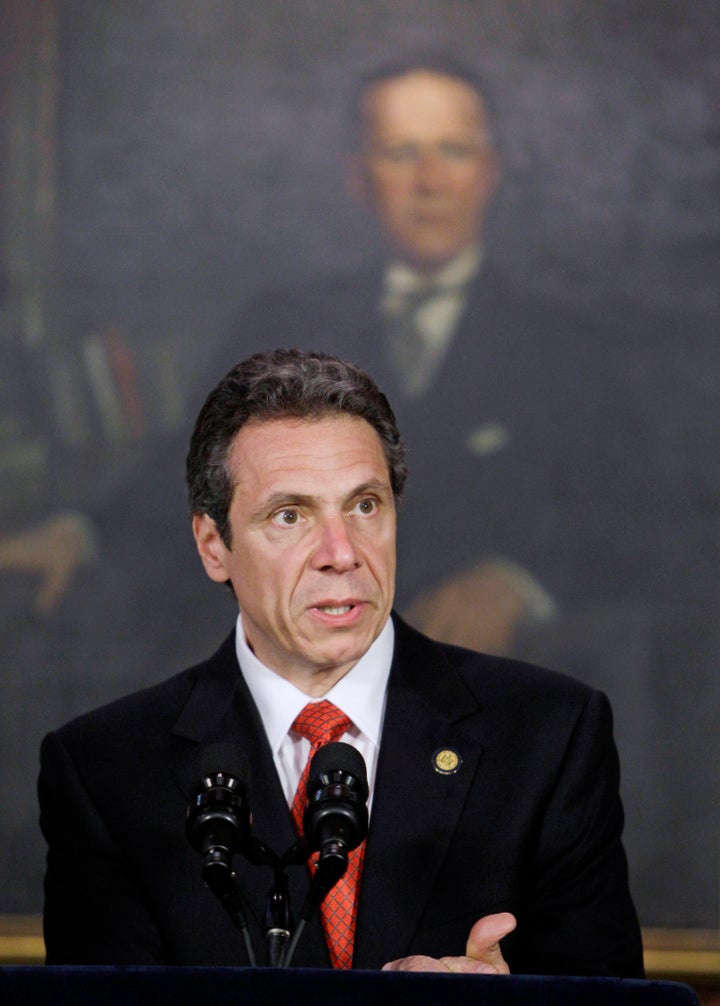 WASHINGTON -- New York will no longer participate in the Secure Communities immigration enforcement program, Governor Andrew Cuomo announced on Tuesday, making the state the second to rescind its agreement with federal immigration authorities.
"There are concerns about the implementation of the program as well as its impact on families, immigrant communities and law enforcement in New York," Cuomo wrote in a letter to the Department of Homeland Security. "As a result, New York is suspending its participation in the program."
The state will review whether the program is meeting its stated goal of deporting convicted felons, according to a press release from the governor's office. "Based on evidence to date, it appears the program in New York is failing in this regard and is actually undermining law enforcement," the governor's office said.
Reps. Jose E. Serrano (D-N.Y.) and Nydia Velazquez (D-N.Y.), along with a number of immigration advocacy groups, had lobbied Cuomo to stop the state's participation in Secure Communities, arguing the enforcement program causes racial profiling and allows non-criminal undocumented immigrants to be targeted by police for deportation. A petition asking Cuomo to terminate the state's relationship with the program had garnered more than 6,300 signatures as of Wednesday afternoon.
But New York may have difficulty blocking information from going to DHS for immigration enforcement purposes, part of broader confusion over whether DHS allows states or communities to opt out of Secure Communities at all.
The fingerprint-sharing program is based on a network of agreements between state, local and federal actors. States sign a memorandum of understanding with DHS that says they will allow the agency access to fingerprints taken by local police. The FBI, which receives the fingerprints to screen for fugitives and criminal records, then shares the prints with DHS.
But DHS has evaded questions about how communities and states can block fingerprints from being shared between the FBI and DHS. Although immigration enforcement agencies initially referred to the program as voluntary and dependent on agreements with local communities, DHS officials changed course last fall, announcing that counties within states that agreed to join the program would be forced to participate.
Illinois Gov. Pat Quinn, a Democrat, announced on May 4 that his state had terminated its memorandum of understanding with the Department of Homeland Security over the program. Yet after Quinn's announcement, DHS confirmed to HuffPost that it would continue to use fingerprints taken in the state for immigration enforcement.
DHS officials did not respond to requests for comment about how the agency would respond to the New York governor's decision.
Meanwhile, DHS inspector general Charles Edwards, the top oversight official for the agency, is gearing up to complete an investigation into the various misstatements over whether the program was mandatory. In May, the agency confirmed in a letter to Rep. Zoe Lofgren (D-Calif.), the top Democrat on the House immigration subcommittee, that it would investigate contradictory statements over Secure Communities in the fall. On May 18, Lofgren responded that she wanted the investigation to begin immediately, in order to quickly sort out confusion over the program.
Immigration advocacy groups are working to halt the spread of the program, which the Obama administration plans to implement nationwide by 2013.
Cuomo's decision could help other states reconsider their decisions to join the program, said Pablo Alvarado of National Day Laborer's Organizing Network, part of the coalition that requested a number of documents from DHS that show the contradiction between various statements it made about Secure Communities. Pro-immigrant groups are lobbying Massachusetts Gov. Deval Patrick, a Democrat, not to join the program.
"New York joins a growing chorus of state opposition to an ill-conceived, dangerous, and dishonestly-executed program," he said in a statement. "The more local law enforcement and elected officials learn about SCOMM, the more they have have opposed it."
Immigration advocates in New York also applauded Cuomo's decision, saying it could help keep immigrants safer.
"Cuomo's initiative is on the right side of history by rejecting overly broad enforcement policies that divide and discriminate against immigrants, undermine law enforcement and impose burdensome costs on our government," Manhattan Borough President Scott Stringer said in a statement. "I am grateful that Governor Cuomo has worked closely with immigrant communities and other stakeholders to bring this needed change and keep New York at the forefront as an immigrant city and state."
UPDATE 5:40 p.m.: The Department of Homeland Security confirmed to HuffPost that it will continue to use fingerprints from New York for immigration enforcement, based on its agreement with the FBI.
"When it comes to enforcing our nation's immigration laws, Immigration and Customs Enforcement (ICE) is focusing its limited resources on those in our country illegally who have also broken criminal laws," a spokeswoman for ICE, part of DHS, said in a statement. "Secure Communities is a critical part of this approach and is an information sharing partnership between two federal agencies – ICE and the FBI."
Popular in the Community