 Following Los Angeles Clippers owner Donald Sterling's lifetime ban from the NBA for making racist comments about African-Americans, four New York state lawmakers announced a nonbinding resolution Tuesday calling on sports leagues to stop using racial slurs as team names, according to a press release from the Oneida Indian Nation.
State Sens. George Maziarz (R) and Joe Griffo (R) and Assemblymen Karim Camara (D) and Keith Wright (D) joined with Arthur Raymond Halbritter, the tribal representative of the Oneida Indian Nation, to urge commissioners and team owners to combat racism in professional sports, targeting Redskins owner Daniel Snyder for his refusal to rename the Washington football franchise.
"Professional sports organizations that receive massive amounts of public funding should not be profiting from the use of harmful racial slurs such as the R-word," Halbritter said Tuesday. "With the introduction of this resolution, New York has become a role model for the entire nation, and is clearly demonstrating that it wants to stand on the right side of history."
Citing the power and influence of professional football in the U.S., Wright emphasized the perpetuating role NFL teams play in promoting "offensive language."
"An injustice anywhere is an injustice everywhere," Wright said. "Certainly an offensive and racially offensive language and names of teams is [sic] not only an injustice in the Washington, D.C. area, but an injustice throughout this country, especially when you're talking about the NFL, the most watched sport in the United States of America."
On Wednesday, Senate Majority Leader Harry Reid (D-Nev.) also advised NFL Commissioner Roger Goodell to force Washington's professional football team to change its name.
"The National Football League should take an assist from the NBA and pick up the slack. It would be a slam dunk," Reid said in a Senate floor speech. "For far too long, the NFL has been sitting on its hands doing nothing while an entire population of Americans has been denigrated."
Before You Go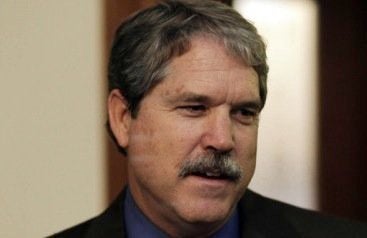 Racist Remarks Made By Politicians
Popular in the Community