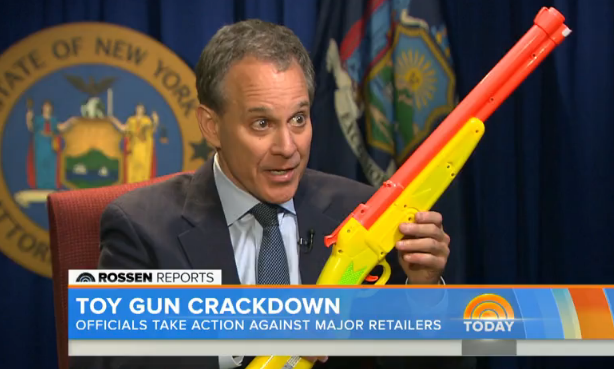 NEW YORK -- Toy guns sold in this state are getting a makeover.
New York Attorney General Eric T. Schneiderman announced a settlement Monday with Walmart, Sears, Amazon and other retailers to wipe realistic-looking toy guns from their shelves.
The retailers -- namely, Walmart -- must pay fines of more than $300,000 for selling more than 6,400 illegal toy guns from 2012 to 2014. The settlement, and the new rules that accompany it, put tighter restrictions on the shipping of illegal toy guns ordered online.
"We've had 63 people shot in New York because law enforcement officers thought the toy gun was a real gun," Schneiderman said during an appearance on the "Today" show. "That's not acceptable."
As an example of a legal toy firearm, Schneiderman held up a plastic rifle, its buttstock dyed neon yellow and its barrel a bright orange.
"No one is going to hand over their wallet because they're being held up by this," he said, brandishing the plaything. "No police officer is ever going to mistake this for a real gun and shoot someone in a tragic incident."
Federal law already requires toy guns to have bright orange tips on the end of the barrel. But, as "Today" show correspondent Jeff Rossen demonstrated in the segment, a fake firearm tucked tip-first into a potential assailant's trousers can be deceiving to an officer making a split-second decision on whether to pull the trigger. Unable to detect the orange tip in a fast-escalating situation, three separate officers, using unloaded practice guns, decided to shoot Rossen when he came at them with the toy gun.
New York City already requires any toy guns sold here to be brightly colored. The city regulation will now apply to the whole state.
The move, at least in part, is a reaction to the killings of two unarmed black people by police who say they mistook toy guns for real ones. A year ago, police shot John Crawford, a 22-year-old man, while he was holding a pellet gun at a Walmart near Dayton, Ohio. Last November, an officer in Cleveland killed Tamir Rice, a 12-year-old boy playing with a pellet gun at a local park.
"We are pleased that we were able to resolve the attorney general's concerns regarding toy gun sales in a mutually satisfactory way," Howard Riefs, a spokesman for Sears, said in an emailed statement to The Huffington Post. "We remain committed to meeting the needs of our many customers and members in New York."
Walmart, which banned illegal toy guns from its stores after a 2003 agreement with the state, will pay the bulk of the civil penalties after 149 of the playthings were sold to New Yorkers through its website, according to The New York Times.
"Once the New York attorney general expressed concern with certain items sold at Walmart.com we blocked the shipment of those items into the state," Randy Hargrove, a Walmart spokesman, told HuffPost by phone, adding that the website's shipping policies for the state have been revised to meet New York City standards. "We are pleased we were able to resolve this matter, along with several other retailers."
Amazon did not return an email requesting comment.