A new report confirms what New Yorkers have known for years: the rent really is too damn high.
By that same threshold, over a third of New York homeowners can't afford to pay their mortgages.
Also, according to the report, 28 percent of renters and 15 percent of homeowners in New York spend at least half of their household income on housing costs. The U.S. Census Bureau describes these households-- of which there are 12 million across the country-- as "severely cost-burdened."
In the Bronx, 58 percent of residents pay at least 30 percent of their annual income on housing. The same is true for 53 percent of Brooklyn, 54 percent of Queens, 49 percent of Staten Island, and 45 percent of Manhattan.
This affordable housing crisis, DiNapoli says, is caused by rising rents and falling incomes.
According to a report last year, the median monthly gross rent in New York City increased by 8.6 percent from 2007 to 2011, from $1,096 to $1,191. Meanwhile, during that same time period, the median household income decreased by 6.8 percent, from $54,127 to $50,433.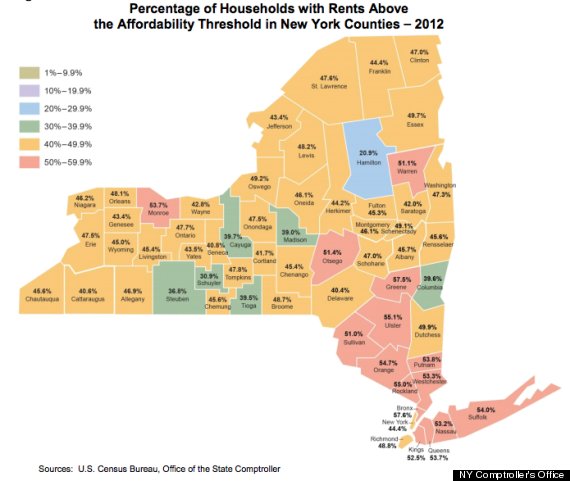 Popular in the Community