Co-authored with Rosanne Mottola

Can you recall the last time you had the stomach flu?
We bet you can. The stomach flu is serious business -- the constant pain and inability to hold anything down, even water. You pretty much live in the bathroom when you're suffering from stomach flu.
Now imagine dealing with said stomach flu every single day. Every. Single. Day.
Think about commuting to work with the stomach flu. Think about going shopping. Think about taking your kids to the park. Think about taking the bus or the subway. Think about being stuck in traffic.
Now think about getting that "gotta go now" feeling, running to the closest store or restaurant, asking to use the bathroom and being told NO.
NO, you cannot use the bathroom. NO, you must leave this establishment. YES, you must remain in excruciating pain. YES, you may have an accident in a public place.
That's what happened to Ally Bain -- when she was 14, she was shopping in a retail establishment in Illinois when urgency struck. The store did not have public restrooms and, despite being told about her having Crohn's disease, the manager denied Ally access to the employee restroom. Subsequently, she ended up having an accident right there in the store.
This is reality for people with inflammatory bowel diseases. Even in remission, many patients with Crohn's disease and ulcerative colitis live with diarrhea, severe urgency and pain. The "gotta go" feeling can pop up anywhere and at anytime and if a public restroom is not available, business owners currently can refuse access to an employee-only restroom to people with these debilitating digestive diseases.
Following her accident, Ally and her mother successfully lobbied the Illinois state legislature to enact the Restroom Access Act, also known as Ally's Law. This law requires retail establishments that do not have a public restroom to allow people with inflammatory bowel disease, irritable bowel syndrome, other chronic conditions and pregnant women access to employee-only restrooms. This law has already been enacted in 16 states; now it's time for it to become law in New York.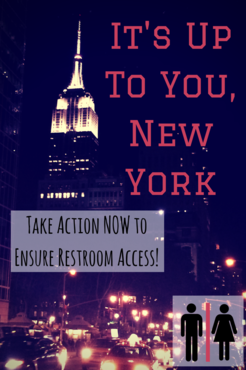 On June 17, the New York State Senate will vote on the bipartisan Crohn's and Colitis Fairness Act, which was introduced in the New York State Assembly and Senate earlier this year. This bill would provide people with "Crohn's disease, ulcerative colitis, irritable bowel syndrome or any other medical condition that requires immediate access to a toilet facility" access to employee-only bathrooms when a public one is not available.
To ensure the bill's passage, we need your help. Please write or call your New York State Senator and tell them to support S.4918, the Crohn's and Colitis Fairness Act because nobody living with a disease such as Crohn's disease or ulcerative colitis should be denied a restroom when they require one.
Related
Popular in the Community