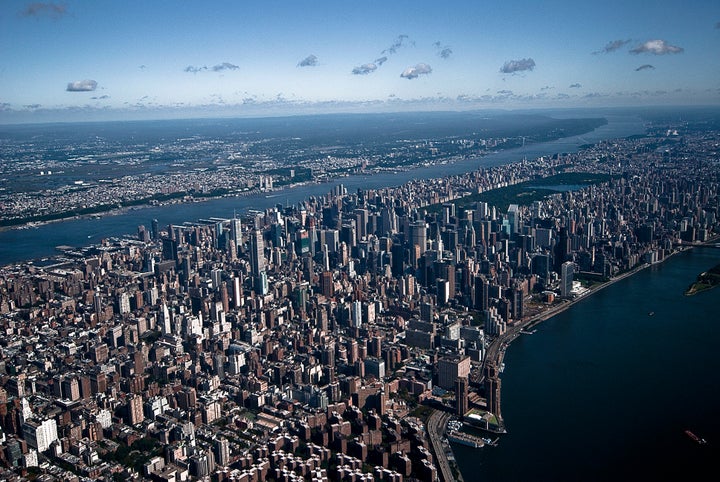 Sea levels could rise several feet by the end of the century, devastating coastal communities around the world. Yet while it's critical to understand the risk before it's too late, it's not always easy to visualize it.
As the visualization shows, the results could be dramatic. If sea levels rise 1 foot, a little under 170,000 New Yorkers will be affected, as well as 93 schools, waste treatment facilities and transportation facilities like subway yards and bus depots. But if ocean levels rise 5 feet, nearly 1,500,000 residents will find their homes -- as well as about 800 education, waste and transportation sites -- underwater.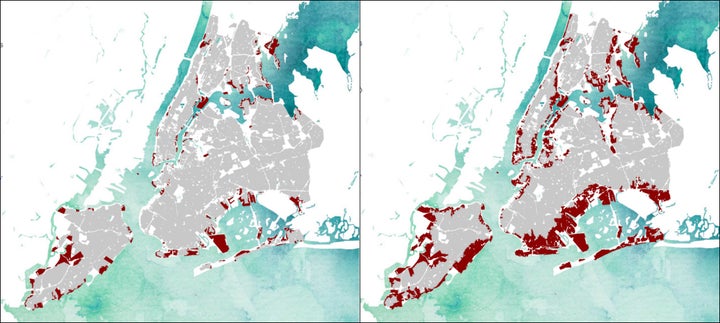 "Part of why climate change can be easy to ignore is because it's so abstract," said Benjamin Wellington, one of Landscape Metrics' three co-founders. "It happens slowly over a long period of time. It usually isn't really legible until something catastrophic happens."
"It's not just simply bringing in the edges of the city," Wellington said. "It means moving hundreds of thousands of people, hundreds of schools, hundreds of facilities. … It means displacement of the things that make up the fabric of the city."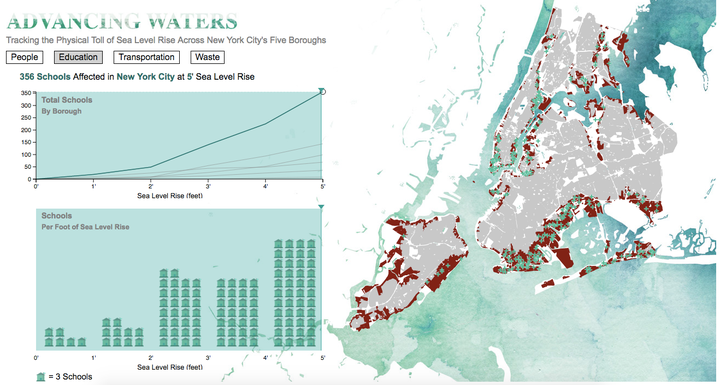 Landscape Metrics looked at transportation and waste management facilities that serve residents citywide to show that rising sea levels affect more than a neighborhoods that floods. 
Wellington noted several limitations: The census blocks they used to map population won't have uniform levels of flooding, and elevation levels can be imprecise. But the projections offer a glimpse at a few potential futures and show a range of outcomes.
The world's oceans are getting warmer in part because they absorb atmospheric heat related to human emissions, according to the 2014 National Climate Assessment, a federal report on the impact of climate change. As water heats up, it expands, contributing to sea level rise. Melting glaciers and ice sheets also contribute.
Sea level rise is accelerating, the NCA says, and current projections suggest oceans could rise between 1 and 4 feet by 2100. Some experts predict a wider range, between 8 inches and 6 feet. According to The Washington Post, a recent study suggests melting ice in Antarctica will contribute more to sea level rise than was previously accounted for, shifting the high end of the estimate above 6 feet.
"Under the high-emissions scenario, the 22nd century would be the century of hell," Ben Strauss, a sea level rise expert, told the Washington Post in March. "It would erase many major cities and some nations from the map."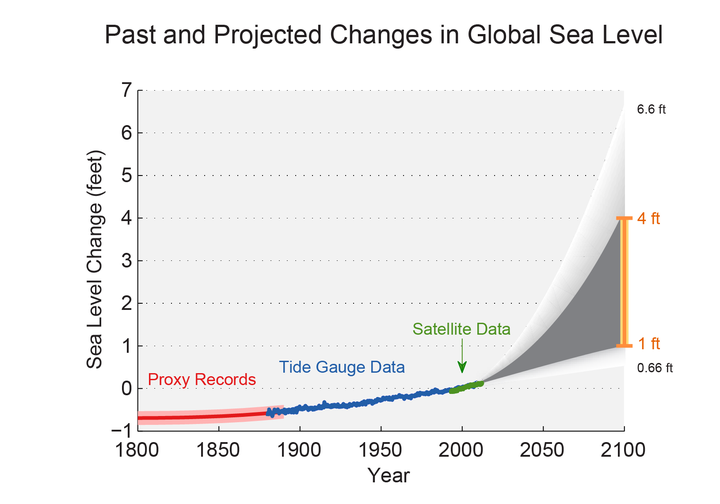 "[Sea level rise] isn't happening overnight. It's happening over 50, 100 years, so there's a huge capacity for adaptation," Wellington said.
"What it's going to take is ... mobilizing the people to kind of care about the situation, and to then engage their local officials to actually make real tangible action," Seibert added.
Kate Abbey-Lambertz covers sustainable cities, housing and inequality. Tips? Feedback? Send an email or follow her on Twitter.   
Calling all HuffPost superfans!
Sign up for membership to become a founding member and help shape HuffPost's next chapter
BEFORE YOU GO
PHOTO GALLERY
Countries Facing Greatest Climate Change Risks