New York is rocketing to the forefront of clean energy and climate leadership. In January, Governor Cuomo pledged to move New York off coal for good, an announcement that came after years of advocacy and hard work by leaders at all levels across the state.
This isn't just a victory for New Yorkers. Governor Cuomo has set a new standard for climate leadership. And mark my words - if grassroots advocates keep the pressure on, this will be the first of many such acts of leadership we will see in 2016 to keep the US moving forward on clean energy and climate. Even as the Clean Power Plan, stalled by the Supreme Court, makes its way through the legal process, New York concrete, historic step forward should reassure everyone that the US will continue to make progress toward our Paris climate commitment.
In New York, the real-world changes on the ground are already unfolding. Just this week, facing pressure from communities in and around Lansing, home to one of the state's four remaining coal plants, the New York Public Service Commission chose a electricity transmission upgrade plan instead of approving a costly proposed plan to co-fire the Cayuga coal plant to burn both coal and gas.
"The PSC took a major step today to protect ratepayers, ensure reliable electricity, all while protecting our environment," said, Irene Weiser, councilwoman in the Caroline, New York. "The commission's decision today shows that Governor Andrew Cuomo and his administration are serious about meeting the State's ambitious climate goals, while protecting the ratepayers of New York."
This comes on the heels of Governor Cuomo's January commitment to a full phase out the state's coal-fired power fleet by 2020. At that time he also doubled down on his promise to rapidly usher in a new energy economy fueled by renewable energy, requiring that 50 percent of the state's power from renewables by 2030.
New York's Beyond Coal activists should be proud of their work over the past few months and years. They've helped push and persuade the Governor and his administration to take these bold steps to end coal's dirty legacy in New York once and for all, while also ensuring that communities and workers are provided with a just and fair transition away from coal to a renewable energy economy. And they've kept power prices affordable for New York families and businesses.
Governor Cuomo has now joined the ranks of international climate leaders and set a new bar for other governors. In addition to his leadership on coal, his administration's Reforming the Energy Vision initiative, known as REV, has been heralded as a revolutionary plan to transform the state's power utilities so they can accelerate the transition to clean, distributed energy. And the state's NY-Sun program is a $1 billion initiative that's increasing the use of solar across the Empire State. What's more, the Governor has also moved forward with a bold $5 billion Clean Energy Fund, that supports the rapid deployment of energy efficiency and distributed renewable energy.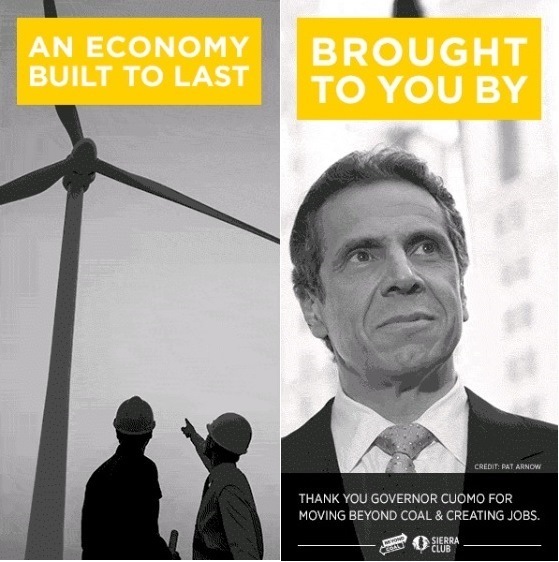 Now, Governor Cuomo has additional opportunities at his fingertips to ensure New York becomes a model - even a gold standard - for clean energy and climate leadership. At the state level, New York is already ahead of the pack by being a member of the Regional Greenhouse Gas Initiative, and Governor Cuomo can raise their ambition, by leading the RGGI states to set stronger goals to cut carbon pollution and invest in smart clean energy and transmission options.
He can also provide the necessary support for offshore wind to be built off the Atlantic Coast to power the state and provide high quality jobs. The Governor can commit to a long term, large scale offshore wind program for New York. New Yorkers across the state are pushing hard for offshore wind. Just last week more than 150 activists from a diverse range of community and state groups rallied on the steps of New York City's City Hall to call on Mayor de Blasio to make offshore wind power a critical part of meeting the city's 100 percent renewable energy and carbon reduction goals.
We thank Governor Cuomo and the people of New York for showing us all what climate and clean energy leadership looks like. As the countdown begins to meet our Paris climate commitment, we are pushing for this kind of leadership in states from coast to coast. Join us.
Related
Popular in the Community