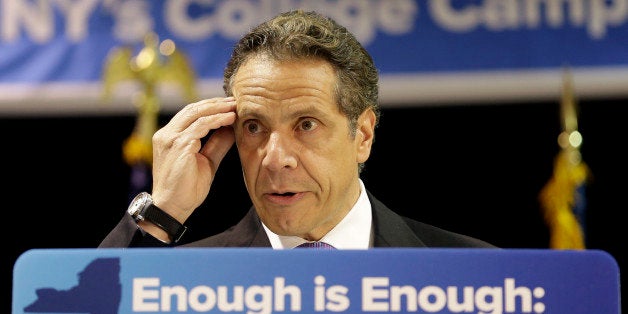 New York is on track to become the second state to require that colleges notate on transcripts when students are found responsible for sexual assault.
The Empire State would join Virginia, which enacted a similar law in May requiring that certain sexual violence violations be noted on students' transcripts.
New York Gov. Andrew Cuomo (D) and leadership in the state legislature announced this week agreement on a package of campus sexual assault legislation known as "Enough Is Enough." The bill passed both the New York Senate and the state Assembly on Wednesday.
If the legislation is enacted, New York would also become the second state to require that colleges use an "affirmative consent" standard in judging sexual assault -- essentially replacing "no means no" with "only yes means yes" as the benchmark for determining whether sex is consensual. Several other states are considering their own affirmative consent proposals.
When a student is found responsible for sexual assault, the New York bill would require public and private colleges and universities in the state to note on the student's transcript that they were either suspended or expelled "after a finding of responsibility for a code of conduct violation."
An accused student who withdraws from school while facing code-of-conduct charges but without finishing the disciplinary process will have a note on their transcript saying they "withdrew with conduct charges pending." An appeal process would allow students to petition to have their transcript cleared one year after they complete a suspension.
Most colleges decline to note it on transcripts when the school has found a student responsible for sexual assault, allowing students to transfer away without the receiving institution ever knowing about their past misconduct. Higher education groups are split about whether the practice should be changed. None of the campus sexual assault bills currently in Congress address this issue, although lawmakers have suggested they're interested in clarifying what colleges are legally allowed to share with one another.
California and Maryland considered their own versions of legislation requiring campus sex offense transcript notations this year. Maryland's bill died, while California's is still up for grabs.
Virginia's version applies to a limited range of violent sexual offenses, and the notation is only required to say that the student violated the school's code of conduct. Colleges are free to add more detail if they wish.
Related
Popular in the Community