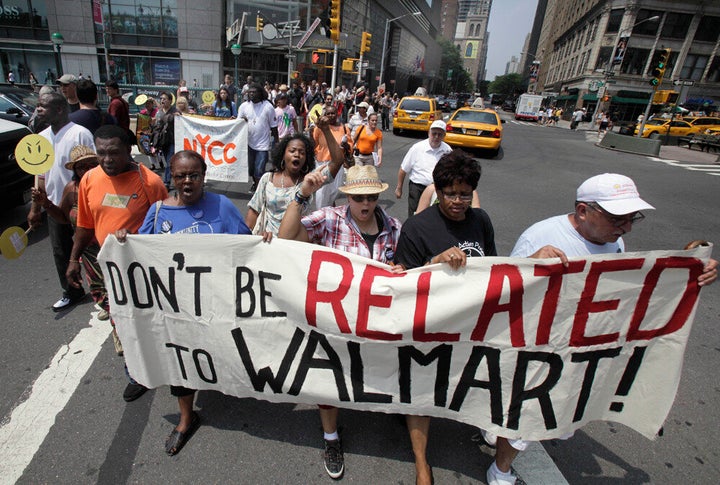 There are plenty of measures of what makes a New York institution, but a cameo on Seinfeld certainly helps solidify a business' Big Apple street cred. H&H Bagels was just one of those places. So when the purveyor of the city's signature breakfast food closed its doors earlier this year after nearly three decades in business -- the latest landmark casualty in the city -- amid an ongoing influx of big-box retailers, residents from the East River to the Hudson collectively asked themselves, "What is happening to our New York?"
The signage at H&H may be stripped by now, but in its darkened windows, local small-business owners saw a tale of two cities: The old New York, a collection of mom-and-pop storefronts that has long served as a venerable mosaic of the American Dream, is gradually being replaced by a new version that more closely resembles a suburban shopping mall. Walmart, perhaps the one chain conspicuously absent from Gotham, has recently opened a new front in its PR war to convince indie-loving New Yorkers that they really need the biggest box of all.
Caught in a perfect storm of high rents, national chain expansion and a bad economy, local independent businesses are having a tough time keeping afloat. If it's true that small businesses are the soul of New York City, then New York City is doing a lot of soul searching lately.
"Small, diverse operations are what make New York so interesting," says Anne Cottavoz, owner of Columbus Food on the Upper West Side. "They're like the community squares of a village," But that, Cottavoz points out, is "changing tremendously. Fifteen, 20 years ago, New York City was so much fun, because the stores were eclectic and artists could afford to start their own little business. Now many small businesses don't have a chance."
Since opening in 1927, Strand Book Store has survived not just the Great Recession, but the Great Depression. But Strand Books founder Ben Bass saw all 47 of his fellow bookstore owners on New York's historic Book Row go out of business, and "unfortunately, we lost a number of wonderful independent retailers over the last few years," says Nancy Bass Wyden, Ben's granddaughter, who now co-owns Strand Books with her father, Fred Bass. "We were so sad to see Gotham, Coliseum, Academy and Oscar Wilde bookstores close."
Another New York favorite, Cafe La Fortuna closed in February 2008, after 31 years in business on the Upper West Side. Not only did Cafe La Fortuna represent a singular coffeehouse in an era of more than 17,000 Starbucks locations worldwide, but residents got to hang out in a shop where John and Yoko Ono were once regulars. On its last day, mourners packed the place, commiserating over a final cup of coffee. Owner Vincent Urward posted a note on the window: "Cafe La Fortuna has become another casualty of an out of control real estate market."
Rent was reportedly a factor for H&H, too -- although owner Helmer Toro had widely publicized financial problems and owed $347,813 in back rent on the 1,800-square-foot space, H&H's national business manager Marc Fintz attributed the closure to the landlords' alleged unwillingness to lower the $67,500 rent and negotiate a new lease. "They've made it very clear they want a bank to come there," Fintz said. "It's who the ideal tenant is."
As landmark small businesses disappear, landlords are wooing those that can easily afford -- and even boost -- the rents: national chains and mega banks. The trend is already evident in the city's aesthetic, where there's a sense of deja vu from block to block.
"Small stores add character to streetscapes -- banks and chains dull it," says New York City Councilwoman Gale Brewer, who represents the Upper West Side. "There's no life to those streets. There are 10 windows in a row that look the same."
Chains and banks, meanwhile, have more incentive to rent the space, not necessarily to meet demand, but to increase exposure. "We don't actually need more banks," Brewer says. "They're just there because they're advertising, like billboards."
It's also hard to believe that New York City needs 466 Dunkin' Donuts shops, but according to the Center for an Urban Future's annual tally of chain stores, that's the city's most ubiquitous chain, followed by Subway with 389, Starbucks with 256, and Duane Reade with 248 locations. In the 22.9 square miles of Manhattan alone, there are 194 Starbucks locations, 163 Subway shops, 161 Duane Reade drugstores and 115 Dunkin' Donuts. The 280 national retailers listed in the report increased their number of stores by 4.1 percent from 2009 to 2010.
Small businesses find it hard to compete with that kind of power. Battling high rents and a tough recession was nothing, says Cottavoz of Columbus Natural Food, compared to having Whole Foods open a block and a half away from her 17-year-old store.
Brewer is trying to attack the issue on the legislative front. In February, she suggested a tax abatement for landlords who rent space to small businesses. More recently, she has proposed zoning rules to limit the amount of storefront space to a maximum of 25 to 40 feet, with banks and big box stores limited to a street entrance and second floor space. Both proposals are still pending.
Although Brewer calls the homogenization of New York her "worst nightmare," Bass Wyden points out a possible upside to the retail-chain explosion. "For quite a while, the Strand was literally surrounded by three Barnes & Noble superstores, and we witnessed an increase in foot traffic and sales after each B&N store opened," Bass Wyden says. "I believe the B&N stores helped attract more book lovers to the area."
Bass Wyden also foresees support from lovers of New York looking to reclaim the city's character. "So many customers are being extra diligent about supporting their local businesses these days, and the economy and influx of chain stores have created smarter shoppers who really think about where their money is going and value the extra care and attention that independent retailers can offer them," she says. "It's the small, independent businesses that make New York City and its various neighborhoods different. I really believe that shoppers won't allow for much more homogenization of their neighborhoods. They will realize, more and more, that they have the power to turn the retail industry around. Shoppers can choose where they shop and, if they don't want another Duane Reade in their neighborhood, should support the mom and pop drugstore down the street."
It's a mindset that Cottavoz is counting on. A year after Whole Foods opened, she says, "Now it seems like people are coming back. Some customers have even made it a point to come more often after Whole Foods opened."
Union Square, where "the Strand" sits, is bordered by big retailers including not only Barnes & Noble, but Babies R Us, Whole Foods, Best Buy, Nordstrom Rack and DSW. Yet "tourists love to go to stores they can't find anywhere else," says Bass Wyden. "Customers always tell us they love shopping at the Strand because it's like a treasure hunt -- you never know what you're going to find -- and because we're a part of New York City history."
With a tough retail environment in one corner and conscious shoppers in the other, New York City small-business owners are trying to fight the good fight. And if they lose? It'll get even harder to distinguish this uniquely American melting pot from the Mall of America.
Related
Popular in the Community