 Just a day away from Tuesday's public hearing on the proposal to end the sale of large, sugary drinks in New York City, Mayor Bloomberg is seeking to galvanize support, issuing a press release listing supporters of the ban while citing other successful, if initially unpopular, city public health initiatives.
High profile supporters include city's largest health union, filmmaker Spike Lee, and chefs Mario Batali and Jamie Oliver.
Obesity is a crisis this City cannot afford to ignore. If a virus were killing 5,800 New Yorkers in a single year, people would be clamoring for government action to stop it. The fact that obesity kills that many year after year only increases our duty to respond.
Monday's statement reiterated the results of last week's city-funded report affirming the success of Bloomberg's trans-fat ban. The report concluded that there was a drop in trans-fat consumption by New Yorkers that directly correlated to the ban.
"Six years ago, naysayers called the transfat ban 'a misguided attempt at social engineering by a group of physicians who don't understand the restaurant industry,'" said Mayor Bloomberg. "This week, we saw evidence that the ban is reducing New Yorkers' fat intake and potentially saving lives. Six years from now, hopefully we are celebrating a reversal in the obesity epidemic currently killing 5,800 New Yorkers a year and due to our plan to limit the size of sugary beverages and other anti-obesity initiatives."
The controversial proposal-- which would bar establishments from selling containers of sugary beverages bigger than 16 ounces -- has elicited strong reactions from both the soda industry and public health advocates.
Since the announcement, there have been protests. Some protesters carried signs that read, "Hands off my Bladder."
Representatives of the restaurant industry are also up in arms over the ban and have warned they are ready to fight. New York State Restaurant Association Rick J. Sampson said in a statement, "We're coming out of this thing swinging. We appreciate the Mayor's concern for public health. But the current proposal goes much too far."
Lobbyists from some of the world's largest soda companies including Coca-Cola even launched an ad campaign suggesting the mayor lay off New Yorkers' food choices. (Listen to the radio ad below)
With just one away from the public hearing, what do you think?
See below for photos of the rally protesting Bloomberg's ban:
Before You Go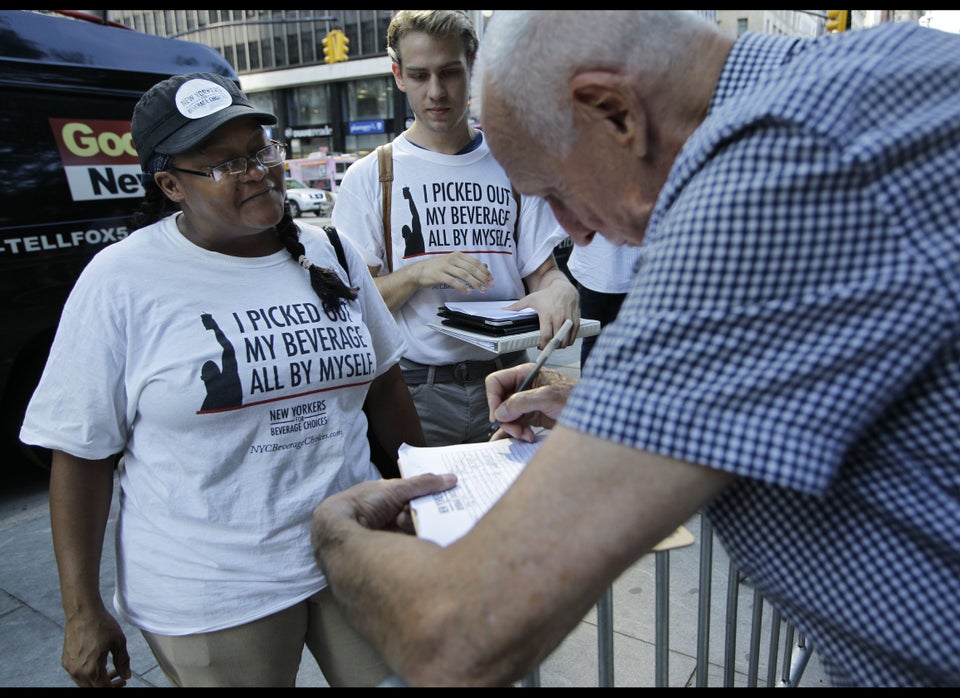 'Million Big Gulp March'
Popular in the Community