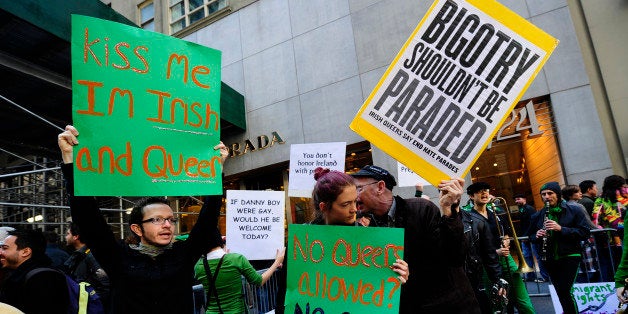 As the Irish rugby team powered through to victory last Saturday, I stood 3,000 miles from home at the Kinsale Tavern in Manhattan, side by side with supporters in green jerseys. Holding our breath, erupting into wild cheers, we even gave commiserating handshakes to a lone English supporter hunched over a pint in the corner.

Country boys who recently left Ireland for work in the U.S. tucked into homemade shepherd's pie at the bar, and a man with an Irish cross, stars and stripes and a tribute to 9/11 tattooed onto the back of his shaved head stood testament to the indelible Irish-American heritage.

Rian Mulcahy, a student from Cork living in Harlem for the past year, never misses a chance to support her country, but on Monday, as the biggest St. Patrick's Day Parade outside Ireland marches down Fifth Avenue, she won't be cheering it on.

"It's absolutely disgraceful," she said, commenting on the exclusion of openly gay groups from the New York parade, even as LGBTQ groups march proudly in parades across Ireland.

More than 300 groups march under large identifying banners at the event that draws thousands of spectators. Gay people are only allowed to march as long as they keep their sexuality to themselves. The message sent is a dated concept that being Irish is being Catholic, and if you're gay you don't qualify.

"When they march by, they give you the finger, they say get AIDS and die," said J.F. Mulligan, a member of the Irish-American LGBTQ society Irish Queers. "You're on the side of Fifth, you can't move, and you're the brunt of this real hatred from police in uniform marching."

Irish Queers organizes an annual protest on the sidelines of the Fifth Avenue parade, despite being screamed at and spat on by participants over the years. They commend Mayor Bill de Blasio's boycott of this year's parade, but say allowing uniformed police and firemen to march sends a dangerous public endorsement of the parade's anti-gay message.

"They're in uniform, they're representing the city," remarked Mulligan. "Even if they disagree with who I am, their job is to protect me, to protect all the people of New York, and that's a real mixed message we receive as a community."

As a child, Mulligan marched in the parade with his father, under the banner of The Dublin Society. It was a big day out for the family, an opportunity for the Irish and Irish-American community to come together, to see old friends and to celebrate the culture and heritage that joined them.

When Mulligan came out to his mother, a first generation immigrant from County Tyrone, she asked horrified if he was going to start wearing pink suits. A few years later, she was standing alongside him at protest on Fifth Avenue, believing, above all else, this was an Irish issue. "It's 'Kiss me, I'm Irish'. Not 'Kiss me, I have rosary beads!'" Mulligan laughed.

In a video of the 1991 parade, spectators carry banners declaring "You have betrayed Christianity" while the crowd hurls vicious abuse at Irish-American LGBTQ activists marching alongside then-Mayor David Dinkins. An old lady with a shamrock pinned to her smart red coat screams "AIDS, AIDS, AIDS" repeatedly.

The Ancient Order of Hibernians, the original organizers of the parade whose membership is exclusively Irish and Catholic, expelled the progressive division that invited the LGBTQ group to march. Dinkins compared the exclusion to that of African-Americans. During the civil rights movement, religious freedom was often used to justify racial discrimination. We recognize today that discrimination of women or people of color is unacceptable, but allow such discrimination on the basis of sexuality.

The parade is run officially as a private religious event, giving it the right to exclude gay groups on the basis of free speech. In the U.S., religious groups are increasingly invoking First Amendment rights to claim exemptions and discriminate on grounds of religious freedom. Corporations run by religious families are fighting in the Supreme Court to deny contraception under insurance plans for employees, and recently, in Arizona, a bill nearly passed allowing businesses to refuse service to gay people on the basis of religious freedom.

Mulligan said he is not religious, but that culturally, he was brought up Catholic, a description many Irish people of my generation will identify with. At a recent pro-life vigil in Dublin last year, I interviewed young American evangelical missionaries who had come to revive the religious zeal of Ireland's increasingly "lapsed Catholics."

Religious conservatives in the U.S. and a contingent of the Irish-American community still like to hold up Ireland as a poster child for staunch Catholic values, but Ireland is no backwards little island. According to polls, three-quarters of the Irish population support same-sex marriage and all indications are that when a government endorsed referendum on marriage equality is held in summer next year, it will be overwhelmingly supported

The first mayor to do so in 20 years, de Blasio's boycott brought the issue out of the closet, and has been joined by Boston Mayor Martin Walsh, who refused to march after South Boston Allied War Veterans Council disqualified gay vets from marching openly. Irish Minister for Social Protection Joan Burton has snubbed the Manhattan parade during her official visit in solidarity and major corporate sponsors Sam Adams, Guinness and Heineken have pulled out. Activists like Mulligan hope that this will bring change.

While de Blasio endorsed the inclusive St. Pat's For All Parade in Queens this year, marching shoulder to shoulder with Irish drag performer Panti Bliss, in the United States, we know there is no such thing as "separate, but equal."

As a gay Irish friend back home put it bluntly, "If everybody's Irish on St. Patrick's Day, that means faggots, too."
Calling all HuffPost superfans!
Sign up for membership to become a founding member and help shape HuffPost's next chapter