NEW YORK -- "We are not guinea pigs." "I'm more than a test score." "Testing is stressful."
So declared the signs carried by parents and students Thursday outside the Manhattan headquarters of exam publisher Pearson Education. Dozens of elementary and middle school kids swarmed the steps of 1330 Sixth Ave. to protest the growth of high-stakes standardized testing. Several wielded 8-foot-tall puppet representations of New York City Mayor Michael Bloomberg, Commissioner of Education John King and other high-ranking public officials.
With New York City's public school children enjoying a holiday on Thursday, parents and children took the opportunity to voice their frustrations with excessive standardized testing.

According to protest spokeswoman Martha Foote, parents with children in 61 New York schools -- 47 of them in the city -- have pulled their children out of the current voluntary rounds of "field tests," used by Pearson for research purposes. The boycott has been pushed along by three New York City groups: Change the Stakes, Parent Voices New York and Time Out From Testing.
The protesters on Thursday hoped to raise awareness among parents who "have no idea how much of their children's education has been taken away by the testing," said Nancy Cauthen, who attended the demonstration with her son, Evan, a fifth-grader at P.S./I.S. 187 in Manhattan.
"The field testing, we felt, was an opportunity [to raise awareness], since people could take their kids out [of school], and their kids would not be punished," she said.
Cauthen said her other son, Jacob, is in ninth grade at Franklin Court High School and was going to demonstrate but "ironically couldn't come because he's at home studying for his Regents exams next week."

The protesters also sought to attract the attention of New York officials. "Public officials have ignored parents, they've ignored our movement, and we want to show them that there's enough of us that they need to start listening to us, because we're not going away," Cauthen said.
New York State Education Department officials could not be reached for comment Thursday.
Pearson, which has a five-year, $32 million contract with the Education Department to design tests for students in grades 4-8, is administering a second round of field tests to children across the state from June 5 to 12. These experimental tests have no implications for the students and schools, but are designed to try out new test questions, Tom Dunn, communications director of the Education Department, told HuffPost last month.

The field tests come on the heels of state-mandated English language arts and math exams, which were administered to students in grades 3-8 over a two-week period in April. The tests were longer than those given in previous years, largely because they also contained many field-test questions.

Cauthen said she had considered opting Evan out of the April tests and admires the parents who did pull their children. Because those tests are used to evaluate students, however, she said she wasn't willing to risk her son suffering academically as a result.

Another protester, Gretchen Mergenthaler, who was accompanied by her 10-year-old son, Declan, said that his school -- the Amistad Dual Language School in Manhattan -- faced a major parental boycott against the field tests. She said her son "would have absolutely been opted out" had his class been among those being tested.
"My son's at a dual language school, where the second language is what makes it special, and teaching to these bubble tests takes away what's special about my son's school," said Mergenthaler.

At Thursday's protest, Lisa Edstrom, representing Parent Voices New York, gave an impassioned speech lamenting the role that high-stakes tests now play in children's classrooms.

"As an educator with 20 years' experience, I've seen what good schools look like. But what I've seen as a parent in these last couple of years makes me angry," she said into a microphone, with the crowd repeating her every line. "High-stakes tests drive our curriculum. I'm all for good assessments, but these tests do not give us useful information about our children. These tests are being used to evaluate teachers and schools. And the pressure is on our children to perform, and on our teachers to get them to perform."
Michele Israel told HuffPost that parents at her fourth-grade son Aidan's school, P.S. 107 in Brooklyn, opted their children out of the first round of field tests administered a few weeks ago.
Like many other parents at the protest, Israel expressed frustration that schools now tended to "teach towards the tests" and that admission to particular middle schools can hinge heavily on standardized test scores.

Kevin Jacobs, also a parent from P.S. 107, said he has been active in the movement against the growing number and importance of standardized tests.

"I think part of what we're trying to do is both activate more parents and get them involved and get them to believe," Jacobs said. "We've had 12 years where parents have pretty much been excluded from the process of making decisions in public education, and I think that's been the outcome of mayoral control."
He also said testing protesters had "met with as many state senators and assembly members as we could get meetings with in the last few months."

On Thursday, Jacobs was accompanied by his six-year-old son, who is in first grade and thus has not yet been subject to standardized testing. But Jacobs isn't sure that grace period will last.
"It's possible that in a few years from now they could be doing tests certainly of kindergarten and even preschool, if you look at some of the other states and how they're using standardized tests," he said. "I find that ludicrous, first of all, and also scary."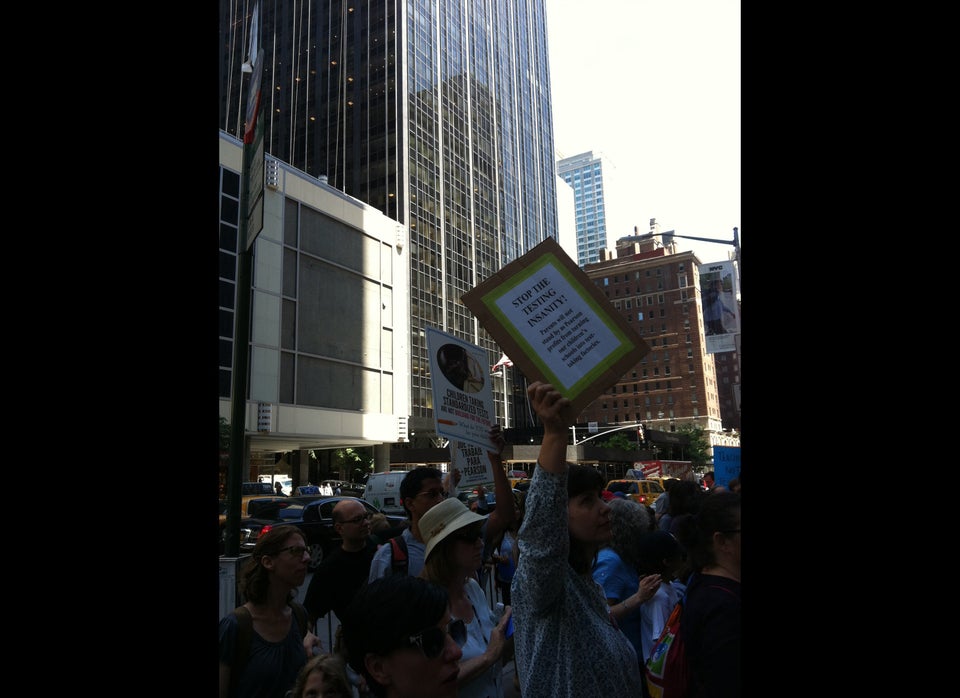 New York Standardized Testing Protest
Related
Popular in the Community