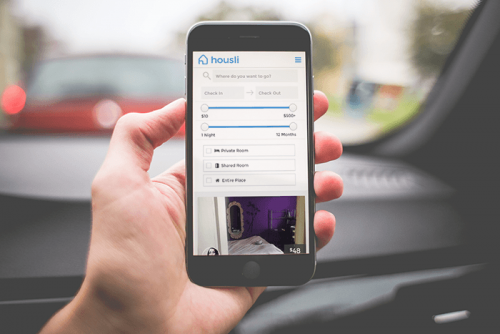 With the vacation rental sharing economy rapidly gaining popularity over the past decade with nearly ubiquitous Airbnb leading the way and the perhaps lesser known, but still popular HomeAway, closely following, it seems unlikely that any new startup would want to challenge these large and well-established incumbents. However, a startup based in New York aims to do just that. Housli, a new vacation rental and sharing economy platform, looks to challenge the industry leaders by giving both hosts and guests more choices and lower fees, in addition to recognizing and catering to the different segments of sharing economy renters.
"We recognize that there are many different types of sharing economy renters, whether they be vacationers, students, or professionals, and they all are looking for different sharing economy experiences," said Georgios Mourdoukoutas, the Founder and CEO of Housli.
As the sharing economy continues to grow there may be room for startups to address specific niches of the rental sharing market. Unlike, Airbnb and HomeAway, hosts on Housli can specify which types of sharing economy renters would be suitable for their accommodation. This may be a good idea to help to reduce frictions or bad experiences between different types of renters. For example, vacation renters and business travelers may not mix well in the same rental.
While trying to give hosts and renters better renting experiences, Housli also seeks to be the most affordable sharing economy option on the market. Georgios explains that, "The rental sharing economy should be affordable for everyone. Why should hosts should have to pay any fees? They are the ones who choose where to list their properties." Recently HomeAway, after being bought by Expedia for $3.9 billion, added a controversial traveler's fee, much to the chagrin of its hosts and renters.
The new fee is 6%-9% of the booking total paid by guests, and along with the two fee options for hosts: $349 per year or 8% per booking, the cost of vacation rental sharing economy may become prohibitively expensive for hosts and guests alike on HomeAway. Compare this to Housli, which has no host fees and 3%-9% fee to guests, and even Airbnb, which has a 6%-12% fee to guests plus a 3% transaction fee to hosts.
Even if Housli may not appeal to all hosts and guests in the rental sharing economy, outside competition pressures may be necessary to keep booking fees lower in the long run. With Expedia, TripAdvisor, Priceline and Airbnb having nearly monopolized the vacation rental and hotel booking industries, there is nothing to stop the other companies from following HomeAway's lead with increased fees. If they do follow suit, the sharing rental industry may, in some ways, follow the path of the cable industry with companies such as Comcast, Verizon, Cablevision, and AT&T.
In New York, the state looks to get rid of the short-term rental sharing economy industry altogether, recently passing a bill to ban short-term sharing economy apartments in the state. As other states consider similar legislation, this will not only stifle the large well-established sharing economy platforms, but also new sharing economy startups such as Housli. These platforms may need to adapt by either moving towards longer term stays, or perhaps even towards the more traditional rental leasing model.
Other sharing economy platforms such as Uber and Lyft, face similar increasingly strict regulations in their respective markets. However, given that millennials are looking to save money with ever mounting student debts and stagnant wages, the sharing economy will probably continue to survive despite the strict regulations, whether the activity is legal or illegal.
Just as is it difficult to monitor which cars are operating as Uber cabs, it is also difficult to monitor which apartments are being used as sharing economy accommodations, especially with the sheer number of users on these platforms. As a result, the state governments may make an example of a few gross offenders, but leave the remainder of users relatively unscathed.
Calling all HuffPost superfans!
Sign up for membership to become a founding member and help shape HuffPost's next chapter
This post was published on the now-closed HuffPost Contributor platform. Contributors control their own work and posted freely to our site. If you need to flag this entry as abusive,
send us an email
.