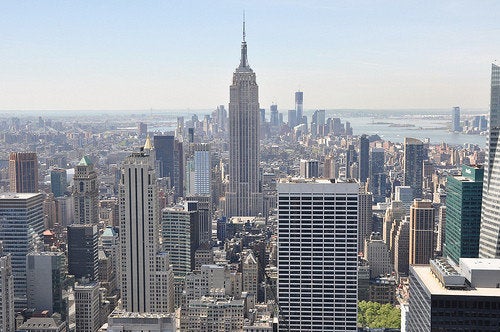 By appearances alone, this startup looks and feels like a movie set version of Silicon Valley.
The co-founder is a 22-year-old college dropout who wears flip-flops, drinks Red Bull and gives exuberant high-fives to his staff. The office has a pool table, a foosball table and growlers of beer in the corner. Young engineers in t-shirts write thousands of lines of computer code, sometimes past midnight.

But Codecademy -- a year-old company that teaches amateur software developers how to code -- is located 3,000 miles from the fabled startup mecca, in a place that for years was not widely considered a tech hub: New York City.
That reputation, however, is starting to change. Codecademy is one of a burgeoning number of startups who have helped turn New York City into the nation's fastest growing tech sector.
The influx of budding tech companies in New York reflects how the industry has changed. Today, a successful startup is based less on building computer hardware and more on creating applications that deliver content and services over the Web. New York -- epicenter of fashion, finance and media -- has become a destination for startups that want to be near those industries, which are being rapidly transformed by the digital age.
"There is a renaissance in the New York tech community," said Andrew Rasiej, chairman of NY Tech Meetup, which hosts monthly gatherings for tech entrepreneurs. "In the same way that hardware married software and created the legend of Silicon Valley, technology is marrying content and creating entirely new opportunities in New York City."

From 2007 to 2011, nearly 500 startups in New York received investment. While startup funding dropped 10 percent nationwide during that period, it rose 32 percent in New York. More than a dozen established tech startups have moved to the city from tech hubs like Silicon Valley and Boston, and the number of IT jobs in New York has risen 30 percent since 2007, according to a recent report from the Center for an Urban Future, a think tank based in New York City.
To be sure, Silicon Valley still offers unmatched advantages for tech entrepreneurs.

"If you're doing something that requires significant engineering, there is still no better place in the world than the Bay Area to start a company because of the density and absolute number of top engineering, design and product management talent," Jeremy Liew, managing director of Lightspeed Venture Partners, a venture capital firm in Silicon Valley, said in an email.

But New York has become an attractive home to many startups who are applying new technology to reach customers online. They need less office space, less funding and fewer engineers and more creative experts in specific industries -- the types of people who have long flocked to New York.
New York's tech sector has blossomed once before. During the tech bubble of the late 1990s, many startups arrived in the city, only to fizzle out due to a lack of early-stage funding, said Jalak Jobanputra, managing director at RTP Ventures, a venture capital firm.
Now, though, several factors are helping lay the groundwork for New York's rebirth as a tech hub, Jobanputra said. Early "seed stage" entrepreneurs are investing in local startups to help them launch. And the recent crash of the financial sector has prompted many college graduates to become tech entrepreneurs instead of going to work on Wall Street.
Some New York startups have become household names, like the crowd-funding website Kickstarter, the e-commerce site Gilt Groupe and the microblogging site Tumblr.
Meanwhile, several large tech companies like Google, Facebook, Twitter and LinkedIn have opened offices in New York, attracting a new wave of high-tech talent and creating what was missing from the previous wave of tech startups more than a decade ago: a community.

"I've increasingly seen entrepreneurs from the valley who want to be based in New York," Jobanputra said. "It's the first time they've seen New York as a viable option because now there's a community."


The growth of that community can be found at NY Tech Meetup, which now has 25,000 members, compared with 7,500 members in 2008.
On a recent night at a New York University auditorium, local entrepreneurs stood on a stage, demonstrating their startups on a projector screen to a packed audience of mostly men.
"How many are here for the first time?" a moderator asked.
Dozens of hands shot up. The meetup was broadcast live over the Internet. Observers commented about the presentations on Twitter under the hashtag #nytm.
One entrepreneur presented Vook, which allows users to publish their own e-books; another explained Consmr, which scans bar codes so users can see product reviews; another showed off Instinct, which teaches people how to play guitar by offering note-by-note feedback as they play songs.
Afterward, the audience asked them questions. Many were technical. Some were controversial.
"Is this a pure HTML experience?" one person asked.
"What's your business model?" another person asked, eliciting boos from the audience. (A moderator explained that NY Tech Meetup was focused on ideas, not business models, which she said are "not as interesting.")
Afterward, they gathered for drinks at a nearby bar.
"It's a great way to meet industry peers to see what's out there," said Yong Kwon, a Columbia Business School student who attended the meetup. "It's inspirational. You see the challenges they're facing."
Ankesh Arora, a tech entrepreneur who traveled to the meetup from upstate New York, said, "New York is really the next thing after Silicon Valley for technology."
But while New York's tech sector is booming, its continued growth is being threatened by a shortage of engineers. The city's small and large tech companies are looking to expand, creating high demand for a pipeline of new talent that has become harder to find.
Yet Rasiej, of NY Tech Meetup, said it will take several years for those graduates to be hired by New York's short-staffed tech startups. If the city can't groom or recruit engineers more quickly, "the New York tech boom may fizzle out," he said.
Sitting at Codecademy's office, co-founder Zach Sims said recruiting was his biggest concern. Three of his 10 full-time employees are from other countries, he said.
"The most important thing is that I can get the talent I need at our company so we can build something great," Sims said.
Codecademy's office is located on the 4th floor of a sunlit loft with brick walls and hardwood floors in Manhattan's NoHo neighborhood. It shares the space with the social music startup Turntable and AOL Ventures, the venture capital arm of AOL (AOL owns the Huffington Post). A sign on the wall says: "All I want to be is someone that makes new things and thinks about them."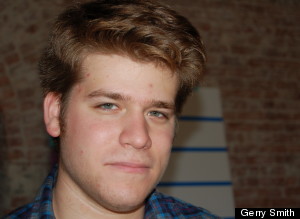 Zach Sims, co-founder of Codecademy.
On a recent morning, Sims wears flip-flops, jeans and a plaid button-down shirt. He speaks quickly, checks his phone often and sips from a can of "bcalm" -- a wellness drink founded by one of his friends. He usually drinks Red Bull, he said, but hasn't done so in two weeks.

"I'm used to living on no sleep," he said.

Sims and his co-founder, Ryan Bubinski, who were classmates at Columbia University, founded Codecademy last August because they thought there was a lack of engaging programs to teach people how to code. Codecademy is for people who want to be software developers, but lack the skills, Sims said. The site's homepage calls the online tutorials "interactive, fun, and you can do it with your friends."
So far, the company has generated $12.5 million in venture capital funding and a "few million" users have taken the company's online tutorials, according to Sims. Many have gone on to build websites, create online games or find jobs as software developers, he said.

"We're seeing programming enter every venue of society," Sims said. "You can be a better financial analyst by learning to program. You can be a better journalist by learning to program. People are realizing that and learning it to get the upper edge."
CORRECTION: An earlier version of this story indicated that Andrew Rasiej was managing director of NY Tech Meetup. He is the chairman.
The Flickr photo came from user Kullez.
Popular in the Community