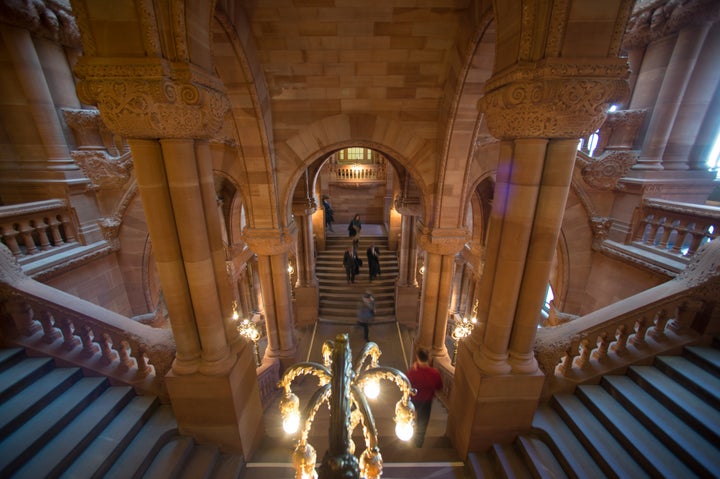 As a member of the New York State Senate wrestles with sexual misconduct allegations, new policy guidelines for reporting sexual harassment have some senators worried that they will discourage victims from coming forward.
A four-page policy letter was given to members of the Senate staff Monday by the Republican-controlled chamber, outlining updates to its 2007 sexual harassment policy. The letter lists types of inappropriate behavior to report and promises no retaliation for those who come forward. But it also comes with a warning: Those who report a false statement against the accused will face punishment.
If "the investigator determines that any employee has knowingly made false accusations or provided false statements during the investigation, he or she may be subject to disciplinary action, up to and including termination," the policy reads.
It's unclear how the investigator would determine if an alleged victim was lying.
Senate Democratic Conference leader Andrea Stewart-Cousins is the only female leader in either chamber of the Legislature. She said she was never consulted about the updated policy.
"To emphasize the punishment for filing a false report while not emphasizing the seriousness of sexual harassment is exactly the type of intimidation that has silenced so many through the years and encourages perpetrators to attack accusers," Stewart-Cousins said in a statement provided to HuffPost. "I am disappointed I was not included in the development of this policy, which is proof the Senate Leadership is not serious about combating sexual harassment." 
What's more, the new policy never states that an investigation will be handled independently. Instead, it is the Senate personnel officer who will ultimately determine the outcome. Democratic Sen. Liz Krueger said the investigations must be conducted outside the influence of the majority counsel.
"How can a victim be confident that he or she received a fair investigation when the result is decided by political appointees who are inherently biased, and have already demonstrated their inability to address these issues?" Krueger said in a statement provided to HuffPost.
The new policy comes just weeks after Erica Vladimer, a former staffer, accused Independent Democratic Conference leader Sen. Jeff Klein of forcibly kissing her outside a bar in 2015.
During the incident, Vladimer said Klein put "a hand on the back of my head and he shoved his tongue down my throat." Klein has denied the allegation, and Gov. Andrew Cuomo has requested an investigation into the senator's alleged misconduct following HuffPost's report. Klein has also requested an independent investigation take place.
Vladimer said the updated sexual harassment policy doesn't do enough to support victims.
"There is no process that's laid out," Vladimer told HuffPost. "And the little process that is laid out is internal. There is no independent investigator, and the only power they give the investigator is to decide if the victim is lying. If you want to talk about scaring men and women who have experienced sexual harassment and assault into staying quiet, that's how it's going to happen."
The new policy gives the alleged victim and the accused just 15 days to appeal to Senate lawyers after a conclusion has been made, a time frame Vladimer said is "arbitrary." By comparison, the State Assembly's policy on sexual harassment allows appeals to be made for up to 30 days following the completion of an investigation. 
It's unclear what specific Senate members drafted the new policy within the Republican majority counsel. Also unclear is why the new policy lists a date of Jan. 2 at the bottom of every page even though the policy was not officially released to Senate members until Jan. 29, 20 days after HuffPost published its article on Klein. 
Calls to Personnel Officer Dawn Harrington and Secretary of the Senate Frank Patience ― who are named as being involved in the policy construction ― went unreturned. But Senate Republican Leader John Flanagan's office told NBC New York that he ordered a review of the policy months ago and sought input from female Republican lawmakers.
"Given the secretive process through which this policy was amended, I can only assume that the valuable input necessary to ensure effective investigations and protect victims was not sought from critical stakeholders," Krueger said in her statement. "I have to wonder if any victims, women's groups, or any women at all were consulted." 
Calling all HuffPost superfans!
Sign up for membership to become a founding member and help shape HuffPost's next chapter