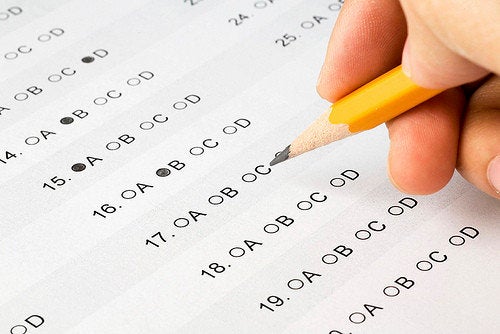 NEW YORK -- New York State officials say they are taking the integrity of student testing very seriously.
The state's schools chief, John King, Jr., recently created a group to scrutinize New York's standardized tests, according to a brief statement released late Monday from the New York State Education Department. King, according to the statement, "created a high-level working group led by Valerie Grey, Executive Deputy Commissioner, to begin an immediate review of all aspects of the state's testing system."
King is set to announce a series of new measures focused on strengthening testing before school starts in September.
The reliability of testing data has become ever more important nationwide, as about 30 states seek to tie teacher evaluations with student performance on standardized tests. In New York City, Mayor Michael Bloomberg has said he wants to be able to hire and fire teachers based on performance, not seniority. In New York, new regulations allow school districts to count state standardized exams for up to 40 percent of teacher reviews. These regulations are now the subject of a lawsuit filed by the New York State United Teachers, the state's largest teachers' union umbrella group.
It also comes after erasure analyses -- assessments of the number of answers erased and changed from wrong to right on students' answer sheets -- in New Jersey and Pennsylvania flagged schools for possible cheating.
But erasure analyses, according to Andy Porter, dean of the University of Pennsylvania's education school, do not prove that cheating occurred. A reliance on erasure analyses in some cases has led districts to apologize for schools prematurely accused of cheating.
There are few incentives to rat out fraudulent practices that lead to improved test scores. As a result, news organizations often raise the alarm about suspicious testing long before states do.
In New Jersey, the Asbury Park Press' media group sued the state to gain access to a copy of its erasure report with the unredacted names of suspected schools.
New Jersey and Pennsylvania have embarked on investigations to corroborate or disprove the evidence in the reports.
New York City faced a widespread cheating scandal more than 10 years ago. More recently, though, Wall Street Journal and New York Times analyses of high school Regents exams found a hike in the number of students scoring just over the mark required for passing grades, leading the city to audit those tests.
Last summer, the state found another instance of deceiving data in lower grades. The low bar for passing standardized tests led to inflated scores, with an increased number of students misled into thinking they had scored proficient. As a result, the state altered its scoring methods.
"With [grades] three through eight, we ripped the Band-Aid off," Merryl Tisch, New York's Board of Regents chancellor, told The New York Times in February. She added that she did not want the state to become "the Enron of test scores, the Enron of graduation rates."
Calling all HuffPost superfans!
Sign up for membership to become a founding member and help shape HuffPost's next chapter