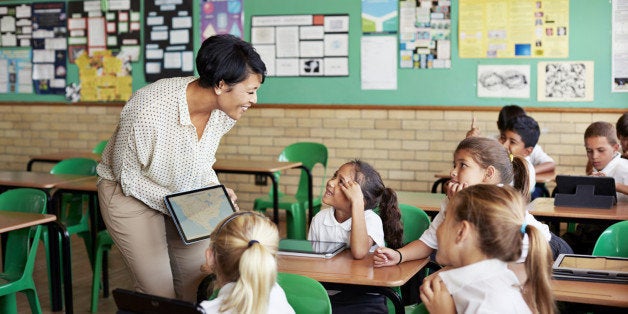 New York state parents and students rejoice: A new study says the academic ability of new teachers in the state has risen substantially in recent years.
The study, published last week in the journal Educational Researcher, looks at the average SAT scores of newly certified and hired teachers in New York state over the past 25 years. In analyzing the data, researchers found that average SAT scores for teachers began rising around 1999 relative to the rest of the population. The researchers caution that SAT scores are an imperfect measure of intelligence, though they contain useful insight.
Around 1999, New York state began to implement a set of policies that made it more difficult for teachers to gain certification. Researchers suggest the rise in teachers' academic ability in the state may be a result of these new accountability policies, which were designed to "recruit, train, and retain the high quality teachers." They also note that the increase in teachers' test scores may signal a concurrent rise in prestige for the teaching profession.
"What stands out to me, when you look and see that the average SAT score of newly hired teachers has been increasing since about 1999, I interpret that as a signal that the status of teaching is increasing and I see that as a positive trend," study co-author Luke C. Miller told The Huffington Post.
Miller, a research professor at the University of Virginia, rejects the idea that the rise in SAT scores for new teachers may have to do with the rise of alternative teacher certification programs in New York, such as Teach For America. TFA is a prestigious program that targets high-achieving college students and pays them to teach in lower-income schools for two years after graduation.
"Some people have asked, 'Is this just your TFA effect, are they just sticking around for a couple years and then going off?'" said Miller. "It's not just the TFA effect if you look at the scores of individuals from a completely traditional teacher prep program."
Researchers also say these teachers are choosing to teach not only in affluent schools. Lower-income schools are also benefiting from the rise in high-achieving teachers, albeit slightly less than advantaged communities, as shown in the figure below: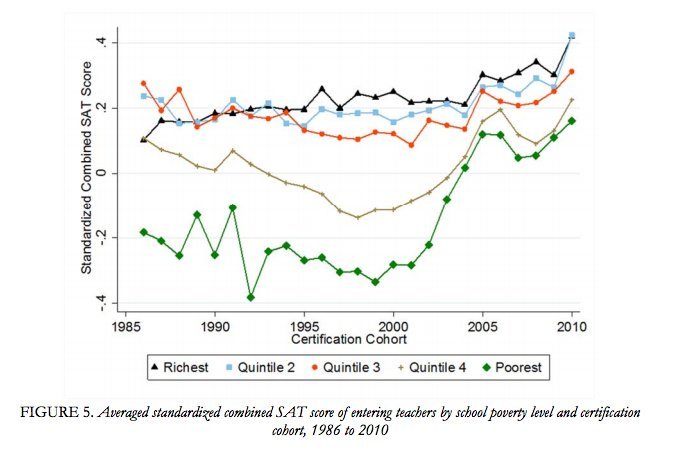 Credit: Educational Researcher
Before You Go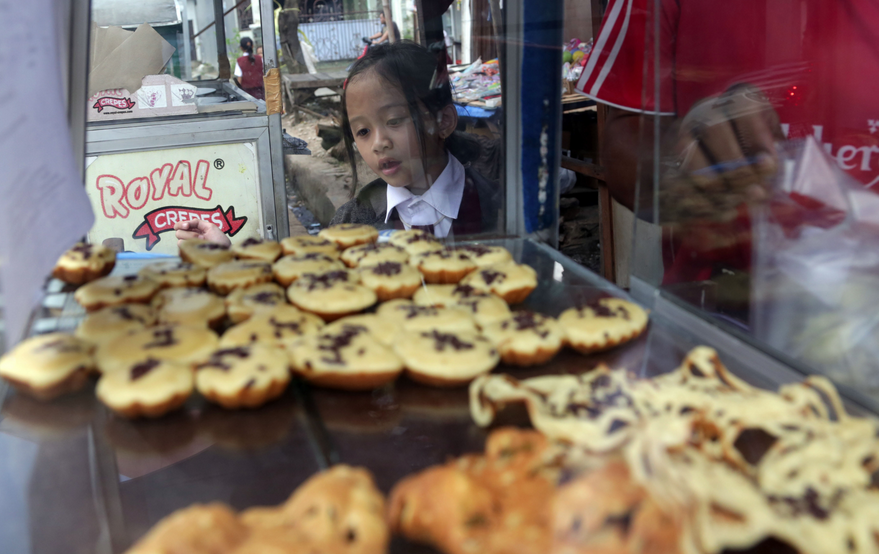 School Lunches From Around The World
Popular in the Community