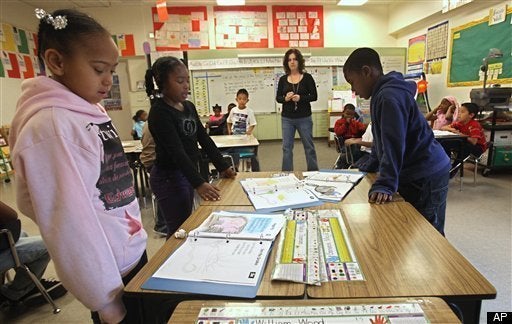 NEW YORK -- As different states seek their own methods for evaluating a profession whose job security has long been determined by experience rather than performance, New York State is moving to develop tougher criteria for teachers that would give state standardized test scores more weight.
After Governor Andrew Cuomo voiced his concerns about the state's drafted regulations for evaluating teachers, the state Board of Regents responded Friday with an update. The draft regulations would allow evaluations to base up to 40 percent of reviews on test scores, up from 20 percent, the amount proposed last year. The changes would also require teachers to be ranked positively on the testing component in order to receive an overall positive review.
The board's teacher evaluation guidelines come as a result of a law passed last year in order to secure $700 million in funding from Race to the Top, a federal competition run by the U.S. Department of Education that urged states to push for, among other things, tougher standards for grading teachers.
New York's initial proposal had reviews giving 20 percent weight to state exams, 20 percent to local assessments and the remaining 60 percent divided between measures such as principal observations and parent surveys. Cuomo pushed for tougher guidelines in light of concerns about inconsistent measurement standards. New York City Mayor Michael Bloomberg has been seeking to overturn provisions that require teachers be dismissed based on seniority in favor of an evaluation system.
The new regulations would allow local districts to count state scores in place of local scores, providing a remedy for inconsistencies as well as allowing for faster implementation in districts that would otherwise have to develop their own tests from scratch.
Cuomo said he wants to roll out the new evaluations for some teachers next year, and then for all teachers the subsequent school year. Only districts that accept the evaluations will be eligible to receive the nearly $500 million in RTTT money.
U.S. Secretary of Education Arne Duncan has taken note of the development.
"New York is showing great leadership in education reform with ... the thoughtful proposals for supporting and strengthening the teaching profession," he said in a statement on Monday.
But not everyone is as thrilled as Duncan. On Saturday, education experts and researchers addressed a letter to the Board of Regents that condemns the reliance on value-added test scoring, a measure which they have found to be volatile.
"Using tests to measure teachers sounds objective, but what's really being measured is a combination of all the influences on students' learning," said Linda Darling-Hammond, Charles E. Ducommun Professor of Education at Stanford University, who signed the letter. The results are unstable," she added, noting, "the New York State tests are the worst tests to use, because they're not designed to measure growth."
Yet Darling-Hammond said better teacher evaluations are necessary. "Many teacher evaluation systems have been broken for a long time," she said. "But most people are unaware of the fact that the value-added test scores are highly problematic."
Merryl Tisch, Chancellor of the Board of Regents, acknowledged that the measure is imperfect. "But that being said, I believe it is important to have an objective system to evaluate teachers on a professional basis," she told The New York Times.
New York teachers union president Richard C. Iannuzzi said in a statement that the changes are outside the scope of the law.
New York City teacher union President Michael Mulgrew said in a statement the evaluations were "a strategy designed only to raise test scores."
"While the UFT has supported some role for standardized test results in teacher evaluations, we also know that the more weight put on standardized tests for children or teachers, the more school systems will focus on test prep rather than real learning," he said.
The updated regulations come after Cuomo's lobbying for tougher criteria and after New York's Conference of Big 5 School Districts, which includes New York City, wrote Tisch a letter with proposed modifications.
Eric Nadelstern, a former deputy chancellor in the New York City Department of Education, said evaluations that stress state scores are long overdue. "You'll see many more teachers dismissed as a result of performance," he said. "It can't be that everyone can do this work and essentially gets guarantees for lifetime protection without demonstrating that they're capable of doing it in a particularly acceptable level."
The New York State Board of Regents also announced on Monday that John King will take over departing State Education Commissioner David Steiner's role. Previously, King served as deputy education commissioner. Before that, he worked as a teacher and managed a charter school network. In September, he turned down the chance to lead the school district in Newark, N.J.
UPDATE 7:36 p.m. The New York State Board of Regents voted to adopt the state's new regulations for evaluating teachers and principals.