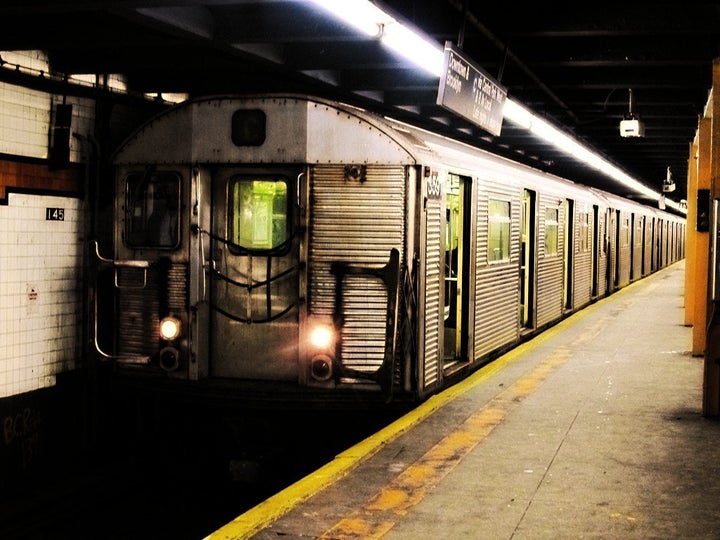 Whether you've been missing your daily dose of literature, or you just want something to read other than Dr. Zizmor's ubiquitous dermatology ads, you'll be happy to hear that poetry is coming back to New York's subway system.
The MTA has a long history of promoting poetry (literally) underground. It began its popular Poetry in Motion program in 1992, by posting an excerpt from Walt Whitman's "Crossing Brooklyn Ferry" on subway cars. But in 2008, it replaced its poetry program with Train of Thought, which featured snippets of philosophy and prose. Despite the memorable pun, the Train of Thought program was shelved in 2010 in favor of MTA advertisements.
Now, poetry is back, and its rebirth comes as a result of public sentiment. Sandra Bloodworth, director of the MTA's Arts for Transit program, told the press this past week that people were "constantly" asking about the poetry. "We heard loud and clear that Poetry in Motion was missed," she said, "and it would be great to have it back." As a result, about a quarter of the city's fleet of subway cars will soon feature new poems. Riders will also have about a one-in-ten chance of having a poem printed on their subway card.
The Poetry Society of America will once again be helping the MTA with its poem selection. The first one chosen for display this year is a short poem called "Graduation" by Dorothea Tanning, a long-time resident of the West Village who died this past January. Here is the poem in full:
He told us, with the years, you will come
to love the world.
And we sat there with our souls in our laps,
and comforted them.
In a twist from the original Poetry in Motion program, each poem will now be accompanied by artwork. The art will aim to complement, and not try to illustrate, the poetry. "It's meant to have a dialogue with the poem," said Bloodworth, "so the artwork exists in its own right. Sometimes, they may have a very close relationship. Sometimes, it may be more abstract."
Tanning's poem will be framed by a detail from a work by artist Joan Linder. The MTA website has a sneak preview of the final product.
Poetry in Motion will reveal its second poetry selection in April to coincide with National Poetry Month. After that, two new poems will be chosen for display every three months. You can read some of the MTA's past selections here.
Related
Popular in the Community