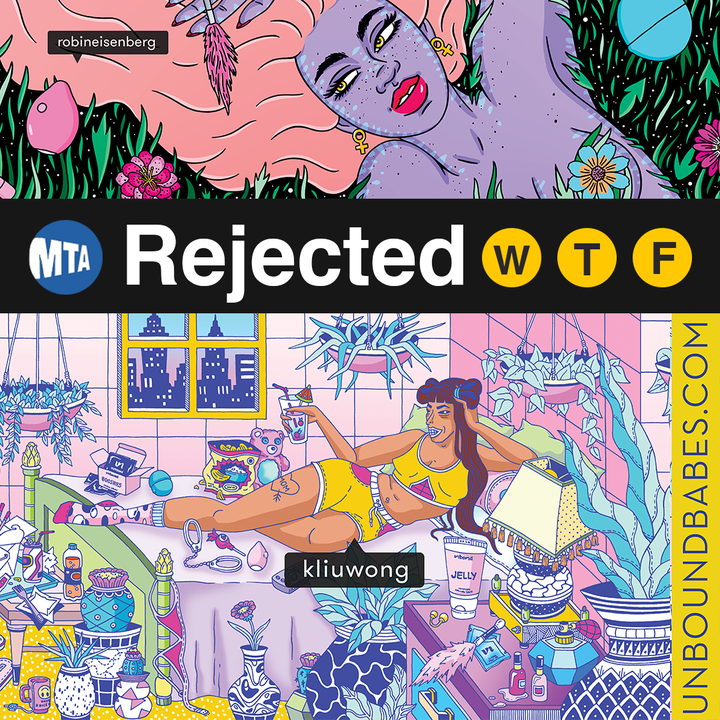 The Metropolitan Transportation Authority this week rejected a New York City subway ad campaign designed to celebrate the wildly inappropriate suggestion that women might enjoy their sexuality. 
The campaign was submitted by Unbound, a sexual wellness company oriented toward women and femme-identified people that sells sex toys and accessories in addition to feminist-inspired jewelry and apparel. The company commissioned five artists ― Laura Callaghan, Robin Eisenberg, Yoko Honda, Kristen Liu-Wong and Loveis Wise ― to create images for what it hoped would be its inaugural subway ad campaign. 




Outfront Media, the company that manages advertising for the MTA and enforces its guidelines, rejected the ads. 
According to emails shared with HuffPost, a representative for Outfront cited two phrases in the MTA's ad policy that disqualified Unbound's images: one that restricts the "dissemination of indecent material to minors" and another that prohibits "public display of offensive sexual material."
Meanwhile, ads for a company selling erectile dysfunction medication have recently proliferated in New York City's subways.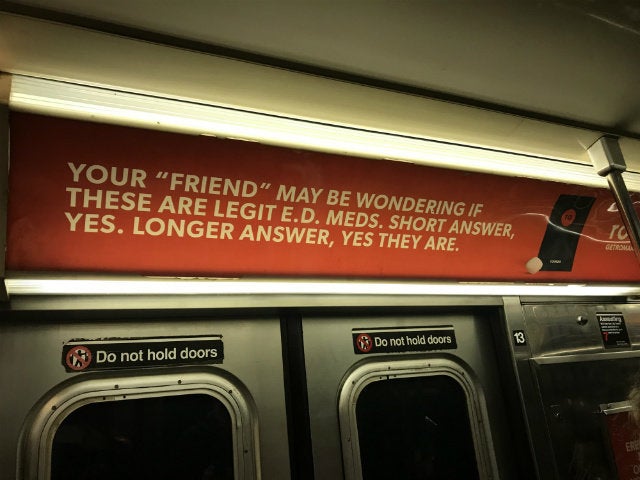 Unbound CEO Polly Rodriguez said it anticipated that a brand like Unbound's would need to tread carefully to remain within the MTA's guidelines for advertisements. She said the company decided, after consulting with the MTA, to orient the campaign toward the celebration of women and femme-identified artists rather than emphasize the types of items the company sells. 
"We selected some of our favorite artists — ones that we've been following on social media and who we admire deeply," she told HuffPost in an email. "We prompted them to 'show us what self-love means to you.' Each of these artists interpreted this prompt in their own way."
Several images include references to common vibrator and sex toy shapes. That imagery is likely what disqualified the ads from joining those for erectile dysfunction medication and breast augmentation.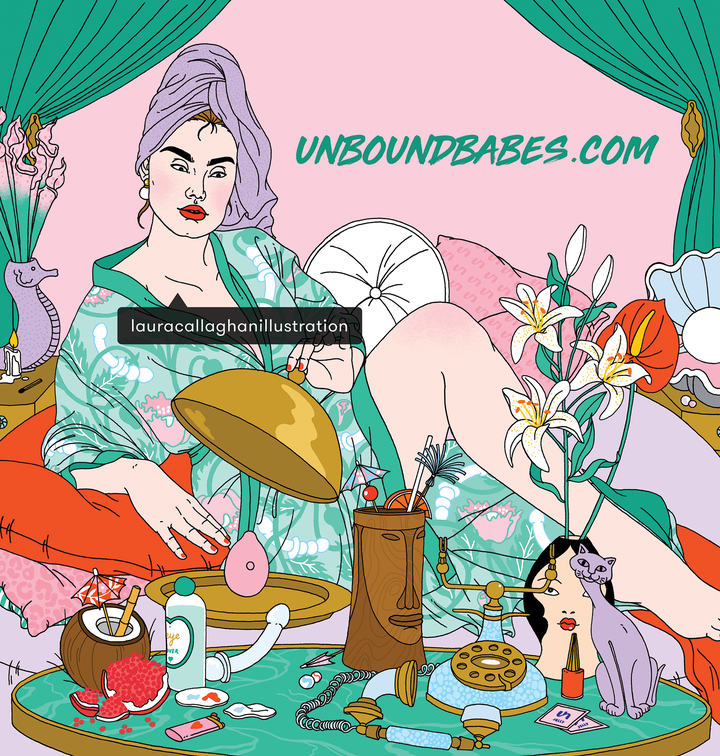 "We're disappointed by the MTA for prohibiting sexual wellness companies that cater to women and femme-identifying individuals from advertising on their platform," Rodriguez said. "We need to have these types of conversations now more than ever."
She said the MTA is "not alone" in censoring women's sexual expression. 
"Organizations like Facebook, Instagram, Snapchat and Pinterest also continue to ban advertising from companies like ours," she said, adding that she is heartened by the social media response to the situation. 
The average 10-year-old doesn't know what anal beads look like, but they probably can read the words 'erectile dysfunction.'

Kristen Liu-Wong
Outfront makes decisions regarding ad materials on behalf of the MTA and declined to escalate the matter to the agency, Rodriguez said. Neither Outfront nor the MTA has responded to requests for comment. 
Fortunately, some of the talented artists involved in the campaign did. They noted that the decision reflects a sexist double standard for when women's sexuality is acceptable.
Loveis Wise, an illustrator and a graphic artist, said hearing that the images were rejected was a "complete shock."
"We are in 2018, but I had to step back into reality and realize that the MTA rejected this campaign out of fear of women taking control of their bodies," Wise said. "The proof is obviously there when we look at what is being shown in the NYC subway and what is being kept out."
As for her inspiration for the images, Wise said we "need more sex-positive images out in the world, especially because some parts of society still teach us to be ashamed of self-pleasure."
"It felt important to me to be a part of a campaign that breaks down some barriers and to create a piece that explored this from a femme gaze," she continued.
Artist Kristen Liu-Wong wanted to "showcase a space where women could feel free to let loose and be at ease," she said, adding that she wanted to create something beautiful for passengers.
"When you're sitting on the subway, you get bored, so I tried to give my piece a
'Where's Waldo?' vibe so commuters could have some fun discovering different aspects of the piece over time."
Unfortunately, New York subway passengers will have to settle for the completely not indecent and totally inoffensive sexual material they're accustomed to. 
"How are erectile dysfunction pills, boob job ads and ads about losing your virginity any less sexually explicit than illustrated art that depicts no nudity, no sexual acts and only discreetly featured objects that you would have to be older to identify anyways?" Liu-Wong said. "The average 10-year-old doesn't know what anal beads look like, but they probably can read the words 'erectile dysfunction.'"
Rodriguez said that she believes Unbound has reached the "end of the road" in terms of negotiations with Outfront and the MTA but that she is heartened by the social media response to the campaign's rejection. 
"As an alternative, we've taken this beautiful artwork to social media, to which we've seen a remarkable response," she wrote.
She added, "This proves to us that there is a real passion for change, and hopefully we can be an essential part in altering outdated (and harmful) societal stigmas."
Calling all HuffPost superfans!
Sign up for membership to become a founding member and help shape HuffPost's next chapter
BEFORE YOU GO