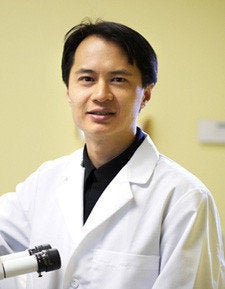 Dating in isn't easy in New York -- even for Ivy League-educated surgeons.
LASEK SURGEON: Featured in NY Times/Wall Street Journal. Dartmouth, Columbia, Harvard, Emory, NYU degrees. Seeks smart, sweet, skinny SWF 30 for marriage. $10,000 donation to your charity for intro! dr@ParkAvenueLASKEK.com
Chynn, 43, runs a successful surgical practice in Kips Bay, but his online reputation might just be what is keeping him from finding the right lady.
The Harvard educated doctor first caught the Internet's attention in February of 2010 when he emailed a 2,600 word rant to half of New York's media about his neighbor's rundown property near his Cornelia Street home.
The neighbor also added that Chynn asked him to make sure his housemate wasn't stealing things from him during the day.
"Part of your assignment will probably be to reactivate my match.com profile and troll for dates for me, as i don't really have the time to do this properly," he wrote, adding that if the assistant succeeds, she'd be richly rewarded. "My parents will give you reward of $10,000 in cash, ie bills, so that's a bonus!"
We reached out to Chynn for comment to find out why he's having such a hard time finding the right woman, but have not heard back from him at this time.