 The New York Tech Scene roared back to life last week, even as damages from Hurricane Sandy continued to impact some businesses. For those effected, more and more help and services came on line. For others -- the crush of events, funding news, and educational initiatives made it hard to keep up.
NY Video Meetup
The NY Tech crowd is deep in the video space, and this weeks event at the AOL HQ was clear evidence of that. Brittany Gevanter and Vadim Revzin hosted this startup-centric event. As Lauren Keyson reported for NYConvergence: "The innovative, social and fast moving new video startups featured at the NY Video Meetup Thursday night included livecast searching, raw video source and transmission, sound effects and human interaction. All of them focused on content, social connectivity or live video, and were built on an emerging ecosystem that event organizer Steve Rosenbaum calls the emerging 'The Cloud Economy.'"
The line up was a collection of great new tech and returning companies on a strong growth curve:
Said NYConvergence: "CrowdSurf.tv, a livecast search and discovery site, stood out at the meetup because it's the only video company to aggregate live video from around the world and rank it in real-time. It pulls in content from sources like Justin.tv, UStream.tv, CNN and ESPN and publishes it live at that moment, then categorizes and rates it. The search site follows the Twitter stream to see if the link is being watched, and it has the ability to let viewers do a thumbs up or thumbs down vote. Ankur Oberoi, developer evangelist for Tokbox.com, demoed the company's open-tok that allows developers to create aps where their users stream line video to each other in real time. It's game-changing platform in that it enables the addition of live group video conversations into any web or mobile property. A bonded transmission backpack that aggregates a number of cell phone connections also stood out. Created by Liveu.tv, creator of portable video-over-cellular solutions, it uses multiple cellular or other links simultaneously to provide seamless broadband channel optimization for live, high definition video transmission from the field. Director Ken Zamkow demonstrated the pack and showed smaller devices, such as the LU4 unit that can be clipped on a belt or mounted on a professional video camera. Summing up the evening, Rosenbaum said; "The NY Video Meetup has evolved. NY has grown in technological significance and as video has moved to the lead in the evolution of the web. It's a pleasure to see NY coming into its own -- and to continue to be wowed by just how quickly new video innovations are springing to life."

NY Tech at Monaco Media Forum
It probably wasn't hard to convince some of the red hot founders of NY's tech scene to travel to Monaco after the week that N.Y. just had. Floods, snowstorms, power outages and gaslines. Yet despite those challenges, these intrepid New Yorkers took the stage at the Monaco Media Forum to share the news -- New York is on track to beat silicon valley and be the home town of the next web.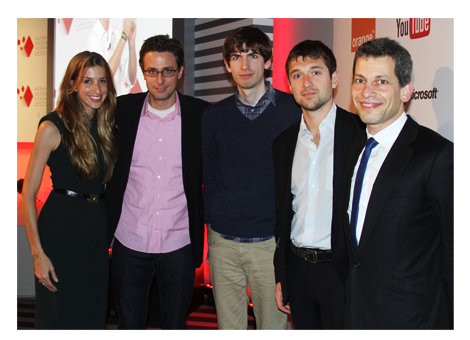 Why is New York on the rise? David Karp said "we're arriving at a new phase in the development of the Web -- the emergence of the creative ecosystem. Phase one was making stuff. Phase two was distribution, and phase three is the new economics of paying for both creation and curation. The big next step is profit."
New York Techie Chris Dixon in Talks to Be Next Partner at Andreessen Horowitz
All ThingsD had the exclusive: "According to sources, well-known New York techie Chris Dixon is in the final stages of discussions to become a partner at the high-profile Silicon Valley venture firm Andreessen Horowitz.
While the deal is not yet complete, Dixon seems likely to become the firm's latest addition. It's not clear what his area of specialty will be, but it is likely to center on start-ups, given his experience." Will he be running the NY office of this west coast firm, we can only hope so.

Office space comings and goings.
Recently both Outbrain and Codeacademy have opened new office spaces in NY, according to the Commercial Observer. (LINK)
But not all joy - NY Based Loosecubes is shutting down. NY based Loosecubes, a co-working startup, will shut down its operations according to a blog post on its site. According to PandoDaily, the company raised $7.8 million in June and in 2010 the company raised $1.23 million. No reason was given to Pando daily.
New York has put together a number of quickly accessible programs to help NY Companies recover from Hurricane Sandy. You can find them Here:
Low Interest Loans
An emergency low-interest loan for businesses will be available, patterned after similar programs deployed in past emergencies. Thanks to Goldman Sachs though their Urban Investment Group, the size of the loan pool available to businesses has been doubled to $10 million. Loans will be capped at $25,000. NYC Business Emergency Loan info Here
Sales Tax Waivers are being offerd via the New York City Industrial Development Agency. The agency will provide emergency assistance to small businesses by establishing the Hurricane Emergency Sales Tax Exemption Program. You can apply Here
Free Temp Space, Supplies, and Services
Short-term "swing" office space is available in all five boroughs. NYCEDC has identified private commercial space that will be offered at no rent to businesses displaced by Hurricane Sandy. Temporary space is also available at no rent at Brooklyn Army Terminal and the Sunshine Bronx business incubator. You can find a listing of free space Here

Connecting Companies that Can Help.
If your company is able provide resources such as space, supplies, services, or other forms of assistance to New York City businesses that have been significantly impacted by Hurricane Sandy - you can add your service to the listings here
This weeks Thanksgiving holiday promises to be a short week, but from the number of things on my calendar -- it may be a sprint to the finish as the crisp chill of winter brings the feeling of the Holidays on to the city streets. Happy Thanksgiving -- all.

Tips, events, or N.Y. Tech news? Email me at Srosenbaum (at) nycedc (dot) com.
Calling all HuffPost superfans!
Sign up for membership to become a founding member and help shape HuffPost's next chapter