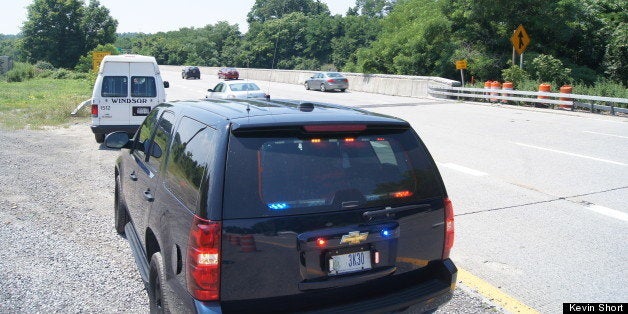 Coasting down the tree-lined Sprain Brook Parkway outside New York City, State Trooper Imani Kirkland scans his eyes from driver to driver, on the prowl for people violating the state's ban on using cell phones behind the wheel.
Within a moment, Kirkland triggers a switch and the red and blue lights of his unmarked police SUV illuminate. He changes lanes and signals to the driver of the Ford E-250 to pull over.
The driver throws his hands up in exasperation, hurriedly tossing his cell phone to the passenger seat. The attempt to conceal his phone is in vain, as are his desperate arguments that the call was for work. Kirkland issues him a citation.
Kirkland is on the the front lines of a New York state crackdown on distracted driving. As a two-hour ride in his vehicle on a recent afternoon made clear, his is a target-rich environment. Even as many drivers now understand that phone use while behind the wheel is dangerous, they feel powerless to resist in the face of work and social pressures that demand connectivity.
"It's so second nature for people to use their phones," Kirkland said. "It's like a new appendage."
New York is one of 11 states that bans the use of hand-held phones in cars for all drivers, but that doesn't mean people always cooperate. In a mere two hours on the Westchester County highway, Kirkland ticketed nine drivers. Six said they were using their phone for work. Reactions ranged from resentment to resignation, although some drivers offered bizarre explanations for their phone use. One young woman driving a Honda Odyssey had her eyes glued to her phone's GPS. She had a corpse and casket in the back of the car.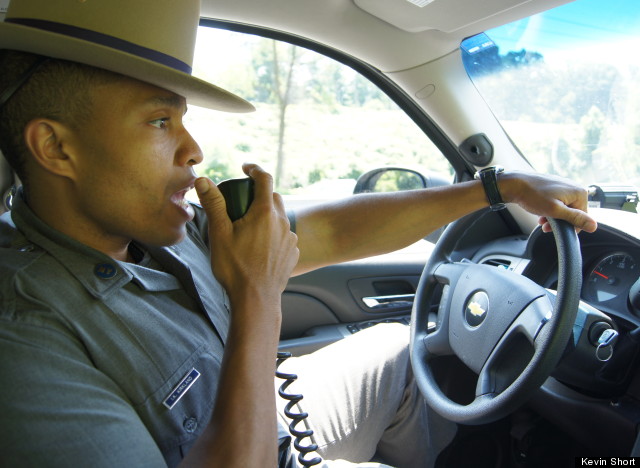 New York State Trooper Imani Kirkland calls in a license plate while enforcing the cell phone ban on the Sprain Brook Parkway. (Kevin Short / The Huffington Post)
"I'm just trying to get this body to the morgue!" she said after being pulled over.
"Do you want to end up like the person in the back seat?" Kirkland quipped, before issuing an $85 fine.
The stakes are indeed high. From 2005 to 2011, there has been an approximately 143% increase in cell phone-related car crashes in New York state, according to the governor's office. In 2011, the most recent year for which data is available, 3,331 people were killed in automobile accidents involving a distracted driver, according to data from the National Highway Traffic Safety Association. The total is up from the 3,267 such deaths reported the year before.
New York issued 30,166 tickets for texting while driving in 2012, a 234% increase from the previous year.
"It's like taking candy from a baby," said Kirkland of spotting drivers violating the law.
On June 1, Gov. Cuomo increased the penalties for using cell phones while driving from three to five points against the driver's record. The state has pledged $1 million to fund the campaign against cell phone use.
"Inattention and inexperience is a deadly combination -- one this legislation seeks to deter," said Gov. Cuomo in a recent press release about the law. "No parent should have to experience losing a child at the hands of a text message."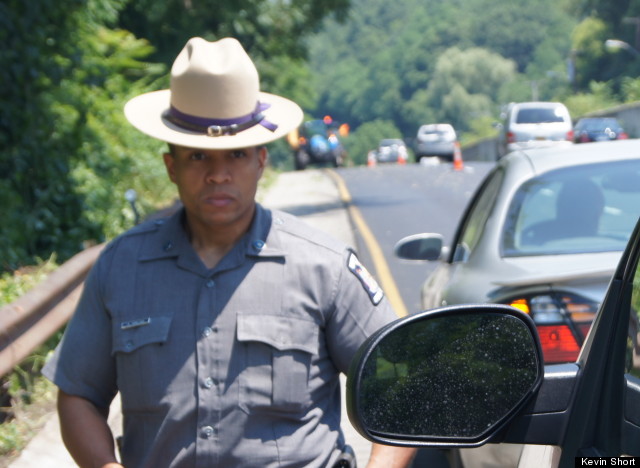 Trooper Kirkland issued nine citations within a two-hour period. (Kevin Short / The HuffingtonPost)
In addition to harsher penalties, New York State Troopers are now using CITE -- Concealed Identity Traffic Enforcement -- vehicles. These black SUVs are raised, enabling state troopers to peer down into other cars to spot cell phones. The CITE cars are also unmarked, so police can prowl the roads without revealing their identity. In 1996, then-New York Gov. Pataki signed an executive order that banned unmarked police cars to combat a recent wave of police impersonations. Gov. Cuomo repealed the order in 2012 as part of the crackdown on distracted driving.
"It was a lot harder to enforce in marked cars," Kirkland said. "Now we actually have the tools to enforce this, and it should make a difference."
Kirkland covers some 200 miles of state highways over 12 hours a day on patrol. Many times, he said, he's pulled over a driver he assumes is drunk based on swerving and erratic driving -- only to find that they're sober, and simply distracted by their phone.
Kirkland said he feels that the effort to combat cell phone use while driving is still vastly underfunded. The state should prioritize the campaign to the level of the anti-drunk driving campaign in the late 1980s and 1990s, he said.
Nine in 10 Americans now grasp that talking on the phone while driving poses a substantial danger, according to the AAA Foundation for Traffic Safety. Yet seven out of 10 report that they themselves talk on the phone while driving, and a third admit to reading texts and emails while behind the wheel.
"The public isn't with us on this issue," Jonathan Adkins, deputy executive director of the Governors Highway Safety Association, told The Huffington Post. "The public says 'Oh my gosh, it's terrible that other people drive distracted, but it's OK for me to use my cell phone.'"
According to the NHTSA, using a cell phone while driving multiplies the risk of crashing by a factor of four, effectively making the practice as dangerous as driving with a blood-alcohol concentration of 0.08 -- the legal limit under drunk driving laws. Texting while driving amplifies that risk as much as 23 times.
"Despite understanding the dangers, people can't give up their cell phones ... they're too programmed to be attached to them," Kirkland said.
Related
Before You Go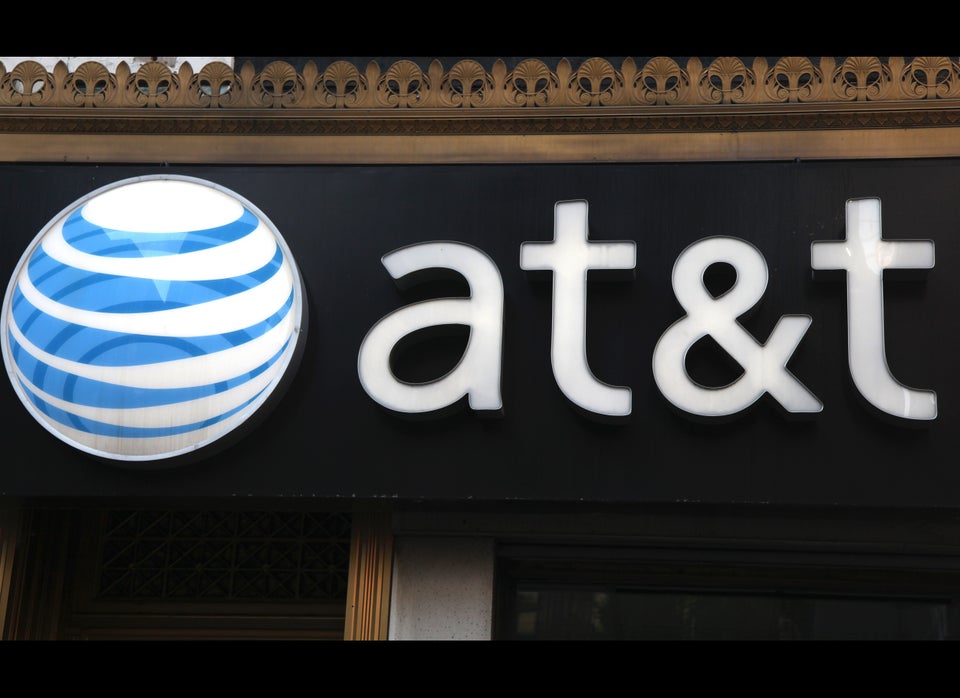 How The iPhone Came To Dominate America
Popular in the Community