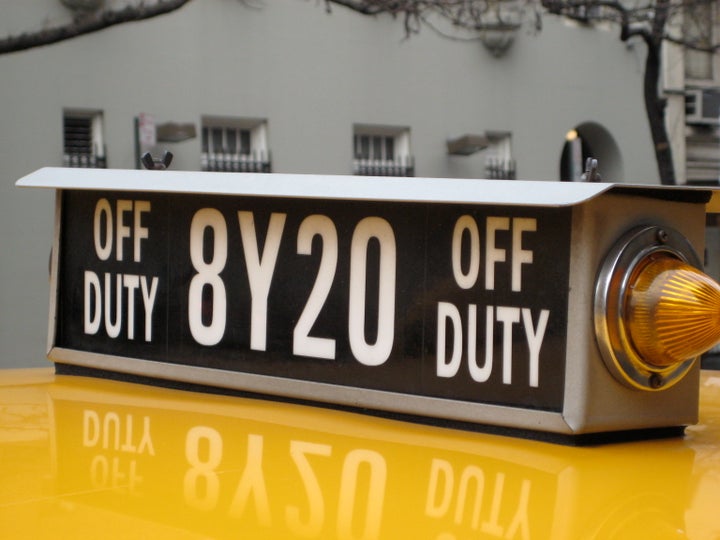 "One belongs to New York instantly, one belongs to it as much in five minutes as in five years," Tom Wolfe famously said, and he was right. This city drew me in back in the late '70s and, in a very short while, turned me into a bona fide New Yorker. All roads led here; as I crisscrossed the country from the Northeast to the Southeast to the Midwest, New York was always the shining star at the end of my journey. I fell in love with Manhattan over thirty years ago and it is a love affair that has never waned.
It is clear that photographer Evan Joseph knows this great love and shares this passion. His new book New York Then and Now, published today by Thunder Bay Press, is a fascinating look at this city both now and in its glorious past. Joseph, a well-known photographer who mostly trains his lens at the city's architecture and luxury real estate, became interested in fine art at a very young age. "When I was 13, I was given a pro-level fully-manual Nikon, and used it every day. I was fascinated with the darkroom, and revived a unused one at my high-school to ostensibly use for the newspaper, but really I was experimenting with the process and spending much more time shooting my own work."
New York Then and Now is an incredible collection of then-and-now mirror images of iconic New York locations. I asked Evan how it was possible to narrow down the list of places in the book. Praising the talent and patience of editor David Salmo whom he and writer Marcia Reiss worked with on the project, he explained that their goal was to come up with a representative sample of as many different areas of the city as possible. "We began with all the THEN photos which we liked, and then I began the long process of scouting each one of those locations." Joseph brought an iPad with the archival images to the shoot so he could attempt to figure out the camera position of the original photograph. "I took test shots and made notes about the best time of day to match the light in the THEN," he said. So many of the archival images had been taken from an elevated perspective (for instance, from train platforms which were no longer there) that a major part of the process became how to match the shot and creatively gain access to a similar view.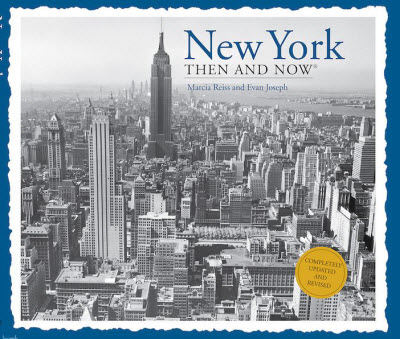 After the initial scouting process, Joseph worked his vast network of real estate developers, architects, property managers, and the like to see if he knew anyone who could gain access to the target buildings. "Once we figured out what was even possible, we started narrowing down the list to things which made good THEN/NOW comparisons. There were several great THEN images we wanted to use but a NOW photo just didn't make sense; the interior of Penn Station for example. We kept whittling down until we felt good about our pairs." He admitted he would have loved to keep going, "And yes, I would love to go on and have a much larger book... it became obsessive. But it truly takes a lot of time, and I had to visit those locations over and over to make it work, so a larger book would be years in the making and become obsolete before it was finished."
As he went on his journey to match up iconic locations city-wide (and in some cases finding it impossible), Joseph noted:
"What I learned overall is that although it is sad to see beautiful buildings that no longer exist, we do have so many amazing new ones, and New York is unusually liberal in allowing for free expression in architecture. In most countries, they would never allow a giant International Style rectangle to sit next to a Gothic Cathedral, but here you have it all over, and it makes New York a fascinating patchwork of design styles."
He admitted, "I have a historian's nostalgia, and I am an architectural romantic, but New York is a practical city and my own life is enhanced by the energy of constant change that makes the city unique... so I don't usually feel bulldozer regret. Except for Penn Station! That does seem like a huge loss." The original Penn Station's demolition began in 1963 and the two-block-long "engineering and architectural marvel" (to quote Marcia Reiss' text in the book) was torn down to make way for Madison Square Garden, with the train station at the base of the building. The city clearly never forgot this particular loss; New York's first landmark protection law was inked in 1965 due to this very incident.
Another of the book's logistical challenges was presented by the old Singer Building on Broadway, downtown. "It was gorgeous and strangely many similar buildings in the neighborhood have survived. I told Marcia and David that there was just no way to get a decent NOW shot of that, as it's currently a giant black monolith of a building, just north of the now-famous Zuccotti Park. Plus there was a new building being constructed on the opposite street corner where the THEN was taken, so I could not get into that building at all - in addition the construction bled onto the street, so I couldn't even stand back far enough for a decent perspective." It was decided that the contrast would still be worth it, so Joseph went back to the location on a Sunday and stood on top of a concrete construction barrier in the middle of Broadway to line up the shot and get out as fast as possible. "I could never get away with that during the week," he quipped.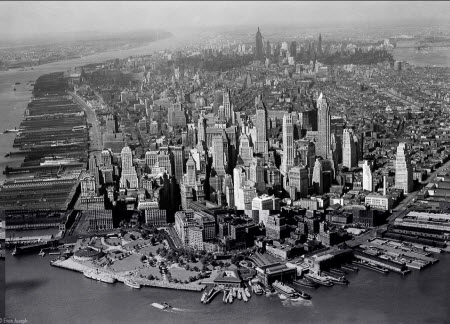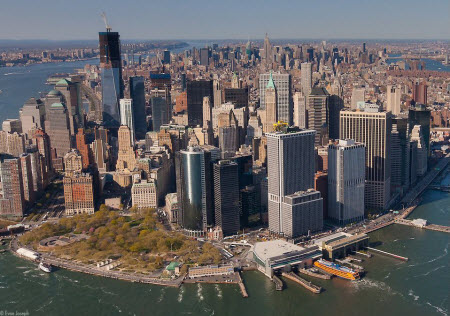 (c) Evan Joseph, Used With Permission
I asked Evan what his favorite type of photography was, as his palette is so varied. "For me, whether it's an interior with a fashion model or an aerial with the Chrysler Building, what ties it all together is a relentless obsession with composition...bI love putting pieces together until they "lock" tight for me."
"That's what I love about photography, that it's obvious tie to reality never fails to grab your attention, but it's the formal and expressive underpinning of the work that makes you linger... My ongoing obsession is to find projects that combine aerial, interior, fashion and street photography, to make a blend of these disciplines that can be so much more than they are alone."
What are some of his favorite New York City places, I asked.
"I love the water side parks on the West Side... the ability to walk from the Fairway in Harlem to the Staten Island Ferry and see everything from crumbling docks to the Intrepid to Chelsea Piers to kayakers to children hula-hooping in Battery Park... it's like a slideshow of New York in a 3-mile walk... and the fresh air and sun glinting on the water, it's magical in the late afternoon with the sun in the southwest. I also love the Main Library on Fifth Avenue, and all the cozy reading rooms with their obscure exhibitions of drawings and letters."
His greatest work challenge so far?
"My greatest challenge has been to find ways to grow while building my career. I am so lucky to have clients who trust me with their projects, and who want the look that I have developed, so finding aspects of those projects that allow me to push myself a bit beyond the usual is always my 'secret side mission.' I very frequently stay on location late, long after completing an assignment, just to try out a new piece of equipment or a new technique. I'm frequently fortunate enough to find myself shooting someplace very special, so I'll bring extra gear and do extra work, often way beyond the specification of the project. And frequently these 'off menu images are the ones that everyone loves best. Making the time to experiment, and investing deeply in experiments, is frequently difficult to justify, but for me, it's always worth it."
New York Then and Now is published by Thunder Bay Press and available in bookstores and through Amazon.
Calling all HuffPost superfans!
Sign up for membership to become a founding member and help shape HuffPost's next chapter