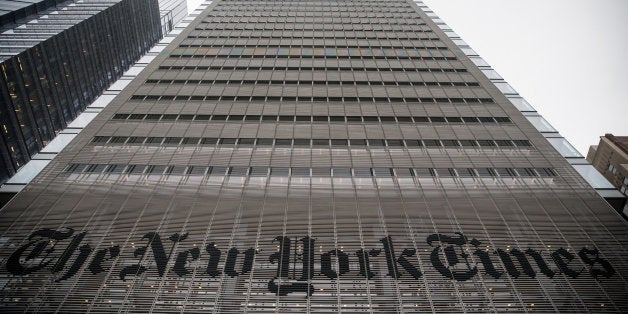 2015 is still a few months away, but the folks at the New York Times are probably wishing that they could throw 2014 in the dumpster now, given how challenging this year has often been.
The announcement on Wednesday that the paper was slashing hundreds of jobs and retooling its troubled digital products was just the latest in a string of bad news for the Times in 2014.
First and foremost, of course, was the highly messy and controversial firing of editor Jill Abramson, which opened up a bitter row over her legacy, the paper's general treatment of women, and the way publisher Arthur Sulzberger handled all of it. (The consensus on that last point was "very badly.")
But other issues have plagued the Times too.
In 2014, the paper had to watch as rivals like the Guardian and Washington Post took the lion's share of the Pulitzer glory for their reporting on the NSA and Edward Snowden. It then saw a less-than-flattering internal report about its digital future get leaked to BuzzFeed. Then came the Abramson fallout.
Over the past couple of months, the Times has also found itself embroiled in multiple rows about its handling of race, from its description of slain teenager Michael Brown as "no angel" to Alessandra Stanley's infamous column about TV impresario Shonda Rhimes.
The good thing for the Times is that it's been through even worse periods than this. Nobody, for instance, would want to trade 2014 for the nadir that was 2003, when the paper suffered through the Jayson Blair scandal and its disastrous reporting on Iraq's non-existent weapons of mass destruction.
REAL LIFE. REAL NEWS. REAL VOICES.
Help us tell more of the stories that matter from voices that too often remain unheard.