NEW YORK -- The cover of Sunday's New York Times magazine featured a blurry image of terrorist leader Osama bin Laden and posed a provocative question about one of the most consequential U.S. military raids in recent memory: "Do we really know the truth about his death?
Some journalists, inside and outside the Times, responded: Yes, we do.
In recent days, Washington Post national security reporter Greg Miller, CNN analyst Peter Bergen, and Black Hawk Down author Mark Bowden have published rebuttals to media reporter Jonathan Mahler's 7,000-word piece, arguing that it elevates unsubstantiated theories about aspects of the bin Laden raid to the level of the established narrative long reported in books and magazine articles, and retold in interviews with top administration officials up to President Barack Obama.
Though it's oft repeated that tweets aren't endorsements, some reporters in the Times' Washington bureau notably have shared these rebuttals to a colleague's work in recent days. And inside the Times, several expressed concerns privately to management, prompting a conference call Monday with executive editor Dean Baquet.
"Dean has spoken to us and he's heard our concerns," Times national security reporter Eric Schmitt told The Huffington Post. "I'm glad I work at a newspaper where we can have these kind of candid conversations."
Schmitt declined to comment further.
The concerns in the Washington bureau boil down to the following, according to sources familiar with the discussions. Some staffers believe Mahler, who covers the media, didn't sufficiently advance the bin Laden raid story enough through new reporting to challenge the established narrative. They also felt he didn't utilize the expertise of the Washington bureau, which includes reporters who have spent years covering the search for the terrorist leader, the May 2011 raid and its aftermath -- both in the Times' news pages and in subsequent books.
Some Washington staffers also questioned whether the magazine has a different standard when it comes to giving oxygen to counter-theories about the raid -- such as those posited by investigative journalist Seymour Hersh -- and if showcasing them in a cover story is akin to the Times issuing a stamp of approval on their validity.
On the conference call, Baquet acknowledged he could have been more involved in the process of the magazine story, according to sources.
Baquet did not respond to multiple requests for comment.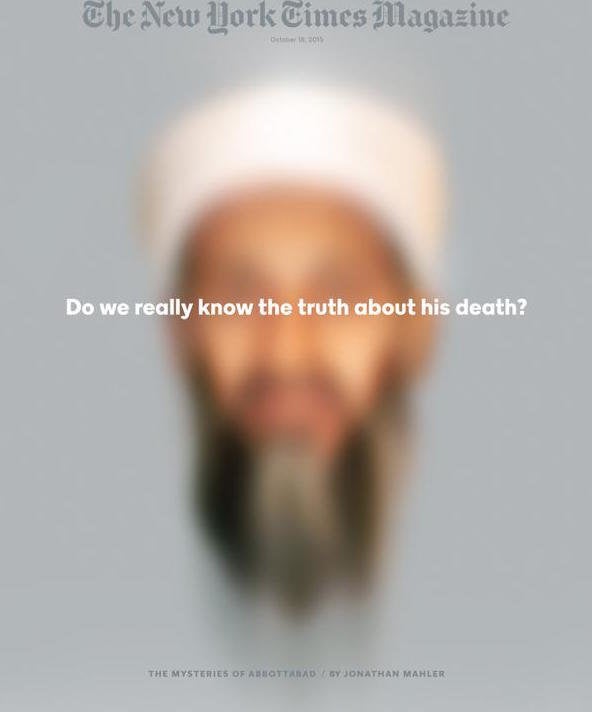 In an interview with The Huffington Post, Times Magazine editor Jake Silverstein dismissed any suggestion that Mahler's piece was intended to position Hersh's reporting alongside the Washington bureau's coverage of the bin Laden raid or that of the Times' peers through the years. The magazine article was a media story, he said, more "about the nature of reporting" than an attempt to report new details about the raid itself.
Silverstein declined to comment specifically about who Mahler spoke to within the Times, but said that Times Magazine writers consider their colleagues in the newsroom as resources and consult them as a matter of practice. He did say that Mahler "reported the hell out of this story."
"I think what Jonathan's piece set out to do, rather than elevate any particular account to being to any kind of status, was to say, 'There's an official story. We all know it really well. Some questions have been raised about it. Let's look into the way that story came to be, the way in which it was constructed.'"
Silverstein assigned the story to Mahler in June, a few weeks after Hersh — an investigative journalist best known for reporting on the My Lai massacre in Vietnam and prisoner abuse at Abu Ghraib — challenged several aspects of the official narrative in the London Review of Books.
In his May piece, Hersh wrote that the U.S. learned of bin Laden's whereabouts from a senior Pakistan official who walked into a CIA office and provided the information for part of a $25 million reward, a claim that runs counter to the idea that U.S. intelligence only found bin Laden after painstakingly tracking his coordinates for years. Hersh wrote that Pakistan's security services not only knew where bin Laden was located, but had imprisoned him in the compound for five years. And he also claimed that two top Pakistani generals were aware of the raid that killed bin Laden, and he was never buried at sea in accordance with Islamic law.
Hersh's report quickly caused a stir, with pushback from Bergen and additional follow-up. NBC News initially reported that a "walk-in" provided bin Laden's location to the U.S. government before revising its story to say the CIA asset only helped in finding him. Carlotta Gall, a veteran Times foreign correspondent, gave credence to Hersh's claim that Pakistan's security services knew where bin Laden was located by suggesting such a possibility in a first-person Times Magazine piece.
Mahler spoke to Gall and others who raised questions about some aspects of the official narrative, though he didn't endorse a specific theory in the story. Mahler also included caveats when it came to the alternative theory, such as describing some of Hersh's assertions as wild.
Still, some authors steeped in the bin Laden story argued that, overall, the Times Magazine piece gave too much credence to counter-theories without presenting new information that would buttress them.
"What do we know about Osama bin Laden's death?" Washington Post national security Greg Miller wrote Monday. "Quite a lot, actually."
Miller wrote that Mahler engaged in "conspiracy-spinning sleight-of-hand."
"He dwells on the conflicting details in reconstructions of the bin Laden raid by news organizations, magazines, books and movies — ignoring that despite these inevitable discrepancies almost all adhere to the same factual framework," he wrote.
"It's not often that the most distinguished journalistic institution in America wades so fully into the crackpot world of Internet theorizing, where all information, no matter its source, is weightless and equal."
Bergen, a CNN national security analyst and author of Manhunt: The Ten-Year Search for bin Laden, wrote that Mahler's piece was "bizarre" and seemed to suggest the Times' national security reporters were government "patsies" for not substantiating alternative theories surrounding the raid.
Mahler got public support from one Times colleague Tuesday, with columnist Joe Nocera writing that the cover story was "as much about the nature of journalism as it is about the facts surrounding the Bin Laden raid."
Silverstein said he respected the passion of journalists who responded critically to the magazine piece. And he said he was not surprised that some within an institution as large and diverse as the Times would have different perspectives as to how the paper should cover a story of this magnitude.
"This is one of the most important stories of our time, the killing of Osama bin Laden, and it's a big one, and it's one that we're going to be telling for many, many years," Silverstein said, adding that the magazine tried "to pull back the curtain a little bit and talk about the process -- the process that goes into telling a story like this, the process that goes into reporting a story like this."
"When you got a huge story like this, or like any big national story, international story, what you want is for the greatest newsroom on earth to have a lot of people thinking about it from a lot of different angles," he added, "so that you're going to tell a full and complete story over the years."
Related
Popular in the Community