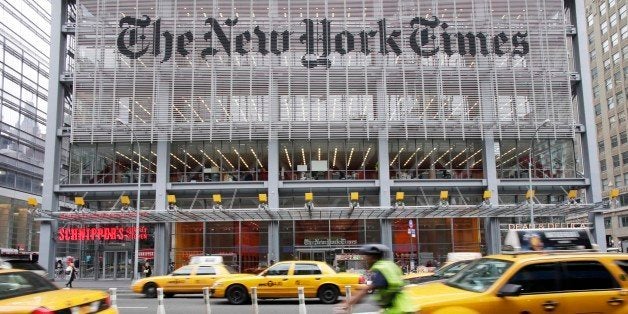 NEW YORK -- New York Times reporter Carlotta Gall, who covered Afghanistan and Pakistan for 12 years at the paper and wrote a book on her experience in the region, is clearly an authority on the U.S. presence there since the Sept. 11, 2001 attacks.
So Gall's first-person article posted Tuesday evening on the paper's website -- "The Detail in Seymour Hersh's Bin Laden Story That Rings True" -- got immediate pick-up on Twitter, since it seemed to validate one of Hersh's assertions in his controversial 10,000-word piece published in the London Review of Books.
Hersh reported that a Pakistani intelligence officer provided the CIA with Osama bin Laden's location a year before the U.S. raid on his compound in Abbottabad, Pakistan. However the Obama administration has long maintained that U.S. intelligence tracked down bin Laden through his couriers and pushed back aggressively this week against Hersh's piece.

On The Times' site, Gall wrote there were rumors of a Pakistani informant within days of the U.S. raid, but the story couldn't be corroborated. She described learning more about Pakistan's involvement with bin Laden while researching her book in 2013 and after its publication the following year.
[W]hen I was researching my book, I learned from a high-level member of the Pakistani intelligence service that the ISI had been hiding Bin Laden and ran a desk specifically to handle him as an intelligence asset. After the book came out, I learned more: that it was indeed a Pakistani Army brigadier -- all the senior officers of the ISI are in the military -- who told the C.I.A. where Bin Laden was hiding, and that Bin Laden was living there with the knowledge and protection of the ISI.

I trusted my source -- I did not speak with him, and his information came to me through a friend, but he was high enough in the intelligence apparatus to know what he was talking about. I was confident the information was true, but I held off publishing it. It was going to be extremely difficult to corroborate in the United States, not least because the informant was presumably in witness protection.
Gall acknowledged that the information, which she received secondhand from a friend who ranked high up in Pakistan's intelligence service, couldn't be corroborated.
While Gall's piece added perspective on the process of finding bin Laden at a moment of renewed interest, it seemed out of character for The Times to publish information about a major news event that presumably would not meet the bar for publication in one of its news stories.
Times standards editor Philip Corbett explained in an email to The Huffington Post that editors viewed Gall's piece "as a different type of piece from a straight-news story."
"It's a first-person account, under the magazine rubric, in which Carlotta walks readers through a lot of the reporting she did on this topic," Corbett said. "She's transparent about what she learned, what was unclear, what could or couldn't be corroborated and why. I think it offers readers some valuable insight and additional information on this much-disputed topic. It's certainly not rumor-mongering or mere speculation."
Corbett said executive editor Dean Baquet was aware of Gall's piece before it was published and he felt comfortable running it for those reasons.
Since Hersh's piece was published Sunday, both NBC News and Agence France-Presse have reported that a Pakistani intelligence officer did provide information to the CIA in 2010 that assisted in the hunt for bin Laden

NBC News initially went further, reporting Monday that the Pakistani "walk-in" gave up bin Laden's location to the CIA. However, the outlet soon walked back that earlier report, and now asserts only that the defector provided information, not bin Laden's whereabouts.
Related
Popular in the Community