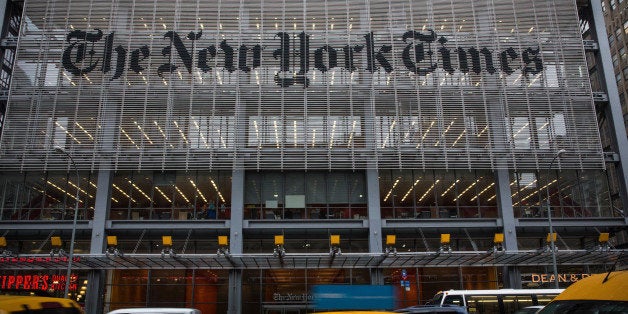 NEW YORK -- New York Times executive editor Dean Baquet recently announced plans to eliminate 100 jobs through voluntary buyouts or layoffs, marking another grim occasion for the beleaguered newspaper industry. Still, he noted, the Times has weathered previous cutbacks "better than most" and has preserved "a large and strong newsroom."
Baquet's right. Not only does the Times boast a large newsroom after three rounds of layoffs and buyouts, but the paper actually employs roughly the same number as it did at its peak in early 2008: 1,330. The Times has cut hundreds of jobs over the past five years, like other newspapers responding to plummeting print advertising revenue. But unlike the competition, the Times has kept hiring and is expected to add staff in areas like digital, video, mobile and audience engagement.
The Times is currently accepting buyout applications through Oct. 17 in an effort to eliminate those 100 jobs, but a spokeswoman told The Huffington Post in an email that the paper is also "continuing to invest in areas where we see future growth potential and that includes hiring."
That fits a pattern at the Times, which has more recalibrated than downsized its newsroom through buyouts and layoffs over the past five years -- even as the newspaper industry contracted and U.S. fell into an economic recession.
The Times had 1,332 newsroom employees in early 2008 when management announced plans to cut 100 jobs. But even after those cuts, with roughly 1,230 newsroom staffers remaining, the Times noted that it still topped the competition: No other newspaper newsroom had more than 900.
In October 2009, the Times -- then at 1,250 newsroom staffers -- decided to cut another 100 jobs, a dark moment later immortalized in Andrew Rossi's 2011 documentary "Page One." By the end of 2009, the Times' newsroom was at roughly 1,150 staffers, which, as the paper once again pointed out, was still 400 more than at any other newspaper newsroom.
By the end of 2011, the Times' newsroom had inched up to 1,189 staffers, according to statistics provided to The Huffington Post. A year later, the Times' newsroom reached 1,226 employees as former executive editor Jill Abramson sought to cut around 30 newsroom management positions. Several high-ranking Times staffers departed in that round and now hold senior positions at ProPublica, Bloomberg and Mashable.
Since the benefit of taking a buyout increases with seniority, higher-ranking and presumably better-paid staffers are most likely to apply. That potentially frees up money in the newsroom budget to replenish the ranks with employees who are often more junior-level and lower-paid. So even with a round of buyouts in early 2013, the Times finished the year with 1,251 newsroom staffers -- a net gain of 25 from the previous year.
The Times eliminated a number of legacy print positions through these three staff reductions, while at the same time hiring staff for digital, mobile and video. The paper has also continued to invest in lifestyle coverage, such as T Magazine and Styles, as well as expanding divisions like data and graphics. The Times is also now building an audience engagement team. So far in 2014, the Times' newsroom has grown by 79 staffers to its current total of 1,330.
That's now twice the number of staffers at The Washington Post, which like the Times has been through a series of buyouts and layoffs in recent years. Even after a hiring binge under its new owner, Amazon chief Jeff Bezos, the paper boasts only 650 newsroom staffers, down from a peak of 900 in the mid-2000s.
The Los Angeles Times, which had 1,200 newsroom employees in 2001, was reduced to about 550 over the next decade through a series of cutbacks. A Los Angeles Times spokesperson declined to provide the most recent newsroom figures.
Clarification: Language has been added to make clear that the "several high-ranking staffers" who left the Times in 2012 did not all immediately go on to positions at the publications named.
Related
Popular in the Community