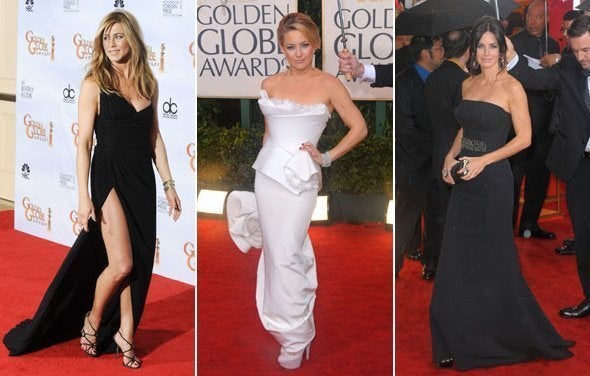 The NYT fashion blog 'The Moment' has published a curious commentary about 'weight gain' among actresses at Sunday's Golden Globes ceremony.
And no, they're not talking about actual full-figured women up for awards this year, like Gabourey Sidibe or Mo'Nique. In the piece, called 'Now Scrutinizing: A Rounder Golden Globes,' Andy Port (a woman) asks, misspelling Courteney's name in the process, "What do Jennifer Aniston, Kate Hudson and Courtney Cox have in common?"
The answer is not any of the obvious flattering observations.
Maybe it's just me, but I could have sworn that some of the ladies who showed up at the Golden Globes on Sunday had put on a little weight. It's almost criminal to name names, because the very actresses whose body-mass indexes have been the subject of endless tabloid speculation are the very ones now sporting sexier curves. You could definitely see the difference if you concentrated solely on the upper arms.
In another piece, the NYT (via Gothamist) distorted an image of 'Mad Men' bombshell Christina Hendricks to illustrate a quote about her being a "big girl."
Popular in the Community