The New York Times published a story last week about the "high-fashion makeover" of Manhattan's Canal Street, the main artery of Chinatown, that more or less gentrified Chinese people out of the narrative. Their voices were displaced with those of a founder of a "high-end" design firm, an owner of a fine jewelry label and a musician with an event space.
"Canal Street Cleans Up Nice," read the original headline, which appeared in the Times' Style section above a subheading that referred to the street as a "once derided thoroughfare most synonymous with fake designer goods."
After an outcry, the editor of the section expressed contrition and the story received a new headline: "The Gentrification of Canal Street." Gone from the subhead were the words "once derided."
"We can do better! This should have been better. And I'm glad people spoke up," Choire Sicha, the Times' Styles editor, wrote in an email to HuffPost.
In place of a frank insensitivity, the piece now displays a more genteel kind of racism. But even in its softened form, the story is still a product of the same historical forces behind the gentrification it describes.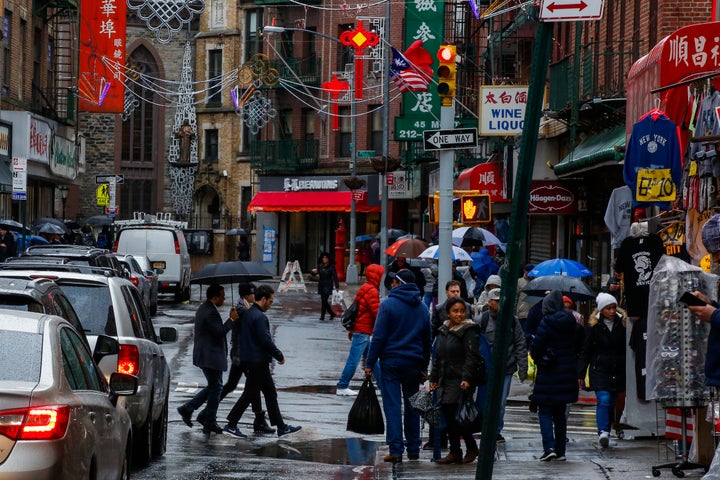 From writer Hayley Phelan's first very paragraph, describing "shrink-wrapped counterfeit purses displayed on a blanket," the Times dispatch evokes a neighborhood of sordid, exotic character.
Herb Tam, curator and director of exhibitions at the Museum of Chinese in America in Manhattan, told HuffPost the Chinatown the Times sniffs at — the various "low" exotica, the wares being hawked, the tourists — is rooted in immigrants' desire to make a living.
"Business leaders throughout Chinatown's history have tried to lure with tourism," Tam said. "Some of the architecture is sort of exaggerated Chinese motifs to draw tourists here, for example. For a lot of business people, they think that tourism is survival."
Asians now have the second-highest poverty rate of any ethnic group in New York City, behind Hispanics. There are about 26,000 people of Asian descent living in Chinatown, with 44 percent living below the poverty line. But they're not represented in the Times story either in terms of historical context or modern-day opinion.
Much of the problem lies in the article's facile view of gentrification as an aesthetic event, something that exists outside of historical and political considerations. Twitter users pointed this out:
Some of the language in the Times piece chimes with America's longstanding view of Chinese communities as "racially unassimilable."
Beth Lew-Williams, an assistant professor at Princeton specializing in Asian-American history, previously told HuffPost that other Americans believed these communities "could not become Americanized. They were simultaneously racially inferior, backwards, savage, heathen ― and in some dangerous ways ― superior."
Ironically, the Times published its article in the middle of Asian Pacific American Heritage Month, which marks the completion of the Transcontinental Railroad, built largely by Chinese immigrants from 1864 to 1869. Those immigrants were paid less than white workers ― and were described before Congress in 1877 as "a perpetual, unchanging, and unchangeable alien element that can never become homogenous; that their civilization is demoralizing and degrading to our people; that they degrade and dishonor labor; and they can never become citizens."
The U.S. would later implement the Chinese Exclusion Act of 1882, stemming further immigration of Chinese laborers. It was the first major law that banned a group of people from immigrating to the U.S. because of their ethnicity.
During this exclusion era, most landlords wouldn't rent to Chinese people.
"That's really how Chinatowns came into being," Wu said, "not how we think about them now, as a fun place to get a meal or buy some tchotchkes, but as a way to contain a very threatening population in American life."
"Chinatowns were products of extreme forms of racial segregation... That's really how Chinatowns came into being.""
Tam points out that Chinatown is still a working-class neighborhood today, even if it is flanked by two of the city's most affluent neighborhoods.
"A lot of older folks who live here are on food stamps, and affordable housing issues are a big concern," he told HuffPost.
One quote in the Times piece was particularly perplexing to Tam, he said ― "I think people were afraid of Canal Street for so long, and now they're recognizing there are just so many advantages to the area," Beth Bugdaycay, co-founder of the jewelry label Foundrae, told the paper.
"I'm not sure what was meant by being scared of Canal Street in the article, but one could read it in a historical lens," Tam said. "Chinatown was once a place of vice and gambling and opium dens. But to call Canal Street and Chinatown scary, that is very much based on an Orientalist perspective."
Tam also said Bugdaycay could have been referring to more recent history ― a wave of Chinese immigration to the U.S. in the 1970s and 1980s that led to the establishment of Chinatown's youth gangs, which had origins in Hong Kong.
The stereotype of Chinese and Asians in general in America as being threats or "hustlers" is intertwined with immigration history. It dates back to the railroads, to exclusion, to what became Chinatowns.
In the counterfeit purse imagery in the Times story, Tam saw the persistence of that trope.
"The stereotype is that Chinese will do anything to make a little money, including selling designer-knockoff handbags. That's also not everybody, and there are a lot of layers to that industry. Some of it is cultural, economic and political."
"Chinatown was once a place of vice and gambling and opium dens. But to call Canal Street and Chinatown scary, that is very much based on an Orientalist perspective.""
Tam was also struck by another quote in the story: "I think we're just beginning to see the neighborhood come alive," Bugdaycay told the Times.
"When I see Canal Street being described as in need of revitalization or that there are new kinds of hip places for food and fashion, that is offensive," Tam said. "That negates the culture that's already been created and that's very much alive here."
Readers have previously criticized the Times for its problematic takes on Asian-American communities and culture. Ellen Pollock, the Times' Business Day editor, expressed regret last year after readers complained that a story about bubble tea came across as a "discovery" of a long-popular drink.
Jordan Cohen, New York Times communications director, told HuffPost that the newspaper learns from these instances.
"The Times takes the reactions and critiques seriously and use them to encourage conversations about better ways to report and present stories," Cohen wrote. "We urge desks, especially for stories that might be culturally sensitive, to seek out a wide range of colleagues' perspectives before publication."
Tam, for his part, also had some thoughts.
"Editors need to do a better job of providing historical context," he said. "If they're going to write about real estate and not talk about the affordable housing issues, it seems really out of touch for the journalistic chops that they claim to have. I don't care what section of the newspaper it's in. Whatever section, they need to do a better job."
Popular in the Community