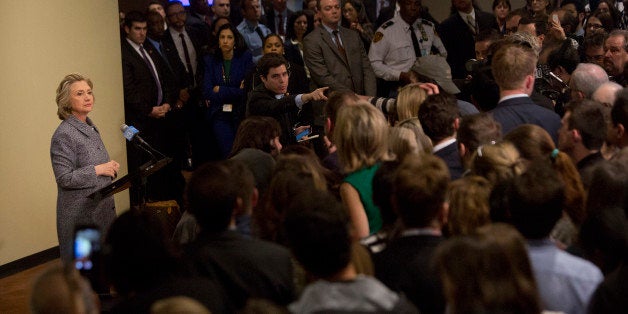 NEW YORK -- White House Press Secretary Josh Earnest recently shot down a New York Post report claiming that senior Obama adviser Valerie Jarrett orchestrated a leak to reveal that former Secretary of State Hillary Clinton had used a private email address for government business.
"Utter baloney," Earnest said.
Rep. Trey Gowdy (R-S.C.), chairman of the House committee investigating the 2012 Benghazi attacks, had already said shortly after The New York Times broke the story about Clinton's emails that his committee wasn't the source.
So where did the story come from?
Political scandals always breed speculation about motives, and the Clinton email story is no exception. Did Republican operatives ring the Times in order to tarnish the 2016 Democratic frontrunner? Or, perhaps, could a rival within Clinton's own party have provided the information? Or might the Clintons have leaked the story themselves to get a potentially damaging story out of the way more than 20 months before Election Day?

Times reporter Michael Schmidt, who broke the story on March 2, understandably won't reveal his sources. But Schmidt's description of events to The Huffington Post suggests the story, which ultimately became a bombshell, wasn't billed to him as a scandal in the making or even as especially urgent. Indeed, Schmidt left for vacation the day after getting the original tip.
"It was curious and it was interesting," Schmidt said, "but it didn't seem like it was going to be some type of major story."
Schmidt, 31, primarily reports on the FBI and the Department of Homeland Security for the Times. While covering a Saturday national security shift in the paper's Washington bureau in November 2014, Schmidt was assigned to write on a House Intelligence Committee report that found no evidence to support long-running allegations about the Obama administration's handling of the Benghazi attacks. Since then, Schmidt has had the Gowdy-led House Select Committee on Benghazi in his portfolio as a micro-beat.
In mid-February, Schmidt got a tip that the State Department had turned over Benghazi-related emails, sent from Clinton's personal account, to the committee.
This cache, it would later be revealed, included 300 emails totaling around 900 pages. But it still wasn't clear to Schmidt that Clinton had never had a State Department email and had conducted government business exclusively on the private account during her four-year tenure -- a practice that could impede records requests from congressional committees and journalists.
The next day, Schmidt headed off to Florida on vacation for five days, and, upon his return, was assigned to follow Defense Secretary Ash Carter to Afghanistan and Kuwait. When he returned to Washington, by his account, he slept for a full day before finally getting to dig into the Clinton email story on Friday, Feb. 27.
In hindsight, Schmidt said, "it's a good lesson in that whenever you have a tip, you should run it into the ground as fast as possible."
That morning, he quickly learned from sources that Clinton had handed over 50,000 pages of emails -– around 30,000 emails in total -- to the State Department. Schmidt contacted the department to inquire why it hadn't already had possession of the emails, and continued to report what he now realized was a much bigger story than he had previously assumed.
Schmidt said that through the weekend, Times Washington Bureau Chief Carolyn Ryan kept pushing him to get more details, which he did. However, Schmidt did leave his apartment for a few hours Saturday evening, donning a tuxedo to cover a wedding for the Times, an assignment that predated the Clinton email story.
After a few more days of reporting, Schmidt determined that Clinton had not, in fact, ever used a State Department email address. The Times published his story on the night of Monday, March 2, with the piece landing at the top of the next morning's front page.
The following Sunday, on "Meet the Press," Gowdy credited the Times with uncovering information that his committee hadn't. Jamal Ware, a spokesman for the Benghazi committee, clarified in a later email to HuffPost that Gowdy's comments referred to how Clinton had "retained control of the emails and State had to be asked for them back," adding that "State did not inform the committee of that before the NYT report."
State Department spokesman Alec Gerlach told HuffPost that the email issue was discussed in a previously scheduled Feb. 27 meeting with staffers from the Benghazi committee.
The Times faced intense criticism from Clinton allies in the days that followed. Public Editor Margaret Sullivan addressed the complaints, but ultimately found the story to be accurate. And the Clinton email story hasn't gone away: Gowdy requested on Thursday that Clinton turn over her private email server to his committee.
Schmidt is no stranger to media controversies, having reported in 2009 about several baseball stars testing positive for performance-enhancing drugs. His stories prompted the Major League Baseball Players Association to claim The New York Times had broken the law.
Still, Schmidt said the media's sustained interest in the Clinton email story "is far higher than any other story I've ever written."
CORRECTION: A previous version of this story misstated the number of Benghazi-related emails sent from Clinton's personal account. It was 300, not 900.
Related
Popular in the Community