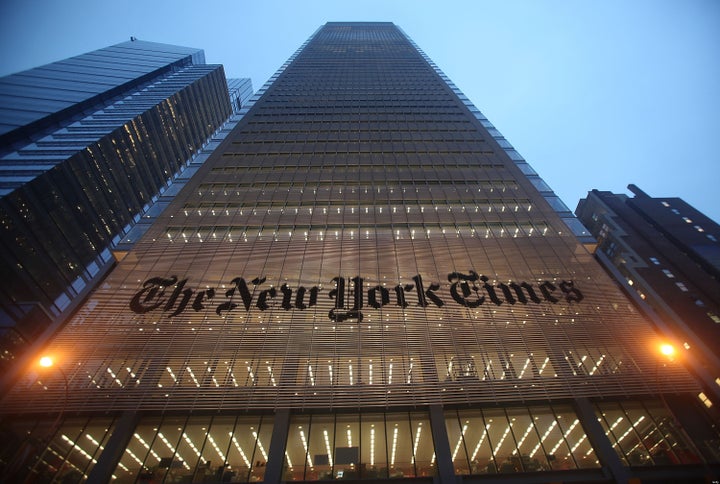 NEW YORK -- The New York Times is expected to name columnist David Leonhardt as the paper's next Washington bureau chief, a bold first move for incoming executive editor Jill Abramson and one that puts the Pulitzer Prize-winning writer on the upper management track. (Update: The Times made the news official Friday morning in a staff memo).
On Thursday, Times staffers told The Huffington Post that Leonhardt was likely getting the top Washington job -- the final puzzle piece in June's management shake-up. Current Washington bureau chief Dean Baquet, who'll soon head to New York as Abramson's managing editor, declined to comment on the Leonhardt speculation, first reported by Politico. A Times spokeswoman also declined to comment and Leonhardt did not return calls and emails seeking comment.
The choice of Leonhardt is surprising given that the top economics writer hasn't checked some of the boxes one might expect for a D.C. bureau chief, from national security reporting to being steeped in national politics. For that reason, Times staffers didn't consider Leonhardt a contender early on.
But Abramson recently gave several indications that Leonhardt is just the type of journalist she wanted for the job.
On July 14, Abramson made her first trip to the Washington bureau since being named Bill Keller's successor and told Times staffers at a brown bag lunch that, in her new role, she needed to identify the next generation of leaders at the paper, according to staffers who attended. Abramson also identified the economy as the most pressing issue facing the country.
Times higher-ups have long considered the 38-year-old Leonhardt to be upper management material, and staffers throw around his name in the newsroom parlor game of who could someday become executive editor. The position has traditionally been a stepping stone to the top of the masthead, with Abramson becoming the latest ex-bureau chief to ascend the ranks. The only question was whether one of the country's top economics writers would want to take on the duties associated with running a bureau. While it's not unheard of for a Washington bureau chief to also write on the job -- R.W. "Johnny" Apple comes to mind -- it's a rarity.
Times staffers acknowledge that Leonhardt doesn't bring management experience to the job, but several point out that he's a rising star in the organization, immensely talented, engaged in issues, and, perhaps most importantly for his new role, very well-liked by staff.
National editor Rick Berke, who served as Abramson's number two when she ran the Washington bureau, didn't want the position, staffers say, but deputy bureau chief and political editor Dick Stevenson did. Times staffers now wonder whether Stevenson will continue in his current roles if Leonhardt gets the job.
Despite rumors leaking outside the bureau Thursday, Baquet didn't make any announcement during a 5 p.m. going away party for David Herszenhorn, as the Congressional reporter heads to the paper's Moscow bureau. That's probably because Abramson will be in the Washington bureau on Friday, staffers say, and would presumably want to make the announcement then.
Update: Times editors announced the move Friday morning in a staff memo. "David's strengths as a reporter, columnist and magazine writer are dazzling," top editors Abramson, Baquet and John Geddes wrote in a memo obtained by The Huffington Post. "His keen understanding of how Washington works and the nexus of politics and economic policy make him a perfect leader of the Washington bureau at this moment. His creativity is matched by his collegiality. His original take on key issues has strengthened our news report in deep and important ways."
Popular in the Community