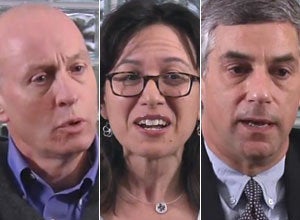 New York Times staffers made another demand for the paper to end the dispute over their contract in a new video released on Monday.
The video features Pulitzer Prize-winning reporters Kevin Sack, Dan Barry and Amy Harmon urging the Times to give in to staffers' proposed contract terms. Employees have been locked in negotiations with the paper's management for over a year. One of the main sticking points has been the Times' call to freeze employee pension plans.
"I think the message to the New York Times is, let's end the familial strife, remember who we are as this kind of extended family doing the best journalism in the world, and let's settle this and move on," Barry said in the video.
Harmon calls the stalled talks "frustrating." Sack said that the Times remains an exception to the "wasteland" that print journalism has become, but the negotiations put that at risk.
"The electronic media evolution has gotten to the point where there are competing organizations now that will pick off Times reporters and are able to pay them significantly higher salaries than the paper is putting forth at this point," he remarked. The accompanying caption cited The Huffington Post and Politico's 2012 Pulitzer wins.
The video is the second in a series in which staffers criticize the paper's stance on the negotiations. The first included one veteran saying that having his pension frozen would be "worth risking a strike over."