NEW YORK ― In a show of solidarity, employees of The New York Times walked out of their office on Thursday to protest layoffs expected to hit the paper's copy desk.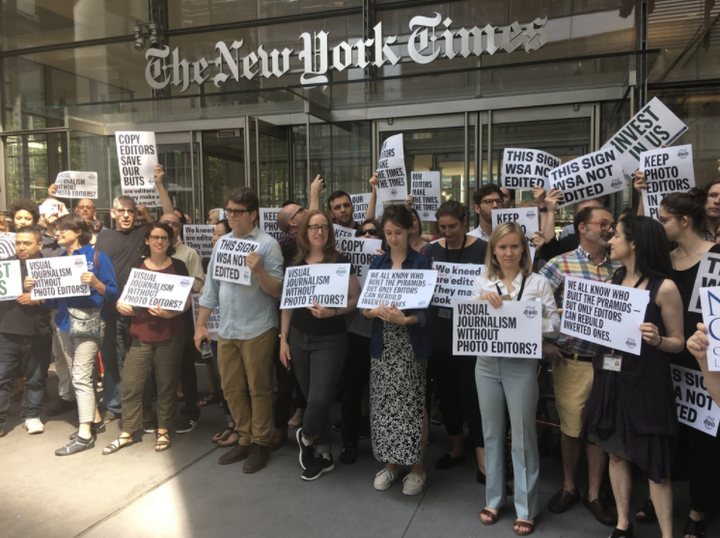 As part of a 15-minute walkout dubbed a "collective coffee break" by their union, dozens of Times employees facing layoffs and their colleagues marched around the historic paper's building, chanting, "They say cutbacks, we say fight back!" and "No editors, no piece!"
Several Times employees told HuffPost that 109 copy editors were offered buyouts as part of a company plan to cut copy desk staff down to as few as 50 people. That revelation ― along with a bizarre interview process, labeled "death panels" by employees, in which copy editors were reportedly forced to justify their continued employment ― led the desk to fire back at the company in an open letter to Executive Editor Dean Baquet and Managing Editor Joe Kahn on Wednesday:
"You turned your backs on us," the letter read.
"We abhor your decision to wipe out the copy desk. But as we continue this difficult transition, we ask that you sharply increase the available positions for the 109 copy editors, as well as an unknown number of other staff members, who have effectively lost their jobs as a result of your actions."
The buyout window closes on July 20, after which layoffs are expected. Employees who decide not to take a buyout will have an opportunity to apply for other jobs within the company, staffers confirmed with HuffPost. Those applying for other jobs will be interviewed, but it isn't clear how many jobs are available to them.
Susan Guerrero, 67, a 17-year veteran of the copy desk, told HuffPost that she's taking a buyout offer.
"I don't like the direction this paper is heading, and if they do what they say they're going to, I'd be miserable."
The Times, like any paper, needs copy editors, she said.
"I represent the reader," Guerrero explained. "I am the first reader, and the first one to say, 'What? I don't know what you're talking about.' I'm not an insider, and I look at everything cold."
Outside the Times building, Guerrero painted a picture of a newsroom that had lost its morale.
Other employees are "very down and very humiliated and demoralized," she said. But she celebrated camaraderie the rest of the staff is showing this week.
On Thursday, prior to the walkout, Times reporters released their own open letter to Baquet and Kahn, making a case for copy editors to keep their jobs:
Like nearly everyone we know in the newsroom, we believe that the plan to eliminate dozens of editing jobs and do away with the copy desks is ill-conceived and unwise, and will damage the quality of our product. It will make us sloppier, more error-prone. It will undermine the reputation that generations have worked to build and maintain, the reputation that keeps readers coming back. You are reducing the number of people doing the work of editing, which would be harmful enough in itself. But you plan to take work away from people who do it well, and give it to people who have not developed the same skills, and who are already over-burdened.
Baquet and Kahn responded to copy editors' concerns in a letter on Wednesday, writing, "We are not, as we have said repeatedly, eliminating copy editing. A majority of people currently employed by the copy desk will find new editing jobs."
Layoffs at the Times conclude a month of sweeping cuts across the media industry and signal that the plight of shrinking newsrooms is far from over.
News website Vocativ saw its entire editorial staff cut earlier this month. Time Inc. announced that it would cut 300 staffers from its worldwide force. Here at HuffPost, 39 union members were laid off, alongside about 2,100 other employees, as part HuffPost parent company Verizon's acquisition of Yahoo. Fox Sports was expected to lose 20 writers as the company transitions to video.
And that's just in June. Many of the companies listed above ― including the Times ― promised to grow their way out of their problems and make new hires in the near future. But as writing and copy editing positions make way for video opportunities, the field of play for journalists is shrinking.
Related
Popular in the Community