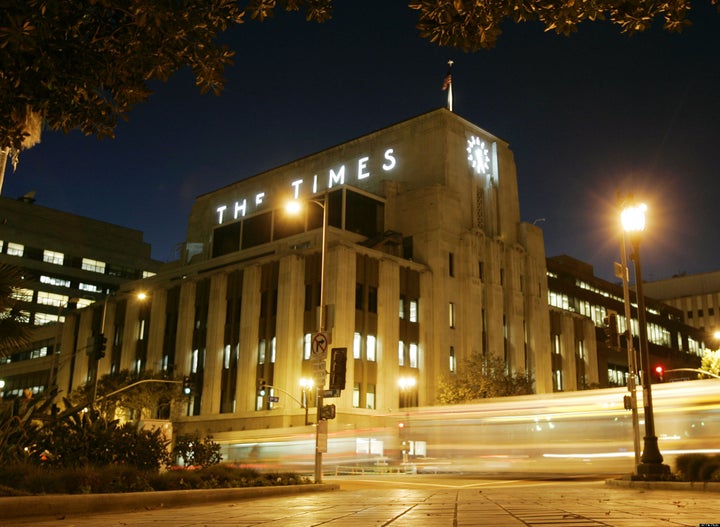 UPDATE via Fishbowl LA: Los Angeles Times environmental editor Geoffrey Mohan responds to the New York Times with a scathing letter (Jim Romenesko of Poynter and Columbia Journalism Review were cc'd). It's clear that Mohan attributes the LA Times' struggles to their acquisition by the Tribune Company and says,
"I pray the New York Times doesn't have to close sections, shrink its newsprint, whore its front page to advertisers and cut its staff in half while a gang of former radio hatchet men hired by a megalomaniacal real estate imp guts the company."

The letter, however, ends with Mohan skewering the New York Times for its limited coverage of the city:
"...in its own city, it never ventured far from midtown Manhattan. Take a poll of readers in the "outer boroughs" of New York City and see what people there think of the haughty broad brush of the New York Times, which never fails to underestimate their intelligence and overestimate their patience."
In today's New York Times, media writer Jeremy W. Peters examines what he characterizes as a slow decline of the Los Angeles Times newspaper since being bought in 2000 by The Tribune Company. Peters notes that the Los Angeles paper's weekday circulation is almost half of what it was in 2000, perhaps as a result of massive budget cutbacks and a series of layoffs that hobbled the papers' once massive local coverage operations.
The article goes on to link the decline of the Los Angeles Times to what it portrays as the decline of the city it covers:
"For many Angelenos, the downsizing is just one more sign that their city is losing stature. Add it to the list of other ego-bruising blows, like the loss of its professional football team, the flight of Fortune 500 companies from the city limits and a failed bid for the 2016 Summer Olympics."
Local bloggers have taken issue with the characterization of Los Angeles as a city in decline, particularly with major projects underway like the Broad Museum, Westside Subway, and the looming possibility of an NFL stadium downtown. Furthermore, the New York Times admits that the Los Angeles Times is "considered a front-runner to win a Pulitzer Prize this year" for their coverage of the Bell scandal. The piece also reports that the local paper maintains more foreign bureaus than any other large-city newspaper besides the Washington Post.
Related
Popular in the Community