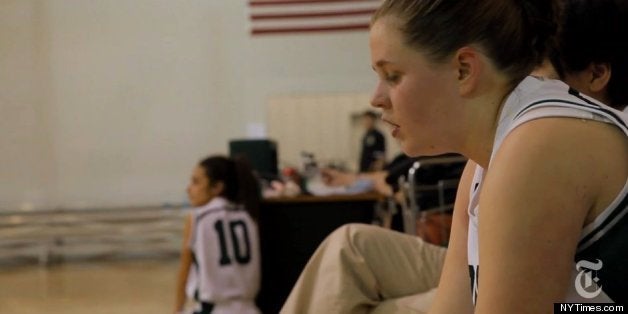 NEW YORK -- After The New York Times published reporter John Branch's five-part series last year on the girls' basketball team of Carroll Academy, a juvenile court-run school in Huntingdon, Tenn., sports editor Jason Stallman recalled getting a flood of responses and a common request: "Don't turn your back on these girls."
So Branch revisited the beleaguered Lady Jaguars of Carroll Academy, their families and school administrators for two forthcoming stories on a community struggling with high unemployment, teen pregnancy and rampant methamphetamine and prescription drug abuse.
But this time, videographer Kassie Bracken also trekked down to Huntingdon to produce the first branded "Times Documentary," a 17-minute film that follows one student and basketball player as she moves between three homes in six weeks. The Times promoted "Hannah's Story" with a film trailer Wednesday morning and will publish the full 17-minute documentary, alongside the articles, online Friday. "Hannah's Story" is an example of how the Times is expanding documentary programming, with a dedicated documentary channel on the paper's site planned for later this year.
In an interview with HuffPost, Stallman said he's been frustrated in the past with the Times treating video primarily as an accompaniment to a print story. "With this, I wanted very much to empower Kassie to pretend like there's no John Branch involved, no photographer involved," Stallman said, adding that, unlike most print-video collaborations, the journalists weren't in constant communication about the reporting process.
"In this case, I wanted to completely divorce it," Stallman said. "So at the end of the day, we have the very best documentary that can stand on its own and wasn't designed to work with or complement anything else."
Justine Simons, a senior producer in the video department, told HuffPost that the first branded "Times documentary" represents "an extended commitment of this kind of coverage and is a way to signal to viewers" that "this is something different."
"Not only is it a different time commitment, but it's a different pace, it's a different kind of way of presenting content," Simons said. "It's not going to sit down and hit you over the head with a nut graph in the first 30 seconds."

Rebecca Howard, who joined the Times in the new position of general manager of video production in February, said the paper is now "figuring out what programming makes the most sense for us." Howard said that "Hannah's Story" seemed "perfect for our brand and our audience" in capitalizing on the Times' "incredible access" to Carroll Academy, which allowed them to go in depth with the film's subjects.
Stallman said last year's installment turned into a five-part series because Branch got such extensive access, and described the idea of going back as taking a page from "Up," the British documentary series that revisited its subjects every seven years. Stallman said the forthcoming stories and documentary captured the community "without judgment."
"We're not trying to hold this school up as the way things should be," he said. "We're not trying to glorify the girls. We're just trying to lay out for viewers and readers what's going on down there, for better or worse."
Popular in the Community