NEW YORK ― Just days ahead of Donald Trump's inauguration, The New York Times announced plans to invest an additional $5 million into its coverage of the incoming president and his administration.
"Has there ever been a story more tailor-made for The New York Times?" executive editor Dean Baquet and managing editor Joseph Kahn asked in a Tuesday memo. "Or a moment when our mission was more crystal clear?"
The Times top brass announced this allocation of resources into covering Trump and the "new world order" in a memo pegged to the release of an internal report addressing how the paper needs to adapt and thrive in the digital age. Members of the Times' 2020 group provided a blunt assessment Tuesday of newsroom operations and urged changes in hiring, goal-setting and training to meet the demands of a shifting media landscape and, importantly, the needs of subscribers.
The group's report didn't specifically mention coverage of Trump, though Baquet and Kahn applauded staff in the accompanying memo for being "out front on the biggest story in a generation, a story that has called on every department and discipline of The Times."
"Our readers want us to dig deeply into the story of Donald Trump's arrival in Washington," they wrote. "They are coming to us in record numbers because they know we are one of the few news organizations with the power and fortitude to cover all aspects of this historic shift in American power, and what it says about the country and its deep divisions."
Baquet and Kahn said the Times plans to add investigative journalists and experts in areas such as taxes, immigration, education and climate change.
Timothy O'Brien, a former Times reporter and editor who Trump unsuccessfully sued over a 2005 biography, has suggested the Queens-born developer has "always had a deep fascination with The New York Times and a need to get the paper's broader approval of his career and who he is."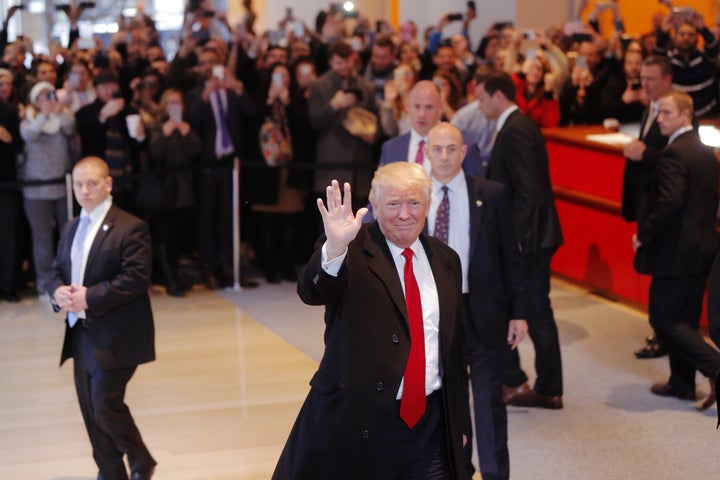 Surely, Trump won't always speak so admiringly of the Times, especially given that the paper has already aggressively staffed up to cover his administration and is now promising additional millions for its effort.
The Times hired Politico's Glenn Thrush last month and announced that Peter Baker, a highly regarded reporter who has covered the previous three White Houses, would return from a brief stint as Jerusalem bureau chief to report on Trump's administration. The Times White House team also boasts reporters Mark Landler, Mike Shear, Julie Davis and Maggie Haberman, who Politico recently dubbed as the reporter most plugged into Trump's network.
A week later, the Times announced the formation of a new Washington D.C.-based investigative team led by veteran national security reporter Mark Mazzetti. Pulitzer Prize-winning reporters like Matt Apuzzo and Eric Lipton are part of the new team, along with award-winning foreign and investigative reporter Sharon LaFraniere and Michael Schmidt, who broke the news that former Secretary of State Hillary Clinton used a private email account for government business.
In an interview last month with The Huffington Post, Mazzetti framed the creation of a new investigative team as part of the traditional moving of newsroom pieces following a presidential election. Still, he acknowledged the urgency and necessity to prepare for Trump's arrival.
"No matter what your beliefs are politically, everyone agrees there's a huge story coming to Washington," Mazzetti said. "We have to be in place to cover it."
Apuzzo separately told HuffPost last month that Trump's pledge to fundamentally change Washington "requires reporters who will look in depth at the changes being made."
"And at the same time he's promising all of this change, he's also found a way to really speed up the news cycle," Apuzzo said. "He moves at the speed of Twitter. For reporters that can slow down, and dig in and explain things, we're going to have plenty to do."
Baquet recently told NPR that he wanted to "double down on explanatory and investigative reporting" in Washington because "really interesting things happen" when "unusual figures" arrive in the capital.
On Tuesday, Baquet and Kahn expressed a need to not only deeply cover Trump's impact on Washington, but the broader story of a greatly shifting world order.
"This is not just a story of transformed government agencies," they wrote. "It is also about the stability of the global order that has prevailed since World War II and America's place in that world."
Popular in the Community