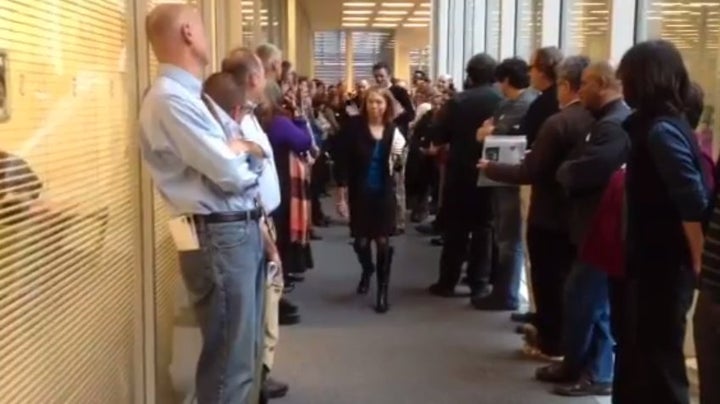 On Thursday, the top editors of the New York Times responded to their staffers' open protest of ongoing contract negotiations.
Members of the New York Newspaper Guild lined the hallway outside the Page One meeting room in protest as editors entered a 4 p.m. meeting on Wednesday.
The showing demonstrated staffers' dismay over their contract negotiations, which have been going on for over a year, and negotiators' calls for freezing their pension plans and ending their independent health insurance. A memo had alerted staffers to the protest, and called on senior editors to relay their concerns to the paper's management.
Executive editor Jill Abramson, managing editor Dean Baquet and managing editor John Geddes responded to the grievances in a letter on Thursday, asking for patience as negotiators continue to plug away at a contract.
In it, they stressed that the editors and staffers were "all in this together," and empathized with frustrations over the negotiations. "Yesterday's gathering by the page one room shortly before the 4 p.m.meeting was another reminder of how deeply unsettling this time has been," they wrote.
However, they said that there had been bright spots in the management's handling of employee pension plans, and made it clear that the discussion over contract terms would remain between the negotiators.
Below, see the full text of the letter from the editors.

March 1, 2012

Getting Through Challenging Times Together

Jill, Dean and John write: Together, we produce the world's most powerful and engaging news report. We know you are as proud as we are every single day of the extraordinary breadth and depth of our singular journalism. We know that you are being asked to do more and more to keep pace with the relentless demands of a constant news cycle across multiple platforms.

In recent weeks, we've had conversations with many of you about your frustrations and worries over the protracted Guild negotiations, which have now gone on for more than a year. Yesterday's gathering by the page one room shortly before the 4 p.m.meeting was another reminder of how deeply unsettling this time has been.

Negotiations are certainly best left to those at the bargaining tables, where — as we all know — the issue of pension plans is at the heart of those negotiations, just as it is at the center of your concerns.

We understand those concerns. Two years ago, the pensions of all non-union staff members were frozen, mirroring a move that many other companies have taken. At that time the Company did provide excluded employees with an enhanced 401k, and ensured as well that no one lost credits accrued prior to the freeze In the negotiations with the Guild, the Company has indicated a willingness to take this approach, too.

We all acknowledge that the push-pull of the negotiating process can be wearying. But we have been here before. Like you and our colleagues on the negotiating team, we are committed to finding a solution.

We thought this was a good moment for us to underscore our commitment to you and to affirm our faith in the future of The Times. After all, we are all in this together.

We have ambitious plans for the year ahead. We will continue to innovate digitally offering our readers increasingly rich and engaging experiences on many platforms. We will expand our reach and invest in our talent.

The New York Times stands almost alone in being able to offer talented journalists a promising and fulfilling career. We are the destination for those committed to the highest standards of excellence.

We know this has been a challenging time and that we will get through it together.

All best,
Jill, Dean and John

Calling all HuffPost superfans!
Sign up for membership to become a founding member and help shape HuffPost's next chapter