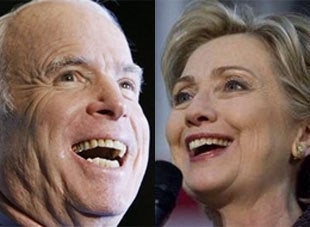 The New York Times editorial board on Thursday endorsed Sens. Hillary Clinton and John McCain in their respective presidential nomination races. From the editorial endorsing Clinton:
By choosing Mrs. Clinton, we are not denying Mr. Obama's appeal or his gifts. The idea of the first African-American nominee of a major party also is exhilarating, and so is the prospect of the first woman nominee. "Firstness" is not a reason to choose. The times that false choice has been raised, more often by Mrs. Clinton, have tarnished the campaign.

Mr. Obama and Mrs. Clinton would both help restore America's global image, to which President Bush has done so much grievous harm. They are committed to changing America's role in the world, not just its image. On the major issues, there is no real gulf separating the two. They promise an end to the war in Iraq, more equitable taxation, more effective government spending, more concern for social issues, a restoration of civil liberties and an end to the politics of division of George W. Bush and Karl Rove.

Mr. Obama has built an exciting campaign around the notion of change, but holds no monopoly on ideas that would repair the governing of America. Mrs. Clinton sometimes overstates the importance of résumé. Hearing her talk about the presidency, her policies and answers for America's big problems, we are hugely impressed by the depth of her knowledge, by the force of her intellect and by the breadth of, yes, her experience.
We have strong disagreements with all the Republicans running for president. The leading candidates have no plan for getting American troops out of Iraq. They are too wedded to discredited economic theories and unwilling even now to break with the legacy of President Bush. We disagree with them strongly on what makes a good Supreme Court justice.

Still, there is a choice to be made, and it is an easy one. Senator John McCain of Arizona is the only Republican who promises to end the George Bush style of governing from and on behalf of a small, angry fringe. With a record of working across the aisle to develop sound bipartisan legislation, he would offer a choice to a broader range of Americans than the rest of the Republican field.
The Times also notes, "Why, as a New York-based paper, are we not backing Rudolph Giuliani? ... Mr. Giuliani's arrogance and bad judgment are breathtaking."
REAL LIFE. REAL NEWS. REAL VOICES.
Help us tell more of the stories that matter from voices that too often remain unheard.