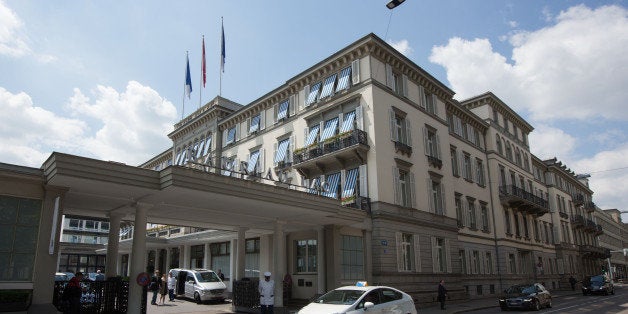 Around 4 a.m. Wednesday, New York Times reporters Michael Schmidt and Sam Borden arrived at a five-star hotel in Zurich and tried to get breakfast.
It was an unusual place for the pair to be, and not simply because breakfast wouldn't be served for a couple more hours. Schmidt covers the FBI from Washington D.C., and Borden, a European sports correspondent based in Paris, should have been at the French Open. But the reporters were staking out the Baur au Lac hotel to witness the anticipated arrests of top officials with FIFA, soccer's international governing body.
Just before midnight at Times headquarters, or dawn in Zurich, the paper reported that Swiss authorities had arrested seven top FIFA officials on corruption charges stemming from an FBI investigation. The Department of Justice had indicted them and seven others on charges that included racketeering, wire fraud and money laundering. Matt Apuzzo and William Rashbaum, who cover the Justice Department and New York federal law enforcement, respectively, co-wrote the bombshell story with Schmidt and Borden.
"We weren't sure how this was going to happen, whether they were going to land a helicopter on the roof about to bust through a door with SWAT teams," Schmidt told The Huffington Post by phone from Zurich. "Ultimately, it was a bunch of friendly faced Swiss hipsters."
Similarly, Borden told HuffPost that he was struck by how quietly the arrests were conducted. "I watched one of the guys being detained," he said. "To me, if you were sleeping in the room next to this guy, you wouldn't have been woken up."
While the arrests didn't have the makings of a big-budget action movie, they will have major ramifications for the soccer world, especially with powerful FIFA head Sepp Blatter up for re-election on Friday.
The reporters had prime vantage points to give the play-by-play on Twitter, and thousands of users retweeted the descriptions and images they posted.
Schmidt, who recently broke the news that Democratic presidential frontrunner Hillary Clinton exclusively used a private email account while serving as secretary of state, said tweeting the arrests "was a different type of journalistic experience than a lot of things I've done before." Schmidt said he doesn't typically tweet photos of a story playing out in real time.
Borden tweeted a short video clip from the scene, though neither reporter used live-streaming apps like Periscope or Meerkat to broadcast what was happening. The Times also had a photographer posted outside the hotel to capture the proceedings.
Clearly the Times suspected that arrests could be taking place in Zurich, as top FIFA executives met in the city, when it sent Schmidt and Borden there on Monday. But the editors and reporters who worked on the story pushed back against any suggestion they were fed the scoop.
"Nobody pulls you aside and says 'Here's what you need to know,'" Apuzzo told HuffPost. "It's a lot of looking for signals, making educated guesses, and reacting accordingly. Luckily the Times is a place that will put Mike Schmidt and Sam Borden on planes to Switzerland and hope it works out. Because you don't know what you're going to find until you get there."
On Twitter, Apuzzo rejected one journalist's claim that the Times was given a "ride along" with authorities. Apuzzo acknowledged that the paper "ultimately figured out" when the raid would take place, but suggested that information was gathered through reporting.
Sports editor Jason Stallman, who oversaw the coverage all night from the Times' newsroom, said there was no tip indicating a specific time, place or individuals involved. He said the Times had a breakthrough on the story last week, and reporters worked on it for several days after that. By Tuesday evening, Stallman "had a firm understanding of what was going to transpire."
Stallman understandably declined to get into specifics about the paper's sources, but described the reporters' effort as "a master class in source work" across several cities. He also complimented Schmidt and Borden for their observations at the hotel, given that The Times doesn't cover the FIFA executive committee in any sustained way and because those arrested aren't easily recognizable. "It's not like they're looking at Alex Rodriguez or Lance Armstrong or readily identifiable faces walking by," he said.
The Times reporters finally did get breakfast at Baur au Lac, roughy five and a half hours after arriving. Schmidt, who ate several croissants and slices of lemon cake, said the famished pair were seated near some nervous FIFA executives.
Popular in the Community