The New Yorker's Ronan Farrow reported Monday that lawyer David Boies, working on behalf of Weinstein, contracted with a team of private investigators, including former Mossad agents, to try to kill a negative New York Times story about Weinstein. Boies firm, Boies Schiller Flexner, has represented the newspaper three times in the last 10 years. The firm was reportedly defending the Times in a libel suit at the same time it was hiring private investigators to target its journalists.
"We never contemplated that the law firm would contract with an intelligence firm to conduct a secret spying operation aimed at our reporting and our reporters," the Times said in a statement obtained by Politico's Michael Calderone. 
"Such an operation is reprehensible ... we should have been treated better by a firm that we trusted," the statement continued.
Boies ― best known for representing Al Gore in the disputed 2000 presidential election and for fighting California's same-sex marriage ban all the way to the Supreme Court ― told Farrow that working on the two matters did not present a conflict of interest. But contracting with private investigators was a mistake, he said.
"We should not have been contracting with and paying investigators that we did not select and direct," Boies told Farrow. "At the time, it seemed a reasonable accommodation for a client, but it was not thought through, and that was my mistake. It was a mistake at the time."
In a statement released on Tuesday obtained by the Times, Boies clarified his relationship with Weinstein, whom he no longer represents. He said he executed the contract with the investigators, but he did not select them or direct their work, nor was he formally representing Weinstein in this matter.
"Had I known at the time that this contract would have been used for the services that I now understand it was used for, I would never have signed it or been associated in any way with this effort," Boies said.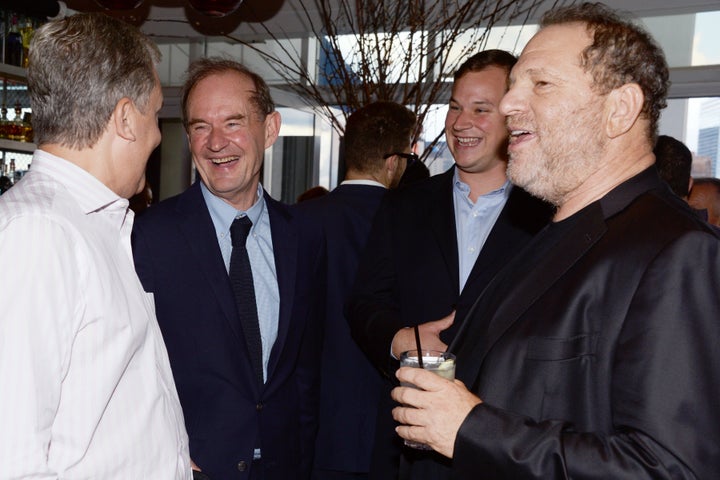 Though the Times signed a broad waiver acknowledging that Boies' firm could do work for other clients adverse to the paper's interest, the hiring of agents directed to surveil their reporters was crossing a line, the newspaper's statement made clear.
Farrow's New Yorker story detailed how one of the agents, posing as a women's rights advocate named Diana Filip, emailed Times reporter Jodi Kantor in an effort to learn about a story she was writing about Weinstein's accusers. Kantor, along with Megan Twohey, first reported that Weinstein had been settling sexual harassment and assault claims for decades.
Over the span of one year, the agents targeted Weinstein's accusers and other journalists working to share their stories, including Farrow.
Calling all HuffPost superfans!
Sign up for membership to become a founding member and help shape HuffPost's next chapter
BEFORE YOU GO
PHOTO GALLERY
Celebrities React To Harvey Weinstein