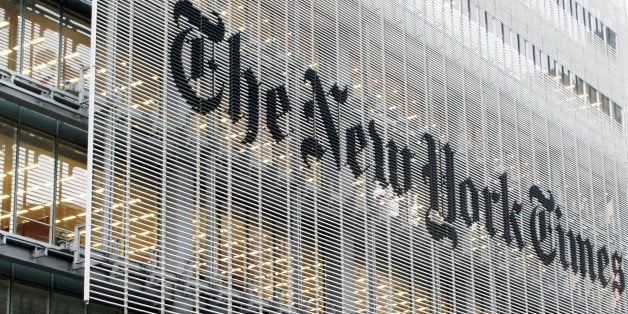 NEW YORK -- Carl Hulse, a veteran of The New York Times for nearly three decades, considers there to be a hole in the paper's Washington report.
The Times, online and in print, covers the day's big news and often looks more broadly at the political landscape. And Times reporters routinely tweet immediate insights and news nuggets. But the Times has lagged behind competitors in having venue for political scooplets that might not immediately merit a full story, quick takes off the news, and coverage of social life around Washington.
"We haven't had sort of a running daily political news feed," Hulse said in an interview with The Huffington Post. "We're trying to fill that void now. We may be late to the game, but we're trying to do it in our own distinctive way."
Hulse said First Draft, which is expected to land in subscribers' inboxes around 7 a.m., will highlight political stories running that morning in the Times and include some aggregation and links to competitors.
But Hulse said First Draft will differentiate itself through original content, with Times reporters' scoops, analysis and coverage of parties and events that'll be found there first. Some, but certainly not all, First Draft items could develop later into full Times articles appearing online and in the next day's print edition.
The Times' long-running Washington blog, The Caucus, has become largely idle so there hasn't been a go-to platform for such content. The Times plans to update First Draft frequently, with hopes that political news junkies will return throughout the day.
First Draft will also feature a more blog-like, conversational tone than is typically found in the Times daily news report. Hulse said the newsletter will cover insider-heavy social events, such as last week's D.C. premiere of "Madam Secretary," but will not include birthdays, a la Politico Playbook.
The newsletter is free, but readers who aren't Times subscribers will reach the paper's paywall after clicking through 10 stories. There is no launch sponsor for the First Draft newsletter, but a Times spokeswoman said there will be advertising opportunities down the line.
The First Draft team includes Hulse, as managing editor, along with reporter Alan Rappeport, producer Nicholas Corasaniti and editor Paul Volpe. But Hulse said he wants, and needs, reporters throughout the Washington bureau to pitch in.
A couple of weeks ago, Hulse brought Heineken mini-kegs into the Washington bureau so colleagues could enjoy a draft during the in-house unveiling of First Draft. Hulse said reporters seemed excited to contribute and noted that "people around here vacuum up a lot of information and we haven't had a venue to share it all."
Hulse noted that he and his colleagues throw out political observations on Twitter. While Hulse said Times staffers shouldn't be discouraged from tweeting, the newsletter and site can provide a "more organized way" to take advantage of reporters' and editors' quick insights.
The idea for First Draft has been kicking around for a while. Jill Abramson, then-executive editor of the Times, announced plans for the morning tip sheet in November 2013 and there were expectations for at least a soft launch by late spring. In June, Politico reported the project was being "reconsidered" and could potentially be scrapped altogether.
Hulse said the Times paused to do market research and run focus groups to better assess what readers wanted from such a product. He also noted that a number of designers and members of the interactive team in New York have been working on the site, which is expected to feature plenty of video and data visualizations. The site will also include features to engage readers, such as a "Midterms Q&A" allowing readers to ask questions of Times reporters and editors leading up to the November elections.
"Everyone here knows we need to be engaging in new ways with readers," Hulse said. "And everyone here has stuff in their notebooks and knows things and runs across things that we're really not reporting now."
Popular in the Community