On Monday's "Fox & Friends," co-host Steve Doocy briefly addressed a weekend segment of the show that The New York Times had called "malicious and inaccurate," but he didn't issue the on-air apology sought by the newspaper.
The Times' unusual request for a public apology from Fox News stemmed from remarks made Friday by head of Special Operations Command Gen. Tony Thomas, who said at an Aspen Institute Security Forum that a "prominent national newspaper" hampered efforts to catch Islamic State leader Abu Bakr al Baghdadi by publishing leaked information after a May 16, 2015, raid in Syria.
The Pentagon had announced the day of the raid that U.S. commandos killed senior ISIS leader Abu Sayyaf and captured his wife, an event also widely reported in other news media, including on Fox News.
Thomas did not name the publication in question on Friday, but Fox News chief intelligence correspondent Catherine Herridge, the panel's moderator, wrote later Friday that the general "appeared to be referring" to a Times report published on June 8, 2015. 
A Times spokeswoman said Doocy's Monday "update" to earlier coverage of Thomas' remarks failed to address larger concerns with a "Fox & Friends Weekend" segment, one of which she said was "sheer hypocrisy." The Fox & Friends weekend crew blasted the Times, even questioning journalists' patriotism, without mentioning Herridge reported on intelligence gathered from the ISIS raid when it occurred. 
On May 17, 2015, Herridge reported on air how U.S. forces obtained "a treasure trove of information, including cell phones, laptop computers and documents" that "reveal how the ISIS network communicates and earns money to finance its operations in Iraq and Syria." She said "the newly recovered intelligence" from the raid "may bring U.S. closer" to getting Baghdadi.  
Thomas' claims, covered Friday on the network's website, received significant play the next morning on the weekend edition of "Fox & Friends," a favorite of President Donald Trump. Guest Lt. Col Tony Shaffer said the Times' reporting on the ISIS raid was another example of the media being more worried about "supporting a political agenda than actually protecting the American people," a critique co-host Pete Hegseth appeared to agreed with. An on-screen chyron read: "NYT Foils U.S. Attempt To Take Out Al-Baghdadi."
About 20 minutes after Thomas' remarks were first discussed on the show, the president tweeted that "the Failing New York Times foiled U.S. attempt to kill the single most wanted terrorist, Al-Baghdadi" and put "their sick agenda over National Security."
Thomas' Friday remarks ― and the president's tweet during the 6 a.m. hour show ― were discussed in later segments of the three-hour show. The co-hosts' comments about the Times, and the show's on-screen images and graphics, contributed to a portrayal of the paper's journalists as damaging national security by impeding the capture of Baghdadi.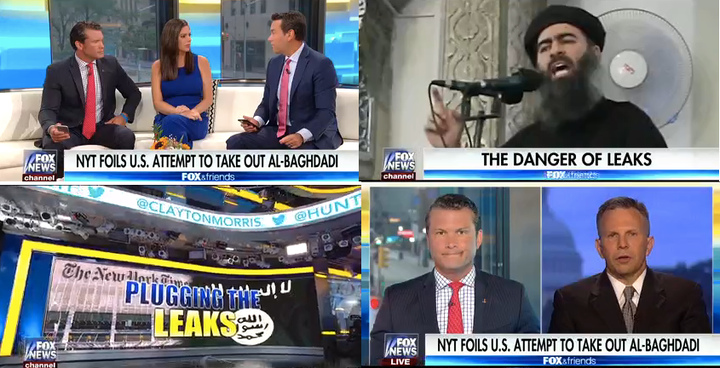 Hegseth said Saturday that the Times is "not just failing in its credibility, it's failing our country." The paper, responded co-host Abby Huntsman, is "failing the American people."
During a discussion about news organizations withholding information due to national security concerns, Hegseth said journalists used to do so "because they were patriots."
"And so I ask the so-called journalists at the failing New York Times," he said, holding a copy of the paper, "are you patriots or not?"
Times spokeswoman Danielle Rhoades Ha said the government did not request that the paper withhold the June 2015 story. 
"The New York Times story in question was published on June 8, more than three weeks after the raid," the spokeswoman said. "Furthermore, The Times described the piece to the Pentagon before publication and they had no objections. No senior American official complained publicly about the story until now, more than two years later."
The Washington Post reported Saturday that Thomas had once "told reporters" that the Times' June 2015 article hurt their pursuit of Baghdadi, but those comments don't appear to have been published previously. 
A spokesman for the Special Operations Command declined Monday to confirm that Thomas' comments Friday were in reference to the Times. "General Thomas did not give a specific publication or a specific article," a spokesman told HuffPost. 
In a Sunday letter to Fox News, Ha took issue with how "Fox & Friends" co-hosts framed Thomas' remarks, including Clayton Morris saying "al-Baghdadi was able to sneak away under the cover of darkness after a New York Times story" and Hegseth saying the U.S. government "would have had al-Baghdadi based on the intelligence that we had except someone leaked information to the failing New York Times."
"Neither the staff at Fox & Friends, nor the writers of a related story on FoxNews.com, appeared to make any attempt to confirm relevant facts, nor did they reach out to The New York Times for comment," she wrote.
Though the network's coverage was based on Thomas' "misleading assertion," Ha said, that "does not alleviate Fox News of the obligation to seek information from all the stakeholders in a story."
"With this segment, Fox & Friends demonstrated what little regard it has for reporting facts," she wrote.
Ha also reached out separately to Herridge, who later updated her online article with a statement from the Times.
On Monday, Doocy played the clip of Thomas' remarks and noted that the Times had issued a statement in response that had been published on Fox News' site. He did not mention the request for an apology over the weekend co-hosts framing Thomas' comments in a "malicious and inaccurate" way.
In a Monday statement, the network said the "the FoxNews.com story was already updated online yesterday and Fox & Friends provided an updated story to viewers this morning based on the FoxNews.com report." 
"For all of their hyperventilating to the media about a correction," the statement continued, "the New York Times didn't reach out to anyone at Fox News until Sunday afternoon for a story that ran Friday night."
In a statement Monday in response to Doocy's update, Ha cited Herridge's May 2015 coverage, and the co-hosts' coverage Saturday, as an example of "sheer hypocrisy."
"The host railed against The New York Times for covering a raid, stating that the U.S. government 'would have had al-Baghdadi based on the intelligence that we had except someone leaked' to The New York Times when Fox News had covered the same raid three weeks earlier in a segment in which their correspondent said, 'The newly recovered intelligence may bring U.S. closer to Baghdadi's kill or capture,'" Ha wrote. 
"According to the curious logic of the Fox & Friends host," she continued, "Fox News itself was unpatriotic." 
In an additional statement later on Monday, Fox News again defended its coverage online and on-air and also suggested that the Times was trying to distract from criticism it received over the decision to name a covert CIA official. 
"Neither Fox News' report nor the subsequent on-air coverage was inaccurate," the statement read. "We find it beyond disappointing that the New York Times, in an attempt to distract from their recent debacle, decided to blame Fox News for comments made publicly by General Thomas during a widely viewed panel at the Aspen Security Forum. It might behoove the Times to actually check in with their reporter Eric Schmitt to see whether Gen. Thomas' comments have merit and whether Schmitt's reporting in 2015 revealed intelligence that allowed ISIS leader Abu Bakr al-Baghdadi to slip away."
This story has been updated with an additional statement from Fox News.
Calling all HuffPost superfans!
Sign up for membership to become a founding member and help shape HuffPost's next chapter