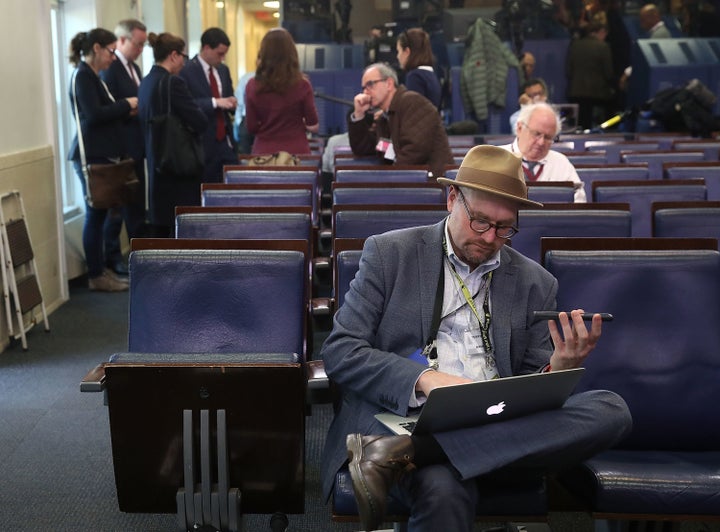 The New York Times has decided it will not fire Glenn Thrush, the White House reporter who has been accused of inappropriate behavior and unwanted advances toward female colleagues, the paper announced in a statement Wednesday.
Thrush is expected to remain suspended from the Times without pay until late January. Upon his return, he will no longer be able to cover the White House, widely considered a prestigious beat for political reporters.
After a Vox report published in November described Thrush's alleged misconduct against female journalists, including nonconsensual kissing, groping and touching, the Times suspended Thrush and launched a month-long internal investigation into the matter.
The investigation found that Thrush had acted inappropriately, but in the Times' view, his actions weren't bad enough to warrant his ousting from the paper.
"While we believe Glenn has acted offensively, we have decided that he does not deserve to be fired," New York Times executive editor Dean Baquet said in a statement. Thrush will attend trainings to "improve his workplace conduct" and will undergo personal counseling and substance abuse rehabilitation, the statement said.
"We undersand that our colleagues and the public at large are grappling with what constitutes sexually offensive behavior in the workplace and what consequences are appropriate," Baquet said. "It is an important debate with far-reaching consequences that we helped spark with our journalism and that we've been reflecting on internally as well."
When asked by HuffPost what the Times hopes to achieve by demoting Thrush instead of firing him, a company spokeswoman declined to comment beyond Baquet's statement.
Before Thrush was hired at the Times in December 2016, he worked for Politico as a senior reporter. He was known in the industry as a talented political reporter.
The incidents that the Times found not to be fireable offenses involve Thrush allegedly groping, touching or kissing young female journalists without consent.
Vox's November report included accounts from four women ― including the story's author, Laura McGann, who interviewed 40 people while reporting the piece. The other three women were not named in the story.
McGann said her incident with Thrush happened five years ago, when they both worked for Politico. According to McGann, she and Thrush went to a bar with other reporters in Virginia, and they were the last two from the group to remain at the bar when Thrush advanced on her: 
He slid into my side of the booth, blocking me in. I was wearing a skirt, and he put his hand on my thigh. He started kissing me. I pulled myself together and got out of there, shoving him on my way out.
The other women McGann spoke to for her piece said they experienced similar situations. One woman said Thrush left her in tears after he kissed her even though she had resisted his advances. The alleged incident prompted the woman's friend to confront Thrush via text.
Another woman told McGann that Thrush suddenly planted a wet kiss on her ear during a 2013 staff party for Politico. A third woman said that when she was too drunk to drive after a party, Thrush offered her a ride home and entered her apartment. That woman said the interaction was consensual, but she wanted to share her story nonetheless.
McGann also found that Thrush allegedly spread gossip in his professional circles, claiming that young female journalists were the ones making sexual advances toward him and that he would turn them down.
Many people were upset with the Times' decision to keep Thrush on staff ― including Ellen Pao, the former Reddit CEO who filed and lost a sex discrimination lawsuit against a prominent Bay Area venture capital firm.
Jessica Valenti, a feminist writer and author of the memoir Sex Object, said the Times' decision not to fire Thrush is a "signal to women that their careers are not as important as men's."
Joshua Hunt, a freelance journalist, accused Baquet of enabling predatory behavior.
Thrush was working on a book about President Donald Trump with reporter Maggie Haberman, but Random House, the publishing company, said the book will move forward without Thrush's name attached, the Times reported.
Calling all HuffPost superfans!
Sign up for membership to become a founding member and help shape HuffPost's next chapter
BEFORE YOU GO
PHOTO GALLERY
Celebrities React To Harvey Weinstein