The New York Times ran a very graphic photo on its front page Tuesday. The photo, by staff photographer Tyler Hicks, shows a severely malnourished Somali child in a Mogadishu hospital.
While jarring, Times executive editor Bill Keller told The Huffington Post that the decision to publish was "kind of a no-brainer."
During yesterday's 4 p.m. meeting, Keller said that top editors looked a half dozen of Hicks' photos, "all of them arresting." Director of photography Michele McNally selected the photo of the child and Keller said that pick was "pretty much the consensus of the room."
While the U.S. media has focused extensively on the debt deal, Keller explained in an email why editors gave such prominent placement to the Somalia story and compelling photo.
... We realize, of course, that the story du jour is the debt vote — to which we devoted the lead story and upwards of four pages this morning — but there's no reason that has to eclipse a human catastrophe in Africa. Readers can follow more than one important story at a time.

Jeffrey and Tyler went to great trouble and some risk to get as close as they could to the calamity in Somalia. They sent us a harrowing story and vivid, arresting photographs. We put them before the attention of our readers. That's our job.
Decisions to run graphic photos can prove controversial—such as when the Associated Press published a photo of a dead American soldier. But clearly Times editors thought it was the best choice to bring the faraway crisis into focus for readers. The accompanying article, by Jeffrey Gettleman, paints a horrifying picture of the famine in Somalia:
The situation is growing bleaker by the day, with tens of thousands of Somalis already dead and more than 500,000 children on the brink of starvation. Every morning, emaciated parents with emaciated children stagger into Banadir Hospital, a shell of a building with floors that stink of diesel fuel because that is all the nurses have to fight off the flies. Babies are dying because of the lack of equipment and medicine. Some get hooked up to adult-size intravenous drips — pediatric versions are hard to find — and their compromised bodies cannot handle the volume of fluid.
See the front page below.
PHOTO: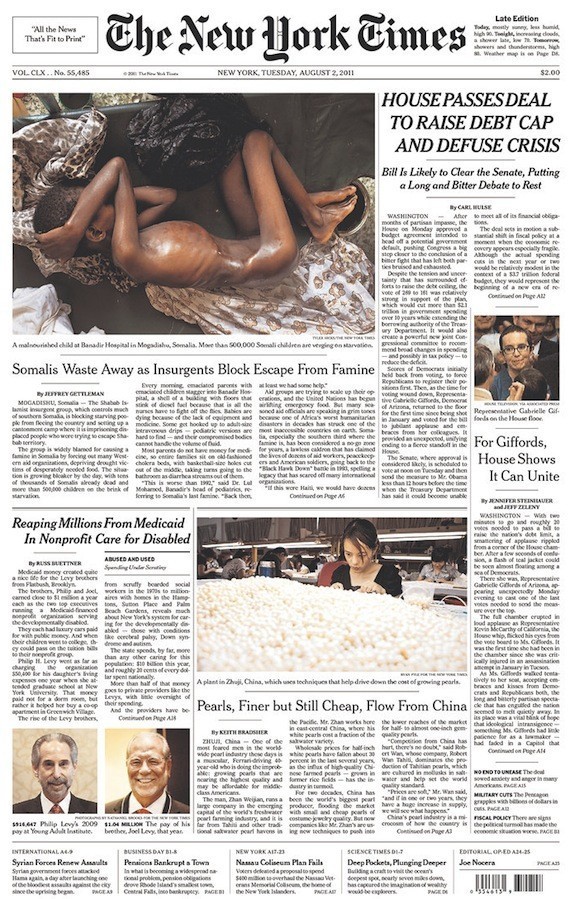 Popular in the Community